RMG makers can go digital to remain visible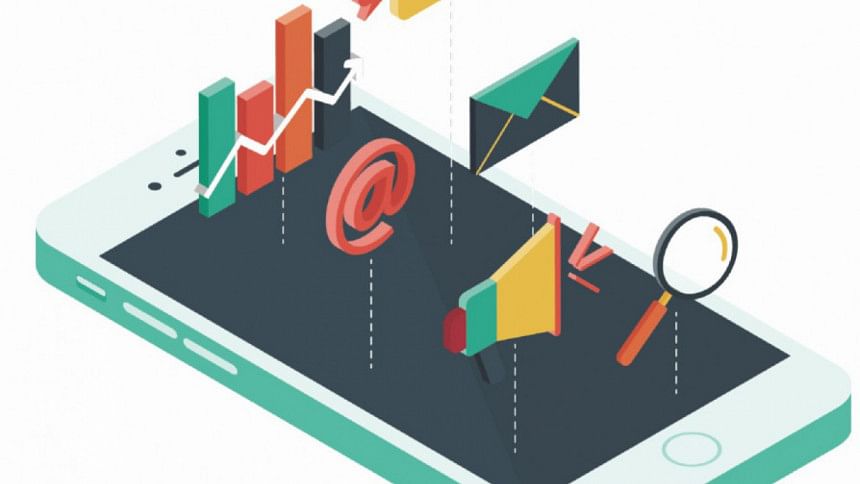 Recession looms large on the global economy. Already, as apparel makers, we are seeing some slowdown in orders as consumers in our Western markets are cutting back on spending due to the skyrocketing costs of food and energy.
If the world enters a recession in the next few months, one of the most important aspects for ready-made garment (RMG) makers to consider is marketing. Smart companies boost marketing efforts during a downturn. Their goal is simple: permanent visibility. Even in a stagnating economy, there will be retailers out there who are spending money.
But marketing can be costly and many business owners feel money is better spent on core operational issues in difficult times. This is a trap too many fall into: waiting for orders that never come while forgetting to tell people they actually exist.
The good news is that the advent of digital marketing has changed things and created new opportunities for small and medium business owners. Many digital marketing tactics can be adopted on a shoestring budget. The only real cost is your time and energy.
Here are five ways apparel makers can utilise digital and social media to boost their profile and remain relevant during challenging times.
Number one is brand development. As an apparel maker, does your business have a voice? Does it have a personality? It should. Apparel manufacture is quite unusual in that there are not that many recognised manufacturers, by which I mean garment makers which make global headlines. The only way we as garment makers can change this picture is by building a brand. A good logo, a quality website, regular marketing, and PR activities are all part of that. Social media and digital are key though, as they provide direct connection with end users and can be carried out on a limited budget. I see one or two Bangladeshi apparel makers developing a brand but we need far more than that.
This brings us to point two, which is to become a thought leader and expert in your field. Apparel manufacturers can use an array of social platforms to share articles and opinion columns of interest, thereby establishing a name for credibility and trustworthiness. Views could be shared on topical issues in apparel supply chains. Develop an interesting article and choose a thought-provoking headline. Ask a few colleagues to read it. Then share it as widely as possible with your network.
Other articles could be more product specific or technical, for instance, sharing some of your newer designs or offering some insight into the latest style trends. Obvious platforms for sharing this kind of information on are LinkedIn (an excellent way to meet end customers), Instagram, and Facebook. TikTok is also extremely fast-growing but this may require a little more in terms of video production and storytelling skills.
Point three is networking and collaboration. Being visible on social media is a form of soft marketing for businesses, and this includes apparel makers. The benefits of it might not be immediately obvious, but they will become more apparent over time. The longer you are on there and the better content you post, the more visible your brand becomes. From here, increased networking and collaboration opportunities follow. Think of platforms such as LinkedIn as a virtual conference or event which is permanently open. Some days, potential customers might be there, browsing around. If you are visible, you can "connect" and say hello. There's no need for a hard sell. Just make contact and give a brief introduction of your business. Sometimes this is better done by posting a comment on somebody else's post. It is important to try find some common ground. People don't take kindly to unsolicited attempts to sell to them. This is where the power of content sharing (point two) comes in. If other users see you are sharing valuable information and not just trying to sell to them, they will be much more likely to engage.
Point four is about building a strong, collaborative culture within your business. An active social media platform such as Facebook At Work can be an invaluable way to boost collaboration and information sharing across multiple departments and locations. Internal digital tools can also be used to help foster a strong culture of shared values and ethics. There are many social platforms which are geared up for intra organisational use, and these can serve as powerful weapons for employee engagement, and keeping staff members aligned with company values. Imagine, for instance, if a new employee joins a company and posts something interesting on that company's Facebook At Work platform and then gets an appreciative comment from the CEO. This provides a massive morale boost and makes people feel valued.
Finally, point five is customer retention. Being an active member of the digital community is crucial to keep your brand visible among current customers. At any one time, several of your customers might be looking to switch supplier. How can you prevent this? Well, you don't want to pester them non-stop but you can use digital channels to keep your business in their eyeline and gently let them know you are still there and ready to do business.
Mostafiz Uddin is the managing director of Denim Expert Limited. He is also the founder and CEO of Bangladesh Denim Expo and Bangladesh Apparel Exchange (BAE).