Saidpur Railway Workshop: A much-needed initiative in the works
BR to revamp 153-year-old establishment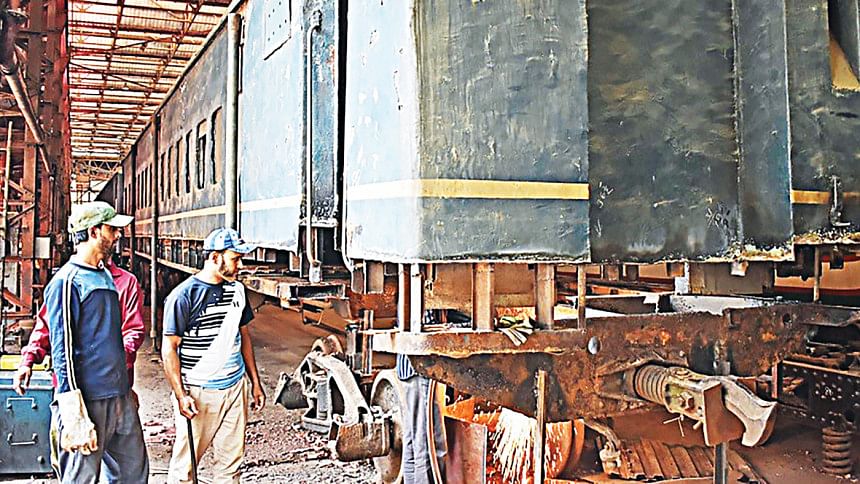 While the Bangladesh Railway has taken and implemented dozens of projects to expand its rail lines and acquire new locomotives and carriages, its workshops remained neglected for years.
A decade has passed since the last workshop (where locomotives, carriages and wagons get repaired and maintained) modernisation project in 2009, leaving these vital facilities to wither away while production sharply declined.
Take the case of Saidpur Railway Workshop -- the largest workshop in BR. At least 665 of 787 (84.5 percent) of its plants and machinery are over two decades old,  and many of them are out of order now, BR sources said.
In 2020, BR initiated efforts to modernise the workshop by preparing a proposal for a feasibility study. However, the project remained in limbo without further advancement.
After over three years, BR has revived the plan; and a project evaluation committee led by the secretary of the railways ministry is going to hold a meeting on the project proposal today.
The meeting will decide whether the project should be sent to the Planning Ministry for approval, Partha Sarkar, additional director general (rolling stock) of BR, told The Daily Star yesterday.
The proposal contains a feasibility study, detailed design preparations, and bid document development, at an estimated cost of Tk 16.02 crore.
The project, if approved, aims to be completed by December 2024.
However, even if approved, the actual modernisation of the workshop will be a time-consuming process, as BR would need to initiate a separate project based on the study's outcome to carry out the repair and renovation works.
BR has a total of six workshops -- four for repair and maintenance of the locomotives while two for carriages and wagons. BR took two projects to modernise Pahartali and Saidpur workshops in 2007 and 2009 respectively.
After these projects, no new project was taken for modernisation of the workshops, a BR official, having knowledge about the matter, told this correspondent.
BR, however, has taken a project for carrying out study for establishing a new carriage maintenance workshop in Rajbari.
But, between 2008-09 and 2022-23 fiscal year, the government allocated Tk 107,645 crore to BR under the annual development programme (ADP).
BR, however, could spend Tk 71,113 crore -- 66.06 percent of total allocation -- till October last year, show BR documents.
Partha Sarkar said, "Our fleet has increased sharply in the last few years. So, we have to modernise the workshops, otherwise we will face problems."
Replying to a question, he said, "In many cases, implementation of a project depends on the donor agency."
SAIDPUR WORKSHOP
Saidpur workshop was established in 1890 on 110 acres. Since its inception, a project has been undertaken in limited scale for its modernisation between March 2009 and June 2016 at a cost of Tk 157 crore, shows BR document.
Before the modernisation, the average daily production of the workshop was 1.96 units, meaning the workshop could repair or maintain 1.96 bogies or wagons daily, which rose to 2.85 to 3.29 units after modernisation, it shows.
But, the annual maintenance capacity of the workshop is 427 (both broad gauge and meter gauge) carriages and 427 wagons, even though the west zone of BR holds a total 7,111 carriages and 1,160 wagons.
It means, the backlog per year is 284 carriages and 733 wagons, it said.
Besides, the number of modern, high speed AC coaches are increasing and as per the railway masterplan (2016-2045), 5,143 new coaches would be added to the BR fleet.
But, only 122 plants and machinery in the workshop are below 20 years old, while 448 are between 20-to-50-year-olds and 214 are over 50 years old, it reads.