Saidpur railway workshop starved of manpower, funds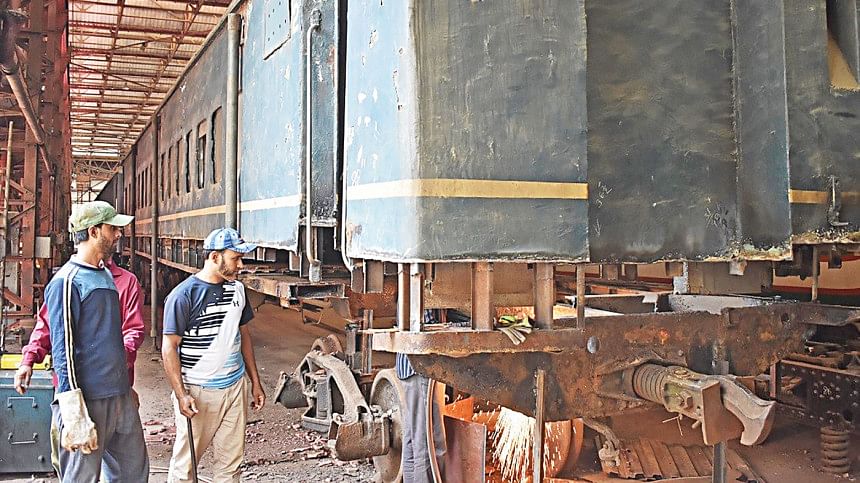 While the government aims to expand railway services across Bangladesh, the country's largest locomotive workshop in Saidpur of Nilphamari is still unable to operate at full capacity as it lacks adequate manpower, funds and machinery.
The workshop situated on 110 acres of land mainly repairs carriages fit for broad gauge and metre gauge lines of Bangladesh Railway (BR) while also producing the necessary spare parts and tools.
During the post-independence period, Saidpur railway workshop could repair 900 carriages and construct 20 new ones each year.
But now, an average of 450 carriages are repaired annually as there is an official target to fix just two of them every two days while the construction of new ones has stopped.
Sources at the workshop informed that they needed Tk 27 crore to conduct repairing operations in the current fiscal year. However, BR has released just Tk 6.5 crore so far with only two months to go until FY 2023-24.
Most of the 750 heavy machineries used at the workshop have become outdated while their operation has become limited due to the lack of skilled manpower.
Hasanuzzaman, a manager of Saidpur railway workshop, said they are providing services with their workforce at less than 23 per cent of full capacity.
"Instead of the recommended 2,859 employees, just 622 people are working," he added.
Besides, most of the 750 heavy machineries used at the workshop have become outdated while their operation has become limited due to the lack of skilled manpower.
Hasanuzzaman went on to say a good number of coaches and wagons come for immediate repairs but sometimes have to wait for days on end due to various issues.
And because of manpower and fund shortages, general and periodical overhauling of a carriage cannot be carried out as needed every 12 and four years respectively, shortening their longevity.
Rubaitur Rahman, general secretary of the Saidpur railway workshop union, said they suffered a major setback in 1993, when the then government mysteriously decided to stop the construction of new carriages.
At same time, the manpower available for the railway was curtailed by compelling employees to go into retirement under the so-called "Golden Handshake" programme.
Also, a number of cases were filed by a vested quarter that stopped recruitment for decades, leading to an acute manpower that has crippled the workshop, he added.
As per information of the BR official website, 44 districts of Bangladesh are connected by about 4,335 kilometres of rail while another 15 districts will be connected soon. In fiscal 2012-13, the country's railway spanned just 2,877 kilometres.
Prime Minister Sheikh Hasina inaugurated work on the "Bangabandhu Sheikh Mujib Railway Bridge Construction" project on November 29, 2020. Additionally, new rail services through Padma bridge will start on a regular basis soon.
BR now operates 351 passenger trains, of which 104 are intercity while 125 are express mail and commuter trains, 106 are local trains, and 6 are international trains.
On average, 15 coaches are connected with each engine.
During a recent visit to Saidpur railway workshop, this correspondent found that workers were busy with the trial run of 45 newly imported Chinese passenger carriages.
They were also found engaged in repairing 100 damaged carriages that will ply different routes ahead of the upcoming Eid-ul-Fitr to facilitate travels amid the holiday season.
Shadequr Rahman, divisional superintendent of the Saidpur railway workshop, said the workers and officers are putting in additional effort to do their tasks ahead of Eid.
He also said 294 newly recruited workers will likely join the workshop after Eid, improving the manpower situation to some extent.
"A project proposal has been sent to the planning commission after conducting feasibility tests for modernisation of the workshop and recruitment of the required workforce," he added.