Railway E-Ticketing: 17yrs gone, only 18pc stations covered
Finance ministry makes fresh push for cashless ticket service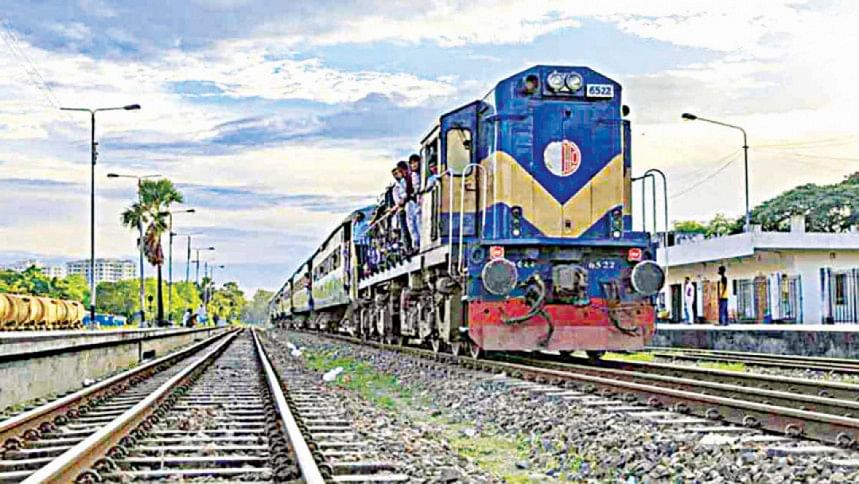 The online ticketing system of Bangladesh Railway covers only 85 of its 483 stations, forcing travellers to buy tickets from the counters at the stations or from scalpers at significantly higher prices.
Even though Bangladesh Railway launched the online ticketing system way back in 2007, only the tickets for the 106 intercity trains are sold online.
Tickets for more than 100 mail, commuter, and local trains, and even trains to India are not available online. The Indian Railway sells all train tickets and platform tickets online, a BR official said.
"We lack vision and planning," the official said, wishing anonymity.
"The poor online ticketing coverage of Bangladesh Railway goes against the government vision of 'Digital Bangladesh'," said Mozammel Hoque Chowdhury, secretary general of Bangladesh Jatri Kalyan Samity.
He told The Daily Star yesterday that the government invested thousands of crores of taka in the railway sector over the last decade to improve railway services, but BR failed to properly utilise it due to a lack of capacity, and the poor ticketing system was a reflection of it.
BR does not have any dedicated IT cell and it is entirely dependent on vendors for the limited online ticketing services.
"A service provider like the railway must have a dedicated IT cell and should have made all ticketing services online," he said.
Between 2008-09 and 2022-23 fiscal years, the government allocated Tk 1,07,645 crore to BR under the annual development programme. However, the state-run transport agency could only spend Tk 71,113 crore, which is 66.06 percent of the total, until October last year, documents show.
The current online ticketing service is usually smooth. But during holidays like Eid, people face difficulties in getting tickets, said Rifat Hossain, who regularly travels by train.
On the other hand, it is difficult to get tickets from station counters in many areas as scalpers, in collusion with some unscrupulous railway employees, sell train tickets in the black market at a significant markup, Rifat said.
E-TICKETING NATIONWIDE?
The finance ministry yesterday suggested that all stations be brought under the online ticketing system to reduce people's suffering and ensure transparency in ticket sales.
Officials of the finance division at an inter-ministerial meeting at the Rail Bhaban yesterday presented a concept paper on how online ticketing systems work globally and how the BR can adopt it, meeting participants said.
People buying tickets online can only travel to and from 41 stations in BR's east zone and 44 in west zone, according to the presentation given by Muhammad Anisur Rahman, a deputy secretary of the finance division.
The presentation, which this correspondent obtained a copy of, reads that Agrani Bank collects the money from stations selling tickets manually one to three days later. But how many tickets were sold and how much money was received are not be verified, it said.    
It is not possible to get real-time information on revenue as the money is being collected online and in cash.
It said BR got 61.17 percent of its earnings from online ticket sales in May and June this year.
Citing online ticketing systems of the Netherlands, India, and the USA, it suggested bringing all stations under e-ticketing system.
Deputy Secretary Anisur said with an online ticketing system, people will be able to buy tickets for all trains from the comfort of their homes.
It would give railway high-ups real-time information on the number of tickets sold, and ensure accountability and transparency and there would be no cash transactions.
When contacted, Anisur, on behalf of his division, said they placed the concept paper before the railway authorities. "It will depend on them [rail authorities] whether they will take initiatives in this regard," he told The Daily Star yesterday.
Responding to a question, he said it is mandatory that government revenue is deposited within 24 hours of income, but it is not possible without the online ticketing system.
BR Director General Quamrul Ahsan yesterday told this paper that online ticketing facilities are available for stations where intercity trains usually stop. "We will bring other important stations under the online ticketing system gradually."
Asked about the finance division's suggestion, "We will go for cent percent online ticketing system in phases."