BRT set to miss new deadline
Slow pace of work, controversies over safety issues holding the project back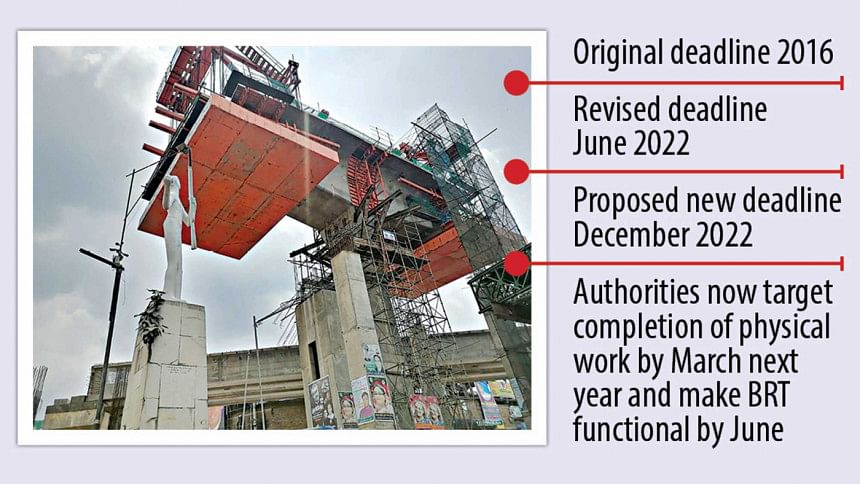 "They [contractors] might think they have done enough regarding safety, but we think there is scope to do better."
With the project authorities of BRT Line-3 having already failed to achieve their revised target, a recent tragedy has left them in further difficulties in meeting the proposed deadline of December 2022.
While the physical work on the Dhaka-Gazipur corridor remains suspended for about two weeks, the authorities cannot clearly say when it can fully resume.
They said the two Chinese contractors of the project have to take measures to ensure 100 percent safety of the site. Then, the consultants will inspect and if they are satisfied, the work will resume.
But the contractors have not submitted their safety plan yet, 11 days after five people were crushed to death on August 15 when a crane toppled over, making a box girder segment fall on their car on the Dhaka-Mymensingh highway in Uttara.
Two children were among those killed in the incident, which occurred due to negligence in ensuring safety, according to experts and officials.
While visiting the project site in Gazipur yesterday, this correspondent saw safety barriers made of corrugated sheets and cautionary signboards at different points. But some areas remained unprotected.
Contacted, RHD Chief Engineer AKM Manir Hossain Pathan, who visited the site yesterday with several directors of Dhaka Bus Rapid Transit Company Ltd (DBRTCL), said there is still a lack of safety arrangements there.
"They [contractors] might think they have done enough regarding safety but we think there is scope to do better," he told this correspondent.
Replying to another question about the project delay, he said, "We can't allow them to work until foolproof safety is ensured."
The Tk 4,268.38-crore project was undertaken to build a 20.50km dedicated bus service road from Hazrat Shahjalal International Airport to Gazipur. It was supposed to be completed at a cost of Tk 2,037.85 crore by December 2016, the original deadline.
The deadline was extended to June this year but the project made 78 percent progress by that time. 
The authorities, at a press conference in September last year, announced that the physical work of the project would be completed by September this year and the BRT service would be operational from December this year.
Earlier this year, they again sought to extend the deadline to December this year, with a one-year defects liability period. The proposal is now pending with the planning ministry, sources said.
A defects liability period is the period during which a contractor is legally required to return to a site to repair any defects that have appeared in that work after the completion.
Documents show the overall progress of the project is 79.24 percent as of August 24.
Currently, the Roads and Highways Department (RHD) is working on a 16km road, and Bangladesh Bridge Authority (BBA) is constructing a 4.5km elevated road for the Bus Rapid Transit Line-3.
As per the target set by the project authorities earlier, BBA's work was supposed to be completed by August this year but it could achieve 72.35 percent progress, as shown in the documents.
On the other hand, 99.61 percent of RHD work was supposed to be completed by August but it achieved 82.09 percent.
As per the new plan, the two agencies will target completion of the work by March next year, meaning the proposed deadline of December 2022 will also be missed.
If RHD and BBA have to complete the work within March next year, their monthly average construction progress should be 2.23 percent and 3.60 percent respectively.
But the monthly average progress of RHD and BBA was only 1.56 and 1.40 percent since August last year, show documents, indicating that they may not meet the new deadline if they do not increase the pace of work very significantly.
Shafiqul Islam, managing director of DBRTCL, yesterday said they were still hopeful about completing physical work within December "if the contractors work with their hundred percent capacity … But the reality is we did not get 100 percent from them ever…"
He was briefing reporters at the project site in Gazipur during his visit along with the DBRTCL directors.
Asked when the BRT will be functional, he said they cannot start operation until the corridor is ready, and "there is an uncertainty over when the work will be completed."
As per the plan, he said, the majority of work would be completed within December this year and it may take up to March next year to complete the rest. "We hope to start the operation of BRT within June next year."
Briefing reporters, Shafiqul Islam also said the physical work at the main corridor remained suspended officially. "The work will start whenthe contractors take safety measures completely and the consultants give approval," he added.
"We will allow them to work once they ensure 100 percent safety, even if it takes 10 days or 15 days. We will not compromise on safety."
Replying to a question, he said they did not receive any fresh safety plan from the contractors yet.