Dhaka Bus Rapid Transit likely to be functional from July 2023
Authorities start process to hire operator, procure 130 buses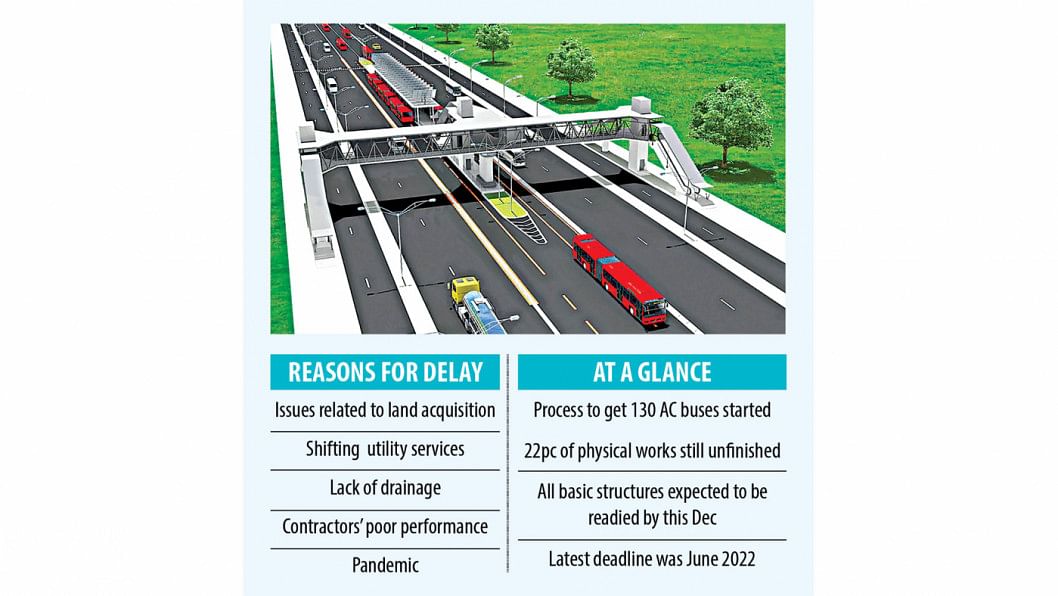 Operation of the country's first dedicated rapid bus service -- from Dhaka airport to Gazipur -- is likely to start in July next year, more than six and a half years after its original deadline.
The infrastructure has gone over double the estimated cost.
Dhaka Bus Rapid Transit (BRT) Company Ltd has started the process to procure 130 air-conditioned buses and assigning operating companies to start services.
The development came at a time when the extended deadline of the long-delayed project ended last month, with around 22 percent of physical works still unfinished.
All basic structures are expected to be readied by December this year, while it would take six more months to complete all other processes, including procurement of buses and hiring operators, said Shafiqul Islam, managing director of Dhaka BRT Company.
"We will start operation of BRT in July next year," he told The Daily Star yesterday.
However, at a press conference in September last year, Shafiqul said operation would start from December this year.
Asked about the delay, he said although basic infrastructure would be completed by this December, some other works would remain incomplete.
The project -- formally known as Greater Dhaka Sustainable Urban Transport Project -- witnessed 77.77pc progress till this June.
The project was taken up in November 2012, to be completed by December 2016, at a cost of Tk 2,037.9 crore.
But it got delayed due to various reasons, including issues related to land acquisition and shifting utility services, lack of enough drainage, insufficient money flow of contractors and the pandemic.
The project has gone through four revisions, with its total cost now estimated to be Tk 4,268.3 crore. The latest deadline was June 2022.
In the meantime, passengers using the adjacent roads suffer immensely, especially during the rainy season, due to construction work, which battered the existing pathway, causing severe traffic congestion.
The project authorities have already sought time till December 2023, including a one-year defect liability period and an additional Tk 268.13 crore.
If approved, the project cost would total Tk 4,536.46 crore.
Roads and Highways Department, Bangladesh Bridge Authority and Local Government Engineering Department are implementing different parts of the project's works, while Dhaka BRT Company is overseeing operations.
The 20.5-kilometre bus corridor will allow people to reach Dhaka from Gazipur, the nearby city where cost of living is much lower, in 35-40 minutes. This journey now takes somewhere between 1.5 and four hours. From the airport, one will be able to take the metro rail -- now under-construction -- to reach other parts of Dhaka.
DETAILS OF DESIGN
As per the plan, dedicated buses would be operated on two central lanes of the highway, while four lanes would facilitate mixed traffic, two more lanes for slow-moving vehicles, with footpaths on both sides.
The service would start with 100 new buses, which would be able to transport 20,000 passengers per hour from Gazipur's Shibbari area to Dhaka airport. There would be 25 stations on the corridor.
On July 4, Dhaka BRT Company published advertisements seeking invitation for preliminary expression of interest for procuring buses and operators.
As per the advertisements, the authorities would procure electrically (battery-powered) propelled, air-conditioned buses.
The operator will operate and maintain the buses for a contract period of 10 years, which may be extended for a year.
Interested companies were asked to submit their papers within August 7 this year.
Shafiqul said they will see presentations from interested companies and then will go for final bidding.
He said they would procure 130 high-quality buses and will allow operation by both local and foreign companies. However, they would prefer joint-ventures of both local and foreign companies, so that local companies can develop their capacity.