Tribute to Muhith: Farewell to architect of our economy's golden era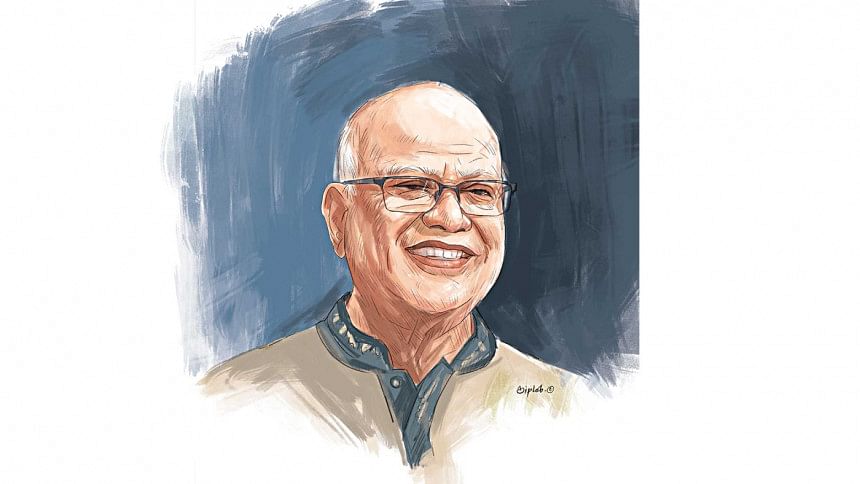 When Prime Minister Sheikh Hasina defiantly announced in 2012 that the Padma bridge would be built after the World Bank pulled out of the project, her gumption was not irrational. She had the assurance of her then 78-year-old finance minister, AMA Muhith -- the man with a Midas touch with the purse strings.
A decade later, that flagship bridge on the river Padma is almost ready to welcome the public, but the person who arranged the funding for its construction could not live to see the day. Muhith died yesterday from old-age complications.
This episode of gallantry and composure was characteristic of his ten-year tenure as the finance minister under the current Awami League government led by Hasina.
She dreamt of all the mega projects that would change the face of Bangladesh and he would quietly arrange the funds from home and beyond.
And it is during his dealings with development partners that he would come to his own, leveraging his wit, charm, power of persuasion and experience as a development professional to ensure easier and practicable terms and conditions.
This was best displayed in his negotiations with the International Monetary Fund for the $976 million loan under Extended Credit Facility. Typically a stringent programme that many countries falter at -- including Bangladesh, previously -- Muhith ensured that it was possible to complete it without breaking much sweat.
Jovial but direct, compelling but earnest, it was difficult for development partners to turn him down. As a result, foreign aid commitments came in thick and fast.
In his ten years, he managed $80.4 billion in foreign aid commitment. In the previous ten years, the country got about $17.5 billion.
Such impressive statistics became a consonant of his tenure.
Poverty came down from 31 percent of the population to 20 percent.
"For a finance minister of Bangladesh, the only option is the reduction of poverty. If you reduce poverty, you will be successful," he told The Daily Star in 2020.
But his legacy, if one must pick just one, would be the steering the coming of age of the Bangladesh economy, which was growing at less than 6 percent before he took oath as the finance minister three weeks shy of his 75th birthday. In his final year in office, GDP growth exceeded the 8 percent-mark for the first time since 1974.
He greased the accelerating wheels of the economy lavishly but judiciously.
Before Muhith, the national budget would be about Tk 1 lakh crore. His last budget, which was his twelfth, was about Tk 4.8 lakh crore.
"I consider the growth of the economy as my proudest achievement," he told us when we met him on a Friday morning at his home in Banani in January 2020.
That appointment took a fortnight to schedule.
When many would resort to taking it easy, Muhith's days were chock-a-block with engagements and writing sessions, punctuated with playtime with grandchildren and music recitals.
Even at retirement, he stuck feverishly to discipline and his calendar, a habit that had served him well through his professional life. Rarely would he stall on signing off on any document; and if he couldn't do it while in office, he would take it home to pore through the pages.
Hale and hearty, he was most excited about the book he was working on titled "History of Human Civilisation". So determined he was in getting the book out of the gates that he would put in dual shifts a day jotting down his train of thoughts.
He did finish that book, which is now awaiting publication by the United Press Limited.
That book is an assemblage of his encyclopaedic knowledge and experiences, which he remembered ever so vividly until the end.
And it is this mental agility for which the prime minister was wont to letting him vacate the post of the finance minister even in his 80s.
"I have survived for two reasons: one is the confidence of the prime minister in me and the other is my age. This is also true that the combined experience of the cabinet is less than my experience. I can eloquently say what happened in 1972, 1975, the 80s, the 90s, 2000s and what is happening now. In cabinet meetings, my main role is to remind others about the traditions of the past. This is where I am now," he told The Daily Star in 2017.
Born in Sylhet in 1934, Muhith, an academic achiever, joined the Pakistan Civil Service in 1956.
As the chief and deputy secretary of the Pakistan Planning Commission, he made a report on the discrimination between East and West Pakistan and that was the first submitted report on that issue to Pakistan National Congress.
He was the first diplomat of the Washington Embassy who showed his consent in favour of Bangladesh, giving up the side of Pakistan during the Independence War of 1971.
"In my student life, I had no dream of doing any government job. I wanted to be a barrister. However, my mind changed in 1955 when I was in jail where I talked to many high officials and realised that I can serve people equally well by joining public service. Then, I joined the Pakistan Civil Service. I liked it. There is enormous scope for public service if you want. This way, I never had to sacrifice the spirit of public service in me."
And yesterday, that life of meaning and service came to an end, and with it, an institution of Bangladesh's history slammed shut.