The passing of an icon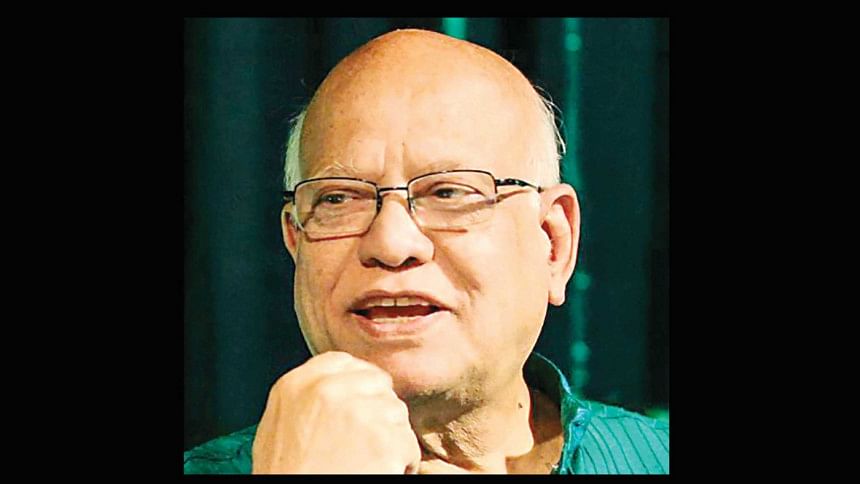 Former finance minister AMA Muhith breathed his last at a hospital in the capital at 12:56am today.
He was 88.
He had been undergoing treatment at the United Hospital in the city.
Finance Minister AHM Mustafa Kamal and Planning Minister MA Mannan expressed condolences over the demise of Muhith who served as finance minister three times since the country's independence.
In a statement, the foreign affairs ministry said  Muhith's first namaz-e-janaza will be held at Gulshan's Azad Mosque at 10:30am today and the second one at 11:30am at the Sangsad Plaza.
His body will be taken to the Central Shaheed Minar at noon for the public to pay their last respects.
Later, he will be laid to rest in Sylhet.
 Muhith wore many hats. He was a finance minister, economist, diplomat, freedom fighter, language movement veteran, a writer and a historian.
Muhith, who placed the national budget for a record 12 times -- 10 times during the tenures of Awami League government and 2 during HM Ershad's rule -- said that Bangladesh's development process was well on track.
"The country is doing better, a lot of works in being done and as a result, development is taking place," said Muhith in an interview with The Daily Star.
He was born on January 25 in 1934 in Sylhet. He joined the civil service in 1956.
Muhith held important positions in the public service and was the first diplomat of the Washington Embassy of Pakistan who transferred his allegiance to Bangladesh during the Liberation War.
He also played a vital role in drumming up the world's support for Bangladesh. Muhith was conferred with Swadhinata Puroskar, the highest civilian award, in 2016 for his contribution to the Liberation War.
After Bangladesh's victory, he also worked as secretary of planning and secretary of the External Resources Division of the finance and the planning ministry. He took early retirement in 1981 and worked with different international organisations as a consultant.
He served as finance and planning minister from March 1982 to December 1983. A pioneer in environment movement, Muhith was also the founder president of BAPA established in 2000.
Muhith, along with others, also founded a political party, Gano Forum, in the early 1990s. Later, he joined the Awami League in 2001.
He was elected a member of parliament in 2009 and in 2014 from his constituency in Sylhet. He was made finance minister in 2009 and 2014 during the tenures of the AL government.
During Muhith's stint as finance minister, the country witnessed a significant increase in budget size and steady growth.