BCL expels Eden accusers instead
No probe yet into allegations against unit president, general secretary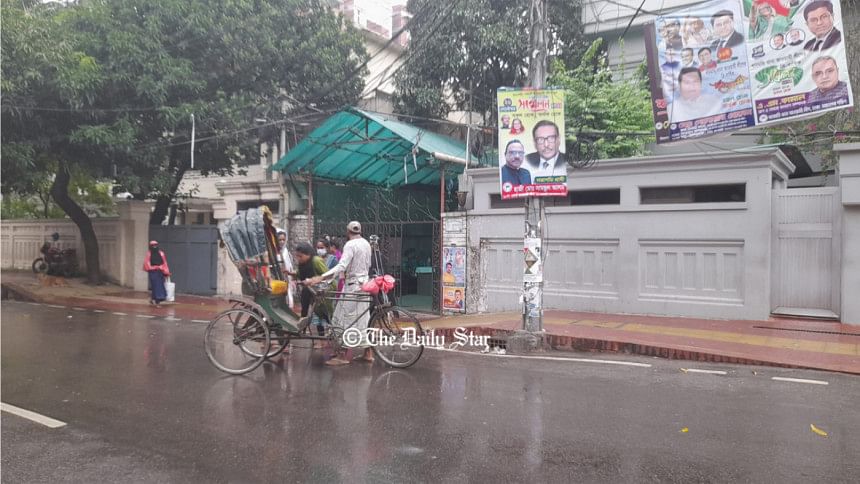 Chhatra League yesterday expelled 17 leaders and activists of its Eden Mohila College unit for their alleged involvement in anti-disciplinary activities.
Among the 17 are students who had brought some serious allegations against Tamanna Jasmine Riva and Razia Sultana, president and general secretary of the college unit BCL.
The central committee of Bangladesh Chhatra League, however, didn't take any step to investigate the allegations, including blackmailing students into carrying out unethical activities, hall seat trading, extortion, and torture.
Riva on August 23 allegedly tortured two students in a dormitory after confining them to a room for six and a half hours. She threatened them that a video of them would be recorded and released online for allegedly circulating an audio clip.
In the audio clip, the BCL leader was heard hurling abuses and threatening some students for not attending a BCL programme. Riva later offered an apology after the audio clip went viral on social media.
The central unit of the pro-Awami League students' front did not issue any show cause notice to Riva.
Yesterday, 12 of the expelled Eden BCL leaders and activists went to the AL president's Dhanmondi office to observe a hunger strike, protesting their expulsion. But they could not do so due to "huge pressure" on them.
"We came here to observe a hunger strike, but we are leaving now. We will not go on strike as we are under huge pressure. We will not talk to the media. Don't ask us any more questions," Samia Akhter Boishakhi, suspended organising secretary of the BCL committee, told The Daily Star.
They came out of the office after staying there for about an hour from around 12:15pm.
Speaking at a press conference on the college premises yesterday, expelled vice-president Susmita Baroi alleged that the BCL central leadership didn't take any step against Riva and Razia as they were close aides to the president and general secretary of the student front.
"Though there are some serious allegations against Riva and Razia, including extortion, seat trading, and torturing students, the Chhatra League central committee didn't take any action. Instead, they expelled us for speaking against them."
The BCL early yesterday suspended the activities of its Eden college unit, hours after Riva came under assault from some of its leaders during a press conference on the college premises.
The expulsion of the 17 irked a section of Chhatra League leaders as its charter does not allow this without serving a show-cause notice to the member concerned and also without any investigation.
"The press release regarding the expulsion says the decision was taken upon discussion among the members of the Chhatra League central executive committee. But being a member of the central executive committee, I knew nothing about the decision. The central committee has to hold a meeting of the central executive committee members upon receiving the probe report and take a decision based on the majority's opinion," a BCL vice-president, preferring anonymity, told The Daily Star.
He said such a decision contradicts the organisation's charter.
According to sources at Eden Mohila College, Riva and Razia have control of 128 rooms in six dormitories, which are allotted to activists loyal to them. They also rent out those rooms to freshers, outsiders and non-students for Tk 10,000 to Tk 15,000 per month.
Riva, a student of marketing of 2009-2010 session, has been carrying out such controversial activities since she is a close aide to BCL General Secretary Lekhak Bhattacharjee and Joint General Secretary Benozir Hossain Nishi, sources added.
Contacted, Lekhak yesterday said, "We have strong evidence against those expelled.… When allegations are raised against someone, we form a probe body and later hold a meeting of the executive committee. But if we have such strong evidence in hand, we can take such steps."
Yesterday, Syed Abdul Awal Shamim, committee member of the AL's central working committee, and Sayem Khan, its deputy office secretary, went to the party president's Dhanmondi office after the 12 expelled BCL leaders had reached there.
Shamimtold the expelled leaders that they didn't belong to the BCL anymore and asked them to leave the office immediately.
The expelled leaders were initially barred from entering the office.
This newspaper could not reach Sayem Khan for comments as he didn't respond to calls.
Riva on Sunday said the allegations against her came up because many did not get the posts they expected in the BCL committee, which was announced in May. "Since then, they have been trying to conspire against the top leaders."