BCL factions clash; 40 injured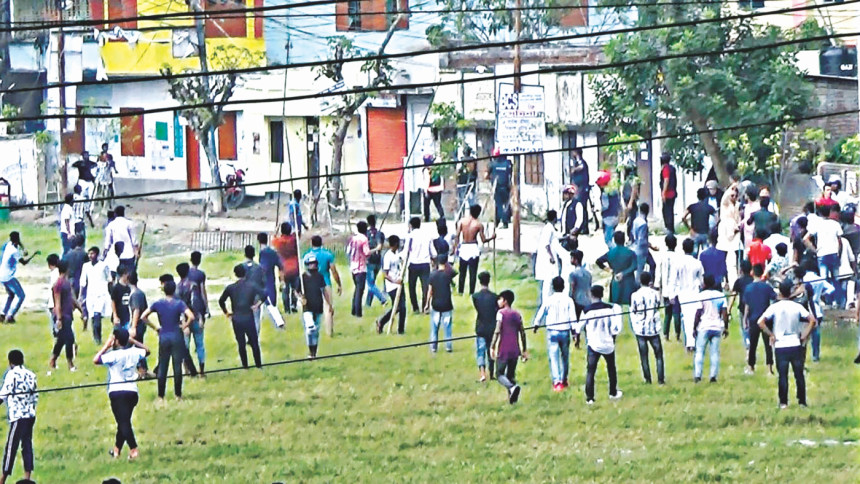 At least 40 people, including six policemen, were injured in Madaripur Sadar upazila yesterday as a factional clash of Bangladesh Chhatra League ensued during celebration of Awami League President Sheikh Hasina's birthday.
The law enforcers had to fire 226 rounds of rubber bullets and four rounds of teargas shells to bring the situation under control, said Sougatul Alom, officer-in-charge of Sadar Police Station in the district.
Seven men were detained from the spot -- Government Nazimuddin College campus -- for questioning, he added.
The clash broke out around 12:00 noon as Zahid Hossain Anik, president of Madaripur district unit BCL, and Tanvir Mahmud Abir, former general secretary of Madaripur district unit BCL, brought out procession at the same venue, said witnesses.
Anik is backed by AFM Bahauddin Nasim, organising secretary of Awami League central committee, while Abir is supported by Shahjahan Khan, Member of Parliament from Madaripur-2, locals said, adding the two groups had a long standing feud over establishing supremacy in the area.
Riyad Mahmud, resident medical officer of Madaripur General Hospital, said a total of 35 people were admitted at the hospital.
"We referred 13 of them to Faridpur Medical College Hospital as their condition was critical," he added.
Contacted, Anik and Abir both blamed each other's followers for the incident.