CU sexual assault: Arrestees are BCL activists, supporters, Rab says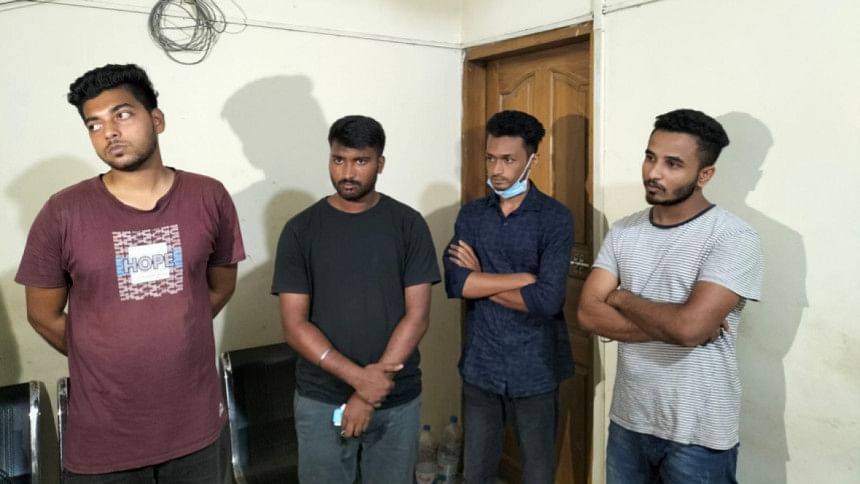 All of the four persons arrested for their involvement with the sexual assault of a female student at Chittagong University campus on the night of July 17, are activists and supporters of Bangladesh Chhatra League.
Lieutenant Colonel MA Yousuf, commanding officer of Rab-7, confirmed the matter during a press briefing today.
Three mobile phones, including the one of the victim, were recovered from their possession, reports our staff correspondent quoting the official.
Rab arrested the four during an overnight drive for their direct association with the incident.
The arrestees are Md Azim, second-year student of CU history department; Nurul Akhter alias Babu, second-year student of CU anthropology department; Md Masud Rana and, Hosaain Shaon, second year students of Hathazari Government College.
Among them, Azim is a supporter of Rezaul Haque Rubel, who is the president of BCL's CU unit, the Rab-7 official said.
According to Rab, six persons were involved in the assault incident. Of them, five were directly involved.
Two of the accused – both named Saiful – are on the run. They are not CU students, but live in nearby areas of the university.
Shaon and Saiful first saw the victim and her friend, then they called others. All of them then demanded money from the duo. Later, the accused confined the victim's friend and assaulted the victim.
They also recorded video of the incident on their three mobile phones.
Azim was arrested last night from his aunt's house in Rouzan. The rest were arrested from different places based on information given by Azim.
Earlier BCL's CU unit President Rezaul Rubel confirmed to The Daily Star that Azim is a BCL activist. He said, "Azim is a CFC group activist and Babu and Shaon are VX group."