Bangladesh, World Bank sign $2.25 billion loan deal for 5 dev projects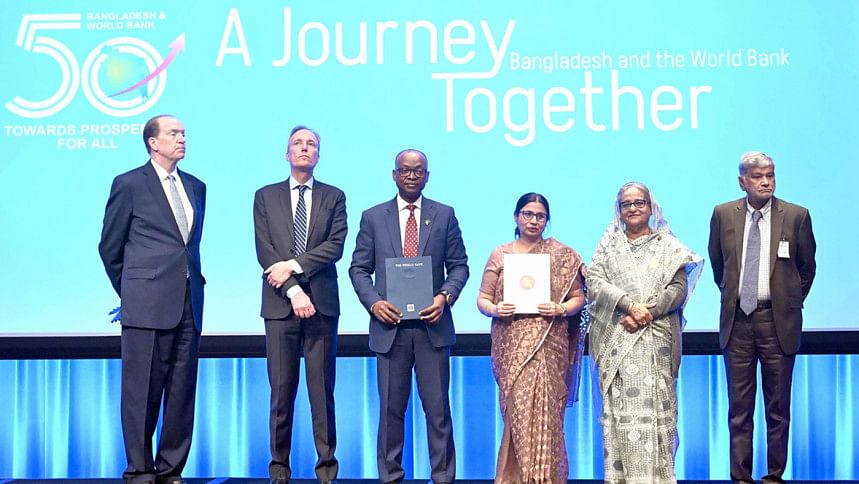 The World Bank (WB) has agreed to provide a loan of $2.25 billion to Bangladesh for its five development schemes on regional trade and connectivity, disaster preparedness and environmental management.
A loan agreement was signed between Bangladesh and the global lender at the WB headquarters yesterday (Washington time).
Prime Minister Sheikh Hasina and WB President David Malpass witnessed the exchange of the agreement.
The five projects are: Resilient Infrastructure Building Project (RIVER), Bangladesh Environmental Sustainability and Transformation (BEST), Accelerating Transport and Trade Connectivity in Eastern South Asia (ACCESS) –Bangladesh Phase-1, First Bangladesh Green and Climate Resilient Development (GCRD) and Sustainable Microenterprise and Resilient Transformation (SMART).
Of the projects, the resilient infrastructure scheme with $500 million for adaptation and vulnerability reduction will be the first major investment programme to support Bangladesh Delta Plan-2100 as it will help improve disaster preparedness against inland flooding.
The second project on Bangladesh Environmental Sustainability and Transformation worth about $250 million will help Bangladesh strengthen environmental management and promote private sector participation in green investment.
The third one on accelerating transport and trade connectivity in Eastern South Asia-Bangladesh phase-1 with $753.45 million will help Dhaka improve regional trade and connectivity.
The fourth project on the first green and climate resilient with $500 million will help the country's transition to green and climate-resilient development.
The fifth and last scheme on sustainable micro-enterprise and resilient transformation involving $250 million will help transform the micro-enterprise sector to be a more dynamic, less polluting, resource efficient and climate resilient growth sector.