Let's work together for bright future, PM tells WB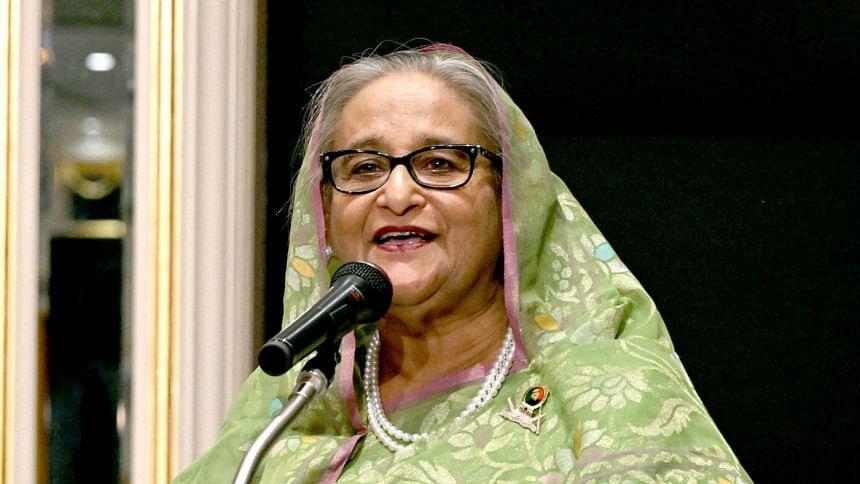 Prime Minister Sheikh Hasina today said the photo exhibition held on the World Bank premises has shown the development story of Bangladesh, and vowed to work in unison with the global lender for brighter future.
"I hope the World Bank will continue to remain with us on our exciting journey ahead to build a 'Smart Bangladesh'. Let us work together in a spirit of shared trust for a brighter future," she said.
She was jointly opening the photo exhibition with the WB President David Malpass marking Bangladesh-WB partnership over the 50 years.
They walked through some of the key elements of the exhibition.
"It speaks of our government's determination to turn Bangladesh into a resilient and prosperous land," she said.
The premier thanked the World Bank and other development partners for sharing the vision of an inclusive growth.
"Our common enemies are poverty and hunger, and we must not rest our case till we have won over them," she said.
Sheikh Hasina said she believes that the photo exhibition will remind them of what they have achieved together and the task that remains.
The premier went on saying that the exhibition is also about the importance of making the right political choices.
"It shows the kind of smile that our Father of the Nation Bangabandhu Sheikh Mujibur Rahman wished to see among our distressed people," she added.
On her arrival at the WB headquarters in Washington DC, Bangladesh Prime Minister was received by Country Director of World Bank to Bangladesh Abdoulaye Seck and its SAR VP Martin Raiser with a flower of bouquet.
The premier also witnessed a dance event.