Pahela Baishakh 1429 ushered in at Ramna Batamul
After two long years, the welcoming ceremony of Bangla New Year has begun at Ramna Batamul with the first rays of today's morning sun.
The country's leading cultural organisation Chhayanaut has resumed its programmes after the two-year hiatus due to the Covid pandemic.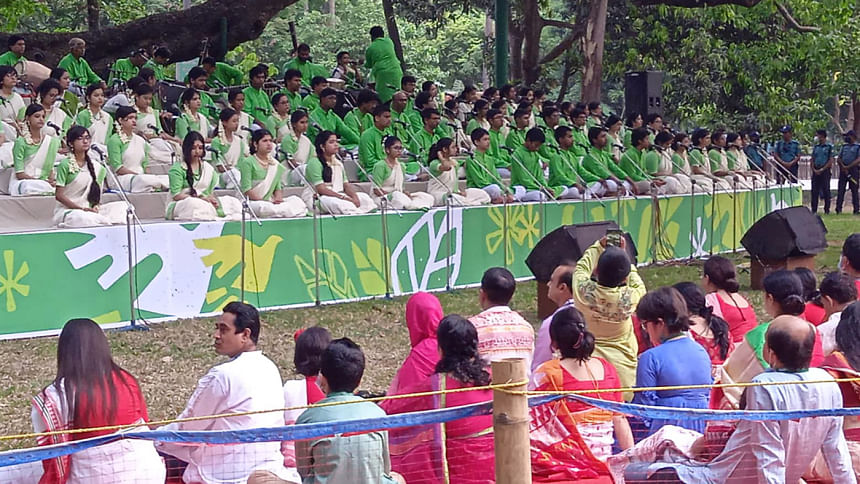 Festival-loving people arrived at the event like always.
The celebration began with the voice of artiste Srabanti Dhar. She presented a raga to welcome the Bangla year 1429.
The highs and lows of the raga overwhelmed the audience. When the voice and the instruments went quiet and they opened their eyes, the crowd had swelled.
As always, artistes from Chhayanaut Sangeet Bidyayatan – of varying ages – occupied the main stage at Ramna Batamul. This year, there were 85 of them.
Together they started off with the Rabindra Sangeet "Mann, jaago Mangalalokey".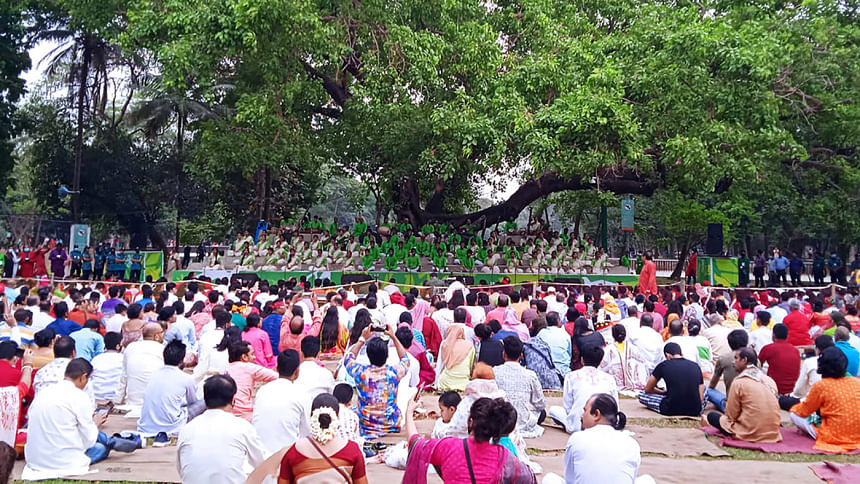 Apart from them, teachers of Chhayanaut are presenting solo and duet performances.
Apart from the songs of the "five poets of Bengal", there will also be folk and Bratachari songs on the occasion.
The celebration will end with Chhayanaut President Sanjida Khatun's speech.
All public Pahela Baishakh celebrations in Dhaka will be ended by 2pm, according to instructions by Dhaka Metropolitan Police.