Crafting a living out of making toys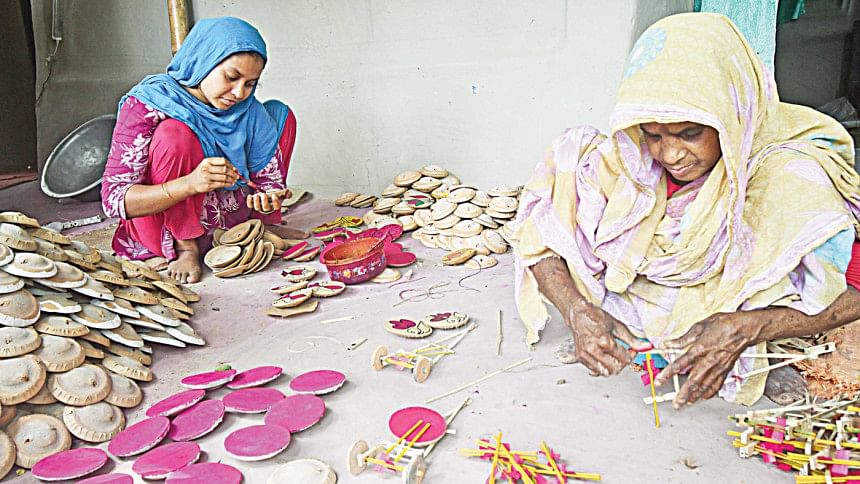 Nearly 700 women artisans in a village under Dupchanchia upazila of Bogura have been making tomtom and other toys from bamboo, papers, earthen pots, and colours for decades, changing the economic conditions of their families. 
In the Kholash village, 150 families are engaged in the making of toys, which are sold at the village-level fairs organised on various occasions, including Pahela Baishakh.
During a visit to the village recently, it was found that almost every village woman was making hand-made toys as Pahela Baishakh, the first day of the Bangla calendar, is approaching.
Some are busy making designs on paper with colours, some are making various parts of a tomtom toy, a wheeled carriage drawn by a single horse, and the rest are putting them together and making a finished product.
Artisans make around 1 lakh tomtom toys every month worth Tk 10 lakh.
Women make up the majority of the toy-makers. There are four to five women in every household who remain engaged in the trade throughout the year, excluding the rainy season, according to Babu Pramanik, an entrepreneur. 
Each woman makes 300 to 350 tomtom toys a day. At Pramanik's house, six workers produce 15,000 to 20,000 tomtom and car toys a month.
It costs Tk 6 to make a tomtom toy and Tk 10 a car toy. Pramanik gets Tk 20 for a tomtom toy and Tk 30-40 for a car toy when he sells them at fairs on his own.
"I can earn Tk 30,000 a month. We are doing well. I have two kids who are going to school."
Each of his workers takes home Tk 300 to Tk 350 a day by making toys after finishing their household chores.
Abu Bokkor Siddik, a sixty-eight-old villager, recalls one of the villagers named Kurano went to Bihari Palli in Saidpur in the Pakistan era and learnt how to make toys. Subsequently, he became the first person in the village who initiated a toy-making business.
"Over the years, this business has spread throughout the village. Now, toy-making is the main source of income," he said.
Deloara Bewa, a 55-year-old toy-maker, says toy-making has become a profession for many women and they can earn money to support their families.
"The most important thing is we don't have to leave our house to make a living."
Anowar Hossain, an artisan, makes 5,000 to 10,000 tomtom toys each month and rakes in Tk 15,000 to Tk 20,000 in profit.
The business is not without challenges.
Artisans say although they are making handicraft products, they have never received any training to run their business properly. Besides, the handicraft business is shrinking as plastic toys wash across the market and dominate every village fair across the country.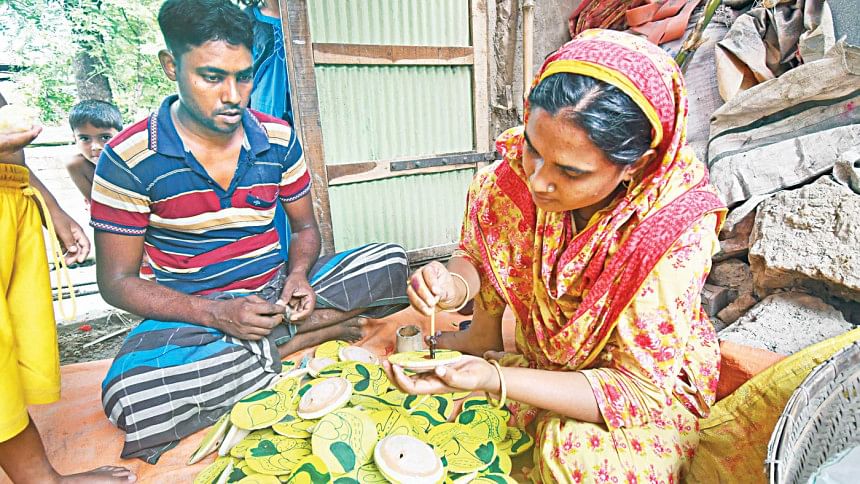 "We have to compete with imported Chinese toys. But we are not getting any training or low-cost loan facility to upgrade our business," said Lutfar Mollah, another entrepreneur. 
The higher prices of raw materials are another headache for entrepreneurs.
For example, before the pandemic, they used to buy 1,000 earthen pots for Tk 500. Now, the same number of pots costs Tk 1,800.
In the last two years, both artisans and entrepreneurs in the village in the northern part of Bangladesh suffered losses due to the pandemic as village fairs were banned owing to Covid-19 restrictions. As a result, many were forced to move to other professions to survive.
As the pandemic receded thanks to the sharp drop in infections, they have returned to the village's five-decade-old profession.
Since there had been no income during the peaks of the pandemic, each family engaged in toy-making took out loans from banks and non-governmental organisations.
"If you come to this village early in the morning and stay throughout the day, you will find a lot of NGO workers who are collecting installments," said Md Redowan, a 25-year-old toymaker.
As fairs are being organised everywhere after a lull, the demand for tomtom and other handmade toys has gone up, so every entrepreneur is taking up a higher amount of loans to expand their production.
Siddik has secured loans amounting to Tk 2.5 lakh from a bank and three NGOs recently. He pays Tk 6,000 to Tk 8,000 every month in installments.
AKM Mahfuzur Rahman, acting deputy general manager of the Bogura BSCIC (Bangladesh Small and Cottage Industries Corporation), says he did not know about the village artisans and entrepreneurs.
"Now I will go and visit the village. If they really need training and loans, we will arrange them as per our capacity."