No clash between religion and culture: PM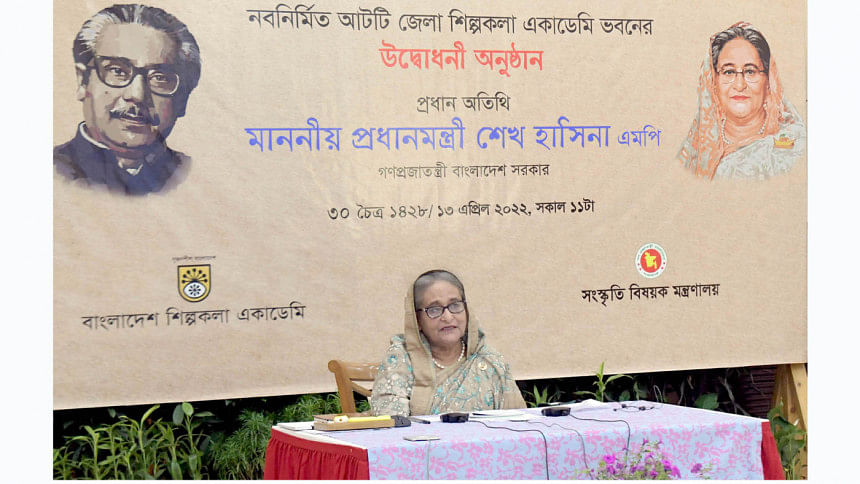 Prime Minister Sheikh Hasina today said culture has no clash with religion -- referring to numerous attacks on cultural programmes including bombings at Pahela Baishakh celebration.
"Some people want to create confrontation between culture and religion. This is not right at all. Religions are for individuals, but festivals are for all. We celebrate our festivals together," she said.
The prime minister said this while inaugurating the newly constructed buildings of Shilpakala Academies in eight districts -- Dhaka, Kushtia, Khulna, Jamalpur, Narayanganj, Pabna, Manikganj, Moulvibazar and Rangpur.
She virtually joined the programme held at Shilpakala Academy from her official Gono Bhaban residence in Dhaka while offices of the deputy commissioners of the eight districts were remotely connected to it.
The premier stressed the need for protecting Bengali culture and heritage, particularly regional ones, alongside cultures of small ethnic groups.
Sheikh Hasina said they had faced obstruction while celebrating Pahela Baishakh-1414 when they were the opposition party and people were killed in bombings at Ramna Batamul -- aimed at stopping Bangalee cultural practices.
Pahela Baishakh is the only non-religious festival which is celebrated by all, she said, adding that this year, the festival will be celebrated on limited scale after two years of hiatus due to the Covid-19 pandemic.
In a bid to enrich the Bangalee culture and provide scope to the people to practice it largely, she said her government has a plan to build cultural centres in all upazilas across the country.
"We will build cultural centres in all 493 upazilas across the country so that our children from each upazila can get opportunity to flourish their talents and do cultural practices," she said.
The prime minister asked all concerned to build the multipurpose hall in the cultural complex in the upazila level in such a way so that cinemas including feature films and short films could be screened.
"We must not forget our tradition, and at the same time, we have to go with the trend of the new era. Our children need to cope with modern culture and they have to adopt and practice that," she said.
She said that tradition, modern technology and knowledge cannot be separated from each other.