'I can assure you of best policy framework'
PM tells visiting US-Bangladesh Business Council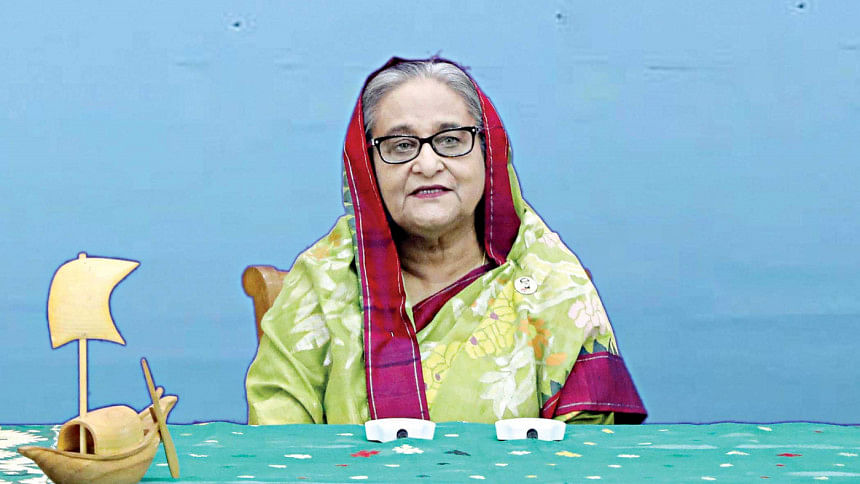 Prime Minister Sheikh Hasina yesterday invited US businesspersons with the assurance of the best possible policy framework for an investment-friendly atmosphere in Bangladesh.
"With strong prospects, I can now assure you of the best possible policy framework to ease our business and investment climate," she said.
The premier made the call during a meeting with the visiting first ever executive business delegation, US-Bangladesh Business Council, at the Gono Bhaban.
Sheikh Hasina said she believes that the US businesses will take the advantage and invest more in promising sectors like power and energy, ICT, infrastructure, light engineering products, mobile phone and electronic goods, automobile, agro-processing, pharmaceuticals, and ceramics.
She mentioned that Bangladesh is now recognised for the state-of-the-art manufacturing factories in various sectors like RMG, leather, plastic, jute, ICT and agro-processing.
The prime minister said that she believes that the US-Bangladesh Energy Taskforce which was launched in September 2021 will help advance energy cooperation among the stakeholders of both countries.
Likewise, the proposed US-Bangladesh Digital Economy Taskforce will contribute to deepen the cooperation of companies of both countries to ensure sustainable development, she noted.
"Our trade relations can be further strengthened with duty-free access and other trade privileges in the US market," she said, adding that "Bangladesh is ready to commence Free Trade Agreement negotiations with the US at an appropriate time."
Expressing gratitude to the US Chamber to recognise Bangladesh as one of its potential partners for enhanced trade and investment, Sheikh Hasina hoped that this visit and exchange of views with the relevant government and private bodies will further explore the expected business to business partnership and, will definitely double the trade volume and benefit the private sectors of both countries.
Bangladesh has been recommended to graduate from the LDC in 2026 and the country is aspiring to become a developed and prosperous country by 2041, she said, adding that "We need enhanced investment from friendly countries, especially from the USA."
Terming Bangladesh as an attractive investment destination, she said along with physical infrastructures, the country has upgraded and eased the rules and regulations relating to investment and business.
The PM added: "Bangladesh has the most liberal investment policy in South Asia and its foreign investment is protected by acts of parliament and bilateral treaties."
Recently, all areas of Bangladesh have been brought under electricity coverage, she said, adding, "We are upgrading our road, railway and water communications by implementing some mega projects."
Mentioning that Bangladesh is setting up 100 special economic zones for domestic and foreign investors across the country, the premier offered "We may earmark one of the zones exclusively for the US investors, if you desire so."