UP Polls: Voting underway in 28 unions of Ctg, Jhenaidah, Patuakhali, Brahmanbaria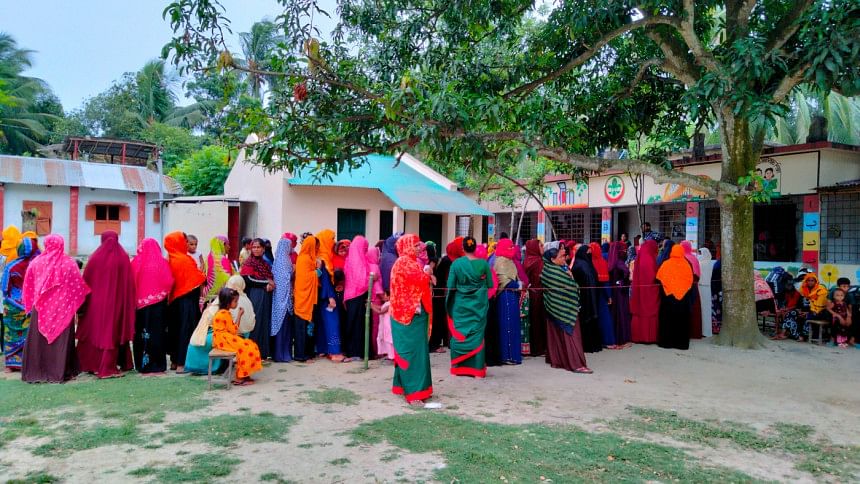 Union parishad (UP) election is underway in several unions across the country this morning.
The voting began at 8am and will continue till 4pm.
In Chattogram, voting is going on peacefully in 14 unions of Banshkhali upazila.
Due to the time it takes to match fingerprints, presiding officers from various centres have said that voting process has become slow.
Around 11am, a long line of voters was seen at East Gunagari Government Primary School in Kalipur Union of the upazila. Inside and outside the polling booths, voters as well as agents for various members and chairman candidates were seen, reports our staff correspondent.
Presiding Officer Aminul Islam said that 634 people out of 3,359 voters in that centre were able to cast vote until 10:30am. Meanwhile, only 479 votes out of 2,296 were cast at the East Bailgaon Government Primary School centre.
There are chairmen, belonging to AL, in 10 union councils of Banshkhali. The remaining four have chairmen belonging to BNP and Jamaat. In this election, BNP and Jamaat have candidates in every union.
In Jhenaidah, voting is going on in two unions – Surat and Paglakanai. However, this is the first time that voters of these two unions are using EVMs to cast their votes.
Voting has been going on peacefully since the morning. There has been no untoward incident anywhere. It takes about 10 minutes for voters to cast their ballots, reports our Jhenaidah correspondent.
Sanjib Kumar, presiding officer of Baribathan Government Primary School in Paglakanai union of Jhenaidah Sadar upazila, said, "This is the first time that the voters of this union are voting with EVM. Voting is taking some time but the voting environment is peaceful."
The total number of voters in Surat UP is 10,950, of whom 5,547 are male and 5,403 are female voters. The total number of voters in Paglakanai UP is 14,114. There are 6,874 male and 7,240 female voters.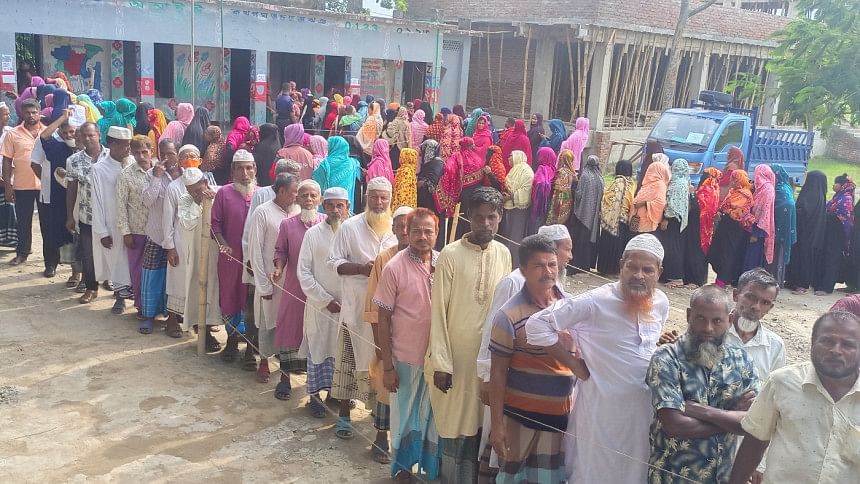 In Patuakhali, voting is going on in eight unions of three upazilas.
A large crowd of voters gathered at Hetalia Government Primary School in Patuakhali Sadar Upazila's Kalikapur Union. Arif Hossain, presiding officer of the same union's Ballavpur Government Primary School, said that 135 votes were cast in one hour until 9am, reports our Patuakhali correspondent.
There are 1,682 voters, including 840 women voters. As people are not used to voting with EVMs, there has been a slight delay in voting.
EVM voting is going on in eight unions of Sadar, Kalapara, and Dashmina upazilas.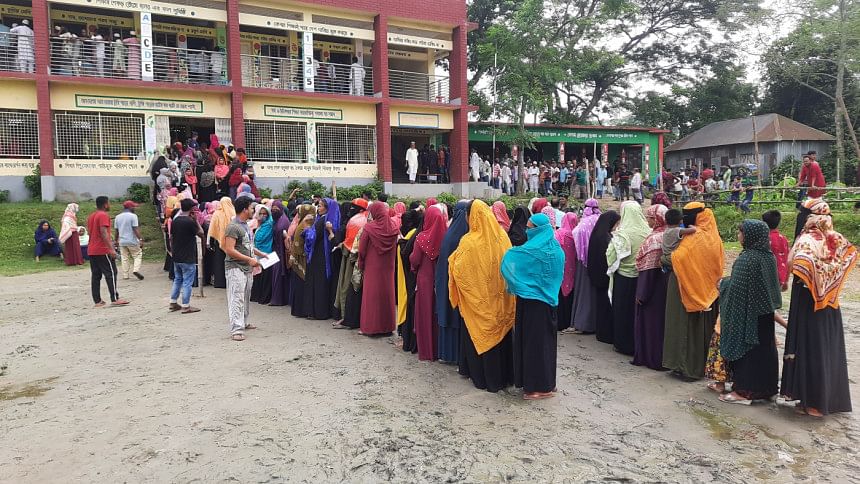 In Brahmanbaria, voting is going on in four unions of three upazilas.
Voting is underway in 37 centres across four unions, reports our Brahmanbaria correspondent.
The total number of voters in the four unions is 80,485, according to the District Election Officer's Office. Male voters are 41,347, while female voters 39,138. There are 22 candidates running for chairman, 134 candidates running for general member, and 42 candidates running for reserved women members in this election.
District Election Officer, Mizanur Rahman, said that Rab, BGB, and Ansar members, as well as more than 400 police officers, are on duty to keep the election environment fair and peaceful. Each union will also have five mobile teams, each led by an executive magistrate.