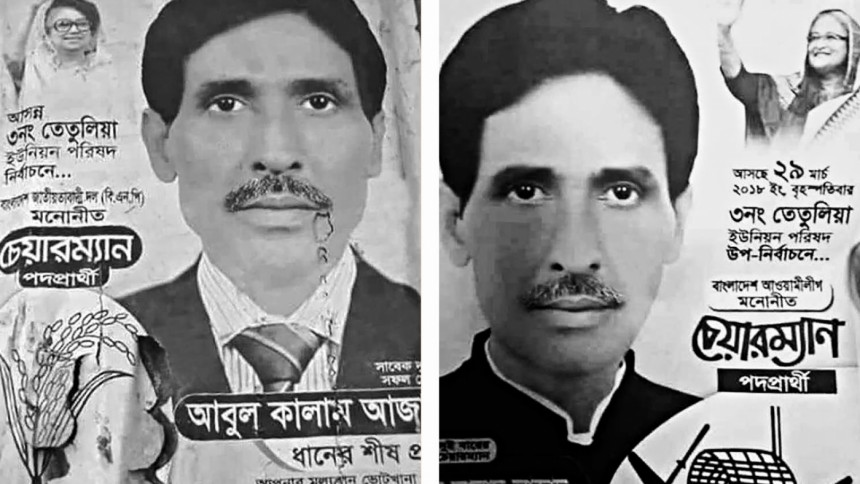 All along he had been a diehard BNP activist. To prove his loyalty to the party, he, according to party insiders, did whatever necessary -- broke framed photographs of Bangabandhu Sheikh Mujibur Rahman, Prime Minister Sheikh Hasina and even "ransacked" some Hindu houses in Netrakona.
Apparently, these acts bore fruit. Blessed by some BNP high-ups, he held a top party post in Mohanganj, became a union parishad chairman and went on to be a vice president of the BNP in the upazila.
But in a dramatic turn of events, he has recently got nomination from the Awami League -- the archrival of the BNP -- to vie for the chairman post in a union parishad election scheduled for March 29.  
The man, Abul Kalam Azad, was still holding the vice-president's post when he secured the AL nomination for the by-elections in Tentaulia union.
It is not clear how exactly Azad had performed the "political somersault".  
The AL Local Government Nomination Board, at a meeting with party President Sheikh Hasina in the chair on February 26, nominated Azad for the chairman post.
Two days later, the BNP expelled him for violating party discipline.
Talking to our correspondent in Netrakona recently, Azad, however, claimed that he tendered his resignation in September, 2016 as the local BNP leaders and activists did not work for him in run up to the last UP polls. 
"Also, I was an Awami League activist before 2003," he said.
Azad was defeated by AL-nominated candidate Rafiqul Islam Murad in the elections on April 23, 2016. After the death of Murad on January 13, the chairman post fell vacant.
Mohanganj BNP President AKM Shafiqul Haque, however, claimed that Azad never resigned from the party. "We expelled him as he [Azad] was involved in anti-party activities," he added.
During the campaign for the last UP election, Azad along with his supporters allegedly attacked Murad, broke framed photographs of Bangabandhu, Hasina and vandalised Hindu houses.
Later, Murad filed a case under the Speedy Trial Act, naming Azad as the prime accused. The case is now under trial.
Seven aspirants from the AL, including Murad's widow Samia Zaman, had bought nomination papers to vie for the chairman post on March 29. The party, however, chose Azad. Samia is now contesting the poll as an AL rival.
Talking to the newspaper, Samia said she was a "victim of local politics". She also accused the AL men of "forgetting the contributions of her husband in less than 40 days after his death".
Meanwhile, some local AL leaders said they believed Mohanganj AL President and municipality Mayor Latifur Rahman Ratan lobbied the central leaders to nominate Azad.
Contacted, Ratan claimed that Azad joined AL around two years ago.
"Party gave him [Azad] nomination taking all the perspectives into consideration," he said.
Asked how Azad got BNP nomination in the last UP polls in 2016, Ratan said, "You are a fake journalist. That's why you are asking such questions."
He declined to make any more comments.
Netrakona AL President Matiur Rahman Khan told The Daily Star that they were bound to send Azad's name to the central leaders as it was the only suggestion from the local AL president, general secretary and Netrakona-4 MP Rebeka Momin.
When approached, AL central leader Shafi Ahamed, who is from an area falling under the same constituency, said Azad never belonged to his party. He said Azad was not even a primary member of the AL.
Several leaders from AL's front organisations have shared in Facebook Azad's election posters for the last and the upcoming UP polls. They have expressed wonder how the party nominated him, ignoring all his previous "misdeeds".