Voting pace via EVM slow in Banshkhali UP polls
Fingerprints of many did not match with database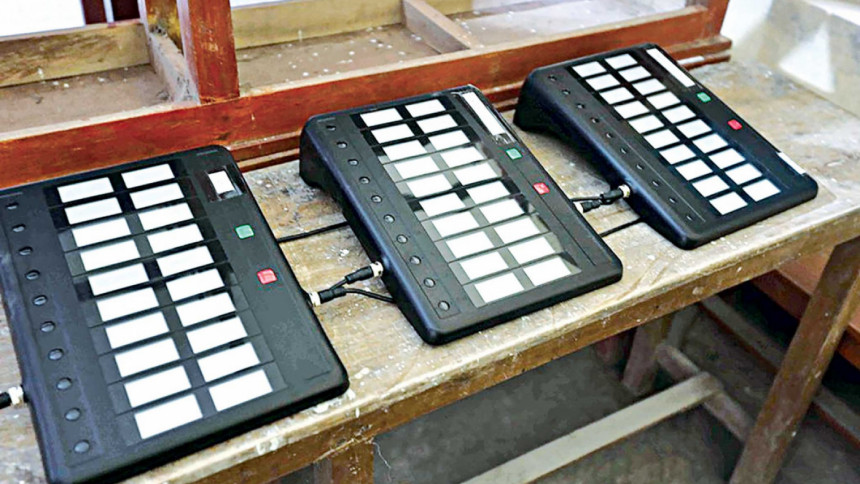 People faced delays in casting votes via EVMs in union parishad elections in Chattogram's Banshkhali yesterday as fingerprints of many did not match with the ones in the voters' database and some failed to use the machines properly.
While visiting East Gunagori Government Primary School centre in Kalipur Union, this correspondent saw there were many lines of voters.
Aminul Islam, presiding officer of this centre, said, "Fingerprints of many voters don't match with EVM machines. So, it takes more time to cast votes. Besides, there are no sufficient rooms for the voters."
Sixty-year-old Golam Sobhan told The Daily Star that he had been waiting there for two hours, but he was yet to cast vote.
The number of voters in this centre is 3,359. But only 634 people could cast their ballots till 10:30am.
At Boilgaon Government Primary School centre in Sadhanpur Union, this correspondent found agents of member contenders were trying to persuade the voters of their candidates on the centre premises.
There are 2,296 voters in this centre. But 469 votes were cast till 10:20am.
Abu Bakkar Siddik, presiding officer of this centre, said some people did not use the EVMs properly.
Long queues of voters were also seen at Nasira Khatun RK High School centre in Kalipur Union.
Jasim Uddin Chowdhury, presiding officer of the centre, said, "Female voters are going through problems to cast votes via EVMs. They cannot give their fingerprints properly. This causes delay in casting votes."
Meanwhile, a man was injured as supporters of two female member candidates (reserved seats) clashed at ward-6 centre in Saral Union Parishad polls. Following this, voting was suspended there for around an hour.
Shahadat Hossain, presiding officer of this centre, said voting resumed after police and administration officials reached the centre.
According to local Election Commission office, ruling party Awami League and rebel candidates were contesting 13 out of 14 union parishads in Banshkhali upazila.
Polls to the other union parishad had been postponed earlier.
In this election, BNP and Jamaat men, who are not nominated by parties, were running for chairman posts in two unions.