12 die in deadliest phase of UP polls
2 candidates, 2 schoolchildren among those killed; over 100 killed so far in five phases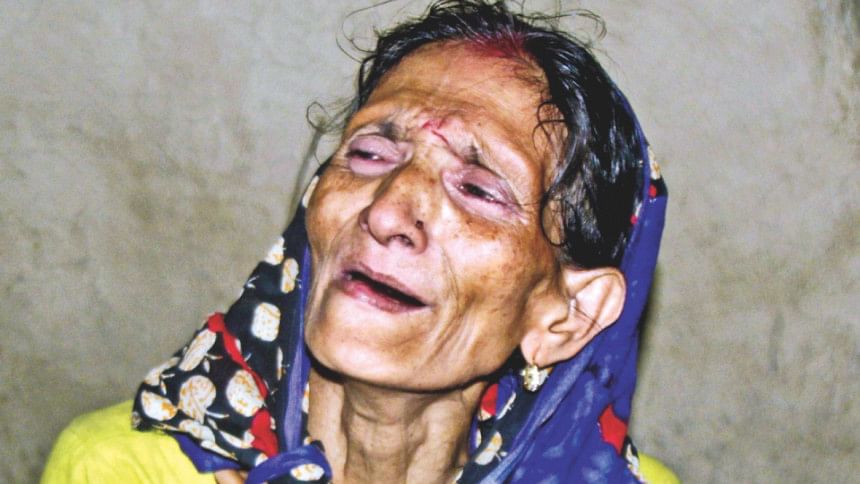 It was the deadliest phase of the ongoing polls to union parishads.
At least 12 people, including two school-goers and two candidates, were killed in violence during yesterday's fifth-phase voting that was also marked by various irregularities.
Before yesterday, the highest number of people killed in election-day violence was 10, and it was in the first of the six phases of the staggered UP polls.
The election-day death toll in the five phases now stands at 37.
This apart, violence erupted also during electioneering and after the polls since February, leaving 76 more dead.
More than 200 people were also injured, many of them shot, as the supporters of chairmen and member candidates got locked in fierce clashes yesterday, when 717 unions went to polls.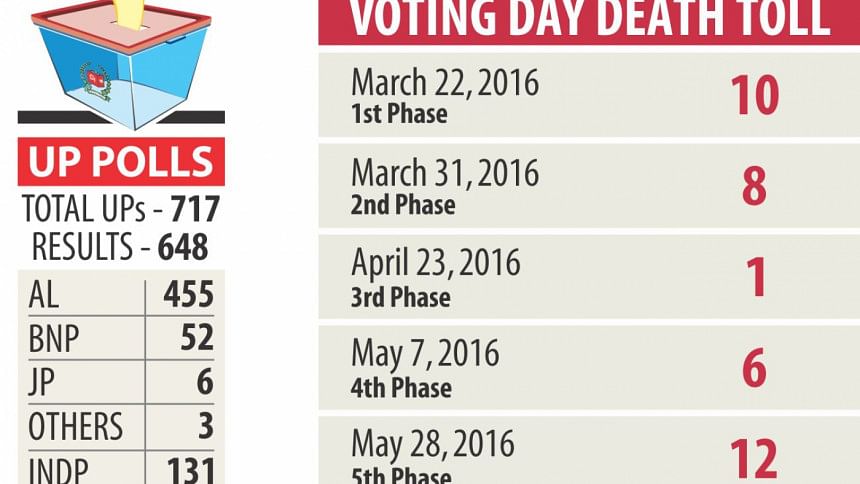 Most of the casualties were the results of clashes between supporters of ruling Awami League candidates and party rebels in around 60 unions.
Deaths were reported from Jamalpur, Chittagong, Noakhali, Comilla, Panchagarh and Narayanganj.
The supporters of candidates captured polling stations and stuffed ballot boxes, like in the previous four phases.
Voting in 120 centres was called off as law and order went out of control, according to the Election Commission.
Until yesterday, the total number of deaths in UP polls violence stood at 101, according to civil body platform Shushashoner Jonno Nagorik (Shujan). Of the deceased, 40 were supporters of AL nominated chairman candidates while 12 were loyal to AL rebel candidates and two were supporters of BNP candidates. Most of the rest were people with no political affiliation. There were a few from Jatiya Party and Jatiyatabadi Samajtantrik Dal.
Jamalpur saw the worst violence yesterday in which at least four people, including two children, were killed.
Over 100 others were injured when supporters of AL and AL rebel chairman candidates locked in a fierce clash over taking control over a polling centre in Bahadurabad union.
Witnesses said armed supporters of AL candidate Shakiruzzaman Rakhal and AL rebel candidate Sajahan Mia clashed around 10:15am at the polling station.
The law enforcers tried to control the situation but Jahangir Alam, general secretary of Bahadurabad union parishad, said, "All the three parties fired bullets that left four people shot."
Majed, 15, of class-VIII and Nabirul, 16, of class-IX of a local school were among those hit. Majed died on the spot while Nabirul died on his way to Mymensingh Medical College Hospital, Shariful Huq, additional superintendent of Jamalpur police, told this paper.
Police fired at least 140 shots to control the situation, he said.
Locals said Majed and Nabirul had gone to Khutarchar Ebtedayee Madrasa polling centre to see the voting.
Nurul Islam, 55, and Ziaur Rahman, 35, were also shot and they died in local hospitals.
At least 10 policemen and Ansar men were injured in the clash, reports our correspondent there.
The deputy commissioner of the district has formed a four-member probe body, led by an additional district magistrate, and asked it to submit a report within three days.
In Chittagong, two people, including a member candidate, were killed and several others injured when supporters of AL chairman candidate Md Ali and AL rebel chairman candidate Didarul Alam locked in a clash outside Fakirnir Hat Sunnia Madrasa polling station in Barauthan union around 1:00pm.
They were armed with firearms and sharp weapons.
Yasin, 34, an independent member candidate from Barauthan Union Parishad was stabbed outside the polling centre at that time, locals said.
Doctors at Chittagong Medical College Hospital declared him dead at 1:30pm. Hossain, 30, was also taken to the hospital with stab wounds and was declared dead in the evening.
In another incident, one person was killed and several others, including three police constables were injured as supporters of two member candidates clashed at South Ashia Shah Amanat Hefzakhana polling centre in Ashia union around 11:30am.
Police and eyewitnesses said the followers of member candidates Nurul Karim and Shafiqul Islam locked in clash accusing each other of casting fake votes.
They hurled brick chunks and fired shots at each other, said Sergeant Saiful Islam, who was in charge of the centre's security.
"We too fired four bullets to disperse the mob," he added.
In the melee, Babul Shil was seriously injured after being beaten up. He died at Patiya Upazila Health Complex in the afternoon.
Meanwhile, presiding officer of Kazipara Govt Primary School polling centre, Manjurul Alam, 55, died of cardiac arrest while discharging his duties at Haidgaon of Patiya around 3:30pm, reports our correspondent there.
In Noakhali, two people were killed in separate incidents at two unions of Begumganj.
Our correspondent reported that a group of people gathered in front of Rajganj Senior Madrasa polling station around 11:00am allegedly to occupy the centre.
Law enforcers went to the spot and started charging truncheons .
Amid the chaos, Soyad Ahmed, 65, he ran into a wall and started bleeding from his head, said locals.
He was taken to Noakhali General Hospital where he died.
In another incident, Shakil, 17, a shopkeeper of a fruit stall, was killed during a clash between the supporters of two member candidates over occupying KB Union High School polling station in Chirtoli union.
Shakil was being treated at a local hospital but doctors referred him to Dhaka Medical College Hospital as his condition deteriorated.
He passed away on his way to Dhaka. 
Details of the incident could not be known.
In Comilla, Kamal Uddin, an independent chairman candidate and also the outgoing chairman of Bolorampur union parishad and vice-president of Titas upazila BNP unit, was stabbed to death allegedly by his rivals .
ASM Abdun Nur, officer-in-charge (investigation) of Titas Police Station, said a clash erupted between the supporters of Kamal and BNP-nominated chairman candidate Tofail Ahmed Tapan Bhuiyan around 3:00pm in Bolorampur.
Kamal was stabbed during the clash, he said.
In Panchagarh, Nasiruddin, 50, was killed in a clash between supporters of two member candidates at Harinabari union of Panchagarh sadar last night.
A clash erupted around 9:00pm when presiding officer of Joardarpara Government Primary School polling centre declared Tarikul Islam unofficially elected.
After the announcement, supporters of a defeated member candidate attacked Tarikul's men leaving at least four people injured, including Nasiruddin, a supporter of Tarikul.
Nasiruddin was taken to a local hospital where he died.
In Narayanganj, an elderly man died when supporters of a defeated member candidate chased the fans of a winning candidate in Naogaon union of Sonargaon in Narayanganj last night, reports our correspondent there.
Winning member candidate Nurul Islam said Idris Ali got trampled during the attack by his rival's men.
However, Manjur Kader, officer-in-charge of Sonargaon Police Station, said Idris died of cardiac arrest.
In Sirajganj, a mobile court sentenced presiding officer Forhad Hossain of Shuvogacha Govt Primary School polling centre in Kazipur to six months' imprisonment for allowing people to cast fake votes in favour of an AL nominated candidate.
The magistrate also fined four AL men for their involvement in irregularities.
In Munshiganj, Haji Md Ripon Patwari, AL chairman candidate for Mollakandi union, boycotted the polls alleging capturing of polling stations by AL rebel chairman candidate Mohsina Haq Kolpona.
In Chittagong, BGB members arrested AL chairman candidate Haji Saber Ahmed at Ichanagar Govt Primary School polling centre in Chorpathorghata in connection with voting irregularities.
In the presence of a mobile court, the BGB members also recovered ballot papers and seals from his possession, sources said.