UP polls: Voting ends in 6th and last phase of UP polls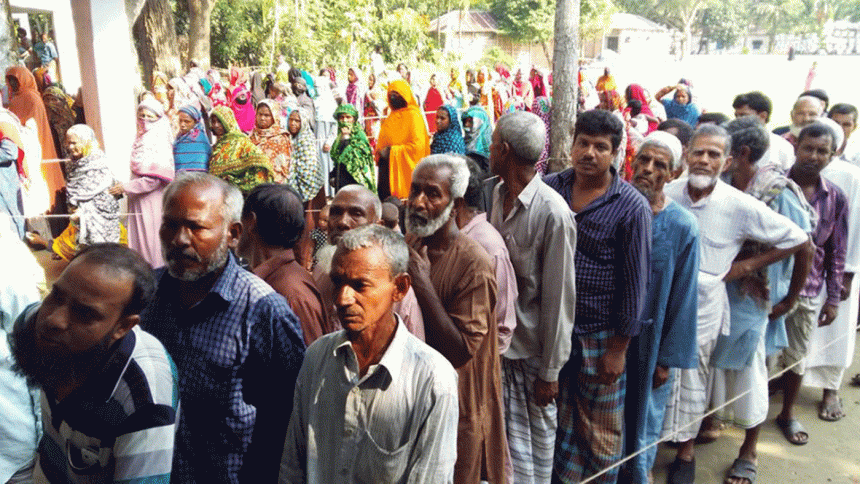 Vote in the sixth and final phase of the Union Parishad (UP) elections in 698 unions ended at 4:00pm today amid some stray incidents of violence.
The voting started at 8:00am and continued till 4:00pm without any break.
At least three people were killed, including a Bangladesh Chhatra League leader, and 16 others injured in separate incident of violence during the election in Noakhali, Mymensingh and Feni.
The voting was cancelled at two polling centres and suspended at other five centres in Chittagong and Feni following separate incidents of violence.
In Chittagong, voting has been cancelled at two polling centres in Demsha union of Satkania upazila after miscreants snatched ballot papers from the centres, Mejbah Uddin, deputy commissioner of the district, told our local correspondent.
Meanwhile, voting has been suspended at four other polling centres in Satkania due to separate clashes and attacks, DC Mejbah added.
Voting at another polling centre in Sonagazi upazila of Feni district has been suspended after miscreants opened fire and hurled bombs around 10:00am, said Md Joynal Abedin, presiding officer of the polling station.
Besides, four BNP chairmen candidates of Bagatipara, Jamnagar and other two unions of Bagatipara upazila of Natore boycotted the polls alleging vote rigging at the unions during the UP election held today.
At least 121 people have been killed and over 8,000 injured in election-related violence across the country since the UP polls schedule was announced in February, according to media reports.
The voting day in the fifth phase on May 28 turned out to be deadliest. Twelve people were killed on that day alone.
Shushashoner Jannoy Nagorik (Shujan), a body working for good governance, has said the death toll and irregularities in the ongoing UP polls have broken all previous records in Bangladesh.
Around 27 people were killed in UP polls-related violence in 2011. The death toll was around 80 in 2003, 31 in 1997 and 80 in 1998, according to EC, Shujan, development organisation Democracy Watch and media reports.
Elections to around 3,290 UPs across the country were held in five phases from March 22 to May 28 this year.
Of them, AL-nominated chairman aspirants won in 2,195 UPs, BNP-nominated in 315 UPs, Jatiya Party-nominated in 41 UPs and independent candidates in 697 UPs. Candidates from other political parties sealed victory in the rest, according to EC and media reports.