Deadliest polls end, taking four more lives
At least 126 people killed in the six-phase election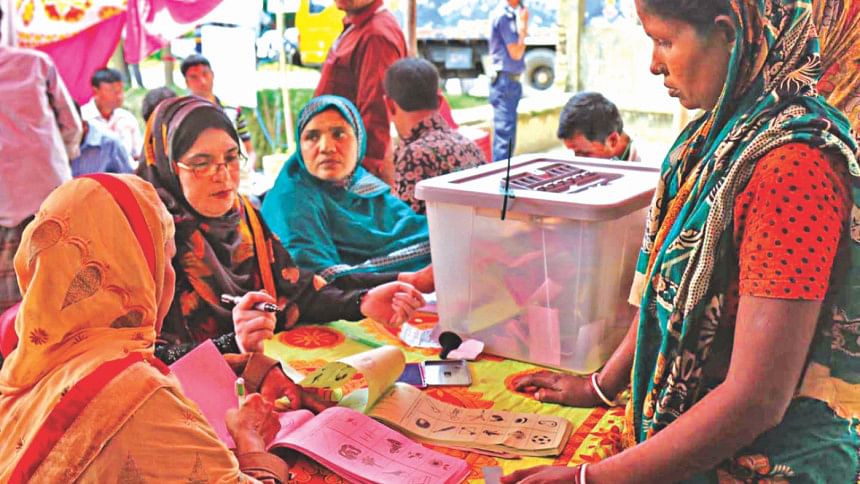 The staggered union parishad elections, the deadliest in the country's electoral history, ended yesterday with four more lives lost in polls violence.
More than 150 people were wounded, as the election to 698 union parishads in the sixth and last phase also saw incidents of violence and polls irregularities.
The four deaths were reported from Mymensingh, Noakhali, Feni and Sunamganj.
At least 126 people lost their lives in violence since the announcement of the polls schedule in February. Of them, 40 were killed on the six voting days and the rest in pre-and post-polls violence.
In the UP polls of 2011, 27 people were killed in violence while the number was 80 in the 2003 election. Thirty-one lives were lost in violence in the 1997 UP polls and 80 in the 1988 election.
As in the previous five phases of the polls this year, supporters of chairman and member candidates, mostly from the ruling Awami League, yesterday resorted to various irregularities, including capture of polling stations, stuffing of ballot boxes and casting of fake votes in more than 50 unions, according to reports from The Daily Star correspondents.
They got locked in fierce clashes, and chase and counter-chase during the voting that began at 8:00am and ended at 4:00pm without any   break.
With yesterday's voting, elections to around 4,000 union parishads, the lowest tier of local governments, came to an end.
In Mymensingh, a man died and 25 others were injured in election violence at a polling station in Saltia union of Gafargaon upazila.
The dead was identified as Shahjahan Mia, 52, from Bagua village. Three critically wounded persons were sent to Mymensingh Medical College Hospital, reports our correspondent.
Quoting locals, Habibur Rahman, officer-in-charge (investigation) of Gafargaon Police Station, said two member candidates' supporters with firearms and sharp weapons clashed at Pukuria Government Primary School polling station around 2:30pm.
On information, police and BGB personnel rushed to the spot and fired some 70 shots to bring the situation under control.
At least 25 people were wounded in the clash -- three of them bullet-hit.
Police, however, couldn't confirm whether the three were injured in police firing or in fight between rival groups.
Shahjahan, cousin of a member candidate, fell ill during the clash and was taken to his house close to the polling centre, said the OC.
As his condition worsened, he was taken to Gafargaon Upazila Health Complex where he died around 3:15pm, he said.
The cause of his death would be confirmed after autopsy, said the OC.
No case was filed and none was arrested in this connection.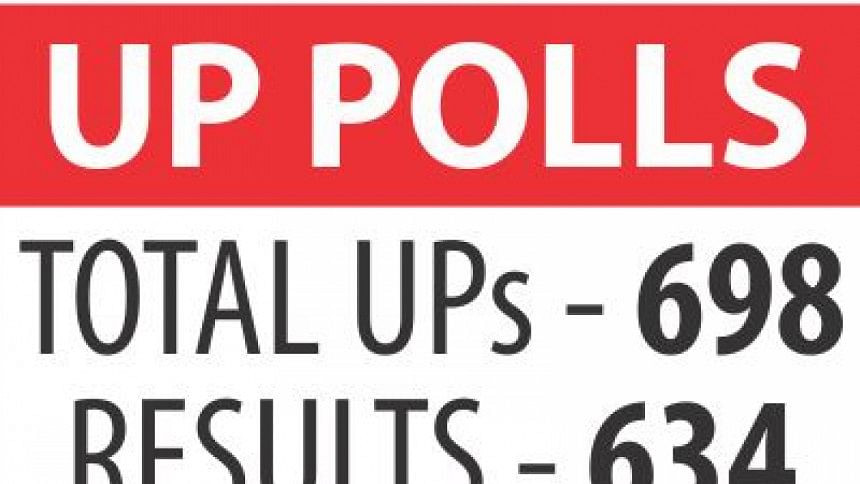 In Noakhali, a Chhatra League leader was killed and seven ruling party men were injured in a clash between supporters of two rival member candidates at Bholanagor Mohammadia Ebtadai Madrasa Centre in sadar upazila.
The dead, Yasir Arafat 26, son of Mohammad Selim of Bholanagar village, was a ward-level BCL general secretary.
Newazpur Union BCL President Yasin Palash said all the injured are involved with the BCL.
Locals said followers of two rival member candidates -- Abul Hashem Bachchu and Shahadat Hossain Kamal -- were locked in a clash over occupying the polling centre around 9:30am, reports our correspondent.
At one stage, Kamal's supporters opened fire and attacked their rivals with sharp weapons, they said.
Arafat and seven others suffered bullet and stab wounds. They were rushed to Noakhali General Hospital.
As Arafat's condition deteriorated, doctors there referred him to Dhaka Medical college Hospital. He died on the way to the DMCH.
In Feni, a man was shot dead and 28 people were wounded -- 20 of them bullet-hit -- in violence at different polling centres in Sonagazi upazila, reports UNB.
The dead, Nur Hossain Shipon, 22, son of Abdul Karim, was a resident of Dakkhin Char Kandia union of the upazila.
Around 10:00am, a clash erupted between the supporters of AL-backed chairman candidate Mosharraf Hossain and BNP-backed candidate Shamsuddin Khokan at Tofael Ahmed High School polling centre in the union.
The rival groups exchanged gunfire, leaving Shipon dead on the spot.
Two assistant presiding officers, two female polling officers, four policemen and three Ansar members suffered bullet injuries during the clash.
The injured were admitted to Sonagazi Upazila Health Complex.
Besides, 17 people were injured in violence in several polling centres in the upazila. Nine of them were hit by bullets.
Police arrested a presiding officer, Md Nurunnabi, with around 800 ballot papers having seals of "boat" symbol, adds our correspondent.
He was caught while stamping ballot papers at Char Sahabibari Government Primary School centre in Char Darbesh union.
In Sunamganj, a youth was killed and eight others were wounded in a clash between supporters of two member candidates over polls results at Paikurati Government Primary School polling station in Dharmapasha upazila.
The deceased, Kohinur Chowdhury, 18, of Paikurati union was the son of a member candidate, said Golam Kibria, officer-in-charge of Dharmapasha Police Station.
Kohinur suffered head injuries during the clash around 6:00pm. He was whisked off to Dharmapasha Upazila Health Complex where doctors pronounced him dead around 7:40pm.
In Chittagong, incidents of arson attack, vandalism, clash and chase and counter-chase took places in at least four of the 10 unions in Anwara upazila. At least 11 people were injured -- three of them by bullets.
In Jessore, Hasan Firoz Ahmed, AL-nominated chairman candidate from Kaiba union in Sharsha upazila, got injured as his private car came under attack from rival groups at Rudrapur Government Primary School centre.
Stray incidents of violence and irregularities also took place in Narsingdi, Rajshahi, Tangail, Jessore, Bogra, Pirojpur, Laxmipur, Comilla, Brahmanbaria, Kishoreganj, Sherpur, Chandpur and Pabna.
INJURED MAN DIES
A man, who was injured in a clash in the fifth phase of the UP polls in Pabna on May 28, succumbed to his wounds yesterday morning at Rajshahi Medical College Hospital (RMCH), say police.
The victim, Sirajul Islam, 48, was a local AL activist and supporter of a member candidate in Sahapur union of Ishwardi upazila, reports our Pabna correspondent.