Puzzling maths
Remuneration Tk 3,575 a month yet Tk 20-50 lakh spent by many chairman aspirants in the recent UP elections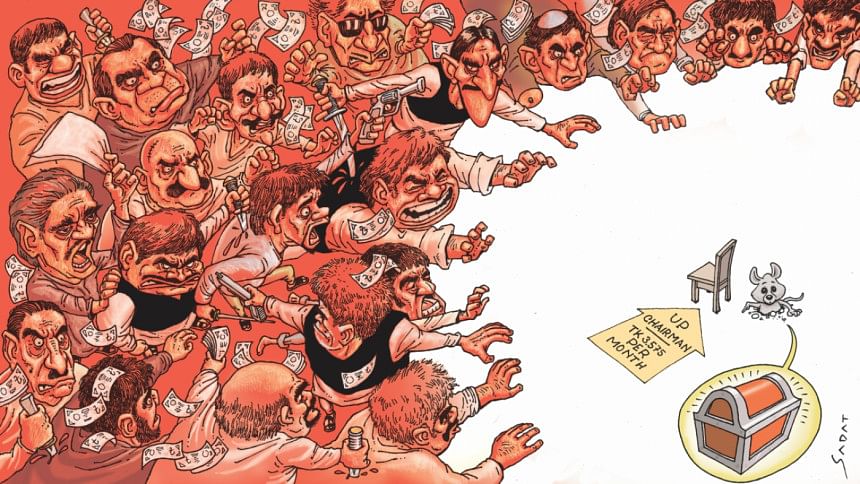 Every month, a union parishad chairman gets only Tk 1,575 as honorarium from the government. He gets another Tk 2,000 from his UP. During his five-year-tenure, he would receive around Tk 2.14 lakh.
He does not get any other pay and perks.
However, during the recent UP polls, held along party lines for the first time, a large number of UP chairman candidates, especially from the ruling Awami League, allegedly spent Tk 20 lakh to Tk 50 lakh for "buying" party nominations and for electioneering.  
So the question arises: What did actually drive them to shell out such huge sums?
Well, it's not really the respect from people or the will to serve them. It's mostly the lust for money and power, say observers.
Though a chairman's honorarium is poor, the post he holds is "lucrative" and can easily be misused to establish supremacy in his area. He can have a huge amount of illegal wealth using that power, said local government expert Tofail Ahmed.
Once elected chairmen, those from the ruling party would soon be able to cash in on their post as their party is in power, he said.
 Former election commissioner Brig Gen (retd) M Sakhawat Hussain said the union chairman post is a means of establishing dominance and setting up or expanding businesses in some places.
"They [nomination seekers] spend the money only after being sure of getting more money in return. And for this reason, they become desperate for win. They won't stop even if it leads to bloodshed," he said. 
At least 126 people were killed in polls violence during the six phases of union parishad elections this year. In most cases, those resorting to violence and also the victims were     from the AL, according to media reports.
In many unions, AL grassroots allegedly picked the party's chairman aspirants in return for money.
Take, for example, Saifullah (not the real name) who has been elected chairman of a union in a northern district. He "bought" his AL nomination for Tk 24 lakh. He spent another Tk 22 lakh for electioneering.
Talking to The Daily Star, he admitted he had paid some leaders of the party's upazila, district and central units and also the local lawmaker for ensuring his party ticket.
He had also bribed some members of the local law enforcement agencies for "smooth electioneering".
Another AL UP chairman candidate from the same district spent Tk 21 lakh to get the party ticket and Tk 17 lakh for electioneering. He, however, was defeated by a rebel of his party.
Many other nomination seekers spent Tk 20 lakh to Tk 40 lakh for getting AL nominations, said sources.
Talking to this correspondent, several incumbent and former union chairmen, said the money was just an "investment", as a chairman, through illegal means, can easily make Tk 1 crore to Tk 5 crore during his five-year tenure.
 Many UP chairmen allegedly make a lot of money misappropriating different government project funds. The projects include Local Governance Support Project (LGSP), Test Relief (TR), Food for Work Programme and distribution of VGF cards.
At least Tk 20 lakh is allocated under the LGSP project every year. For every six months, 22 to 23 tonnes of rice or wheat is allotted under TR while 25 to 26 tonnes of rice or wheat under Food for Work Programme.
People loyal to many of the chairmen also reportedly cut down trees along the roads to sell them.
Besides, every union parishad receives Tk 30-40 lakh for a 40-day jobs scheme project twice a year during the lean farming seasons. The government gives the money to ensure employment for rural people. Many chairmen, however, pocket a large chunk of it.
They also grab their share whenever markets are leased out to businesses in their localities, land deals are signed and government allowances are distributed among       widowed, deserted and destitute women.
Sometimes, they have to be paid for their participation in village arbitrations and for issuing certificates to destitute people who can claim government allowances.
In some cases, they also get handsome amounts of money from the funds allotted to different ministries for carrying out development activities in their localities.
Besides, local lawmaker and upazila chairman are usually given a special allocation for distribution among the UP chairmen in their areas.
Chairmen of unions adjacent to borders also take a large share in the "profit" made through smuggling of goods and cattle, added the incumbent and former UP chairmen, wishing not to be named.
Contacted, a senior AL leader said they received a large number of complaints that many party grassroots leaders chose chairman candidates for money.
"But in most of the cases, the allegations were brought by the leaders who did not get the party nominations," said the leader, seeking anonymity.
Asked, he also said he did not know whether any committee had been formed to look into the allegations.
On April 19, AL presidium member Obaidul Quader said his party would form a committee to investigate the allegations. However, it is yet to be done, said party insiders.