"Don't punish people for the sake of punishing Russia"
Public suffering because of rising prices is also violations of human rights, PM says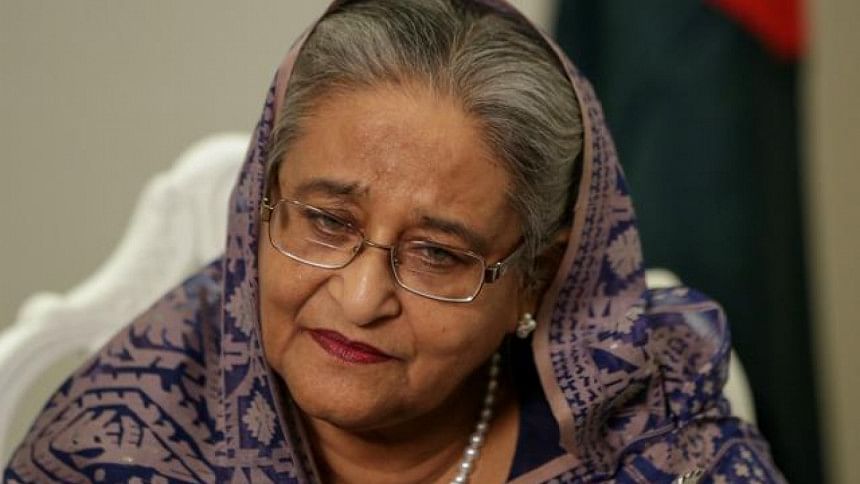 Prime Minister Sheikh Hasina has said that no country should be "controlled or punished" by imposing sanctions as has been the case of Western sanctions against Russia, due to which people around the world are suffering.
"Commodity prices have gone up due to the sanctions imposed by the US and other countries against Russia. It should be reviewed if the country that faces sanctions is actually being punished," she said.
"When people suffer because of serious disruptions in commodity supply and rising prices, including fuel and fertiliser, this is also violations of human rights," Hasina said.
She was addressing the inaugural of the new eight-storey building of the Ministry of Foreign Affairs as chief guest, being virtually connected from her official residence Gono Bhaban today (July 7, 2022).
Commodity prices across the world have skyrocketed since the Russia-Ukraine war and the subsequent sanctions against Russia, as global supply chains are being seriously hampered. The UN has warned of global food shortage.
Prime Minister Hasina said that US needs to reconsider the sanctions imposed against Russia, adding that people should not be punished for the sake of punishing a particular country.
She also spoke about the Rohingya crisis, saying that this has become a huge burden for Bangladesh to continue supporting the more than a million Rohingya.
She called for the developed countries and international agencies to come forward and facilitate the Rohingya repatriation at the soonest.
At the foreign ministry event, Foreign Minister AK Abdul Momen conferred the "Bangabandhu Medal for Diplomatic Excellence" to Bangladesh Ambassador to Poland, Sultana Laila Hossain, and Japanese Ambassador to Bangladesh, Ito Naoki, on behalf of Prime Minister Hasina.
Sultana Laila Hossain has made extraordinary contribution during the Russia-Ukraine war for providing life-saving services to the Bangladeshis who left Ukraine and took shelter in Poland and other European countries.
She was also director general (consular) at the foreign ministry during the Libya crisis in 2011 when about 40,000 Bangladeshis returned home.
Ito Naoki joined the event virtually from Osaka. On his behalf, Japanese Embassy Charge De Affairs Hiroyuki Yamaya received the medal.
Bangladesh-Japan relations have flourished, especially in the recent years, with Japan supporting building of some critical mega projects including Metro Rail, Araihazar Economic Zone, Payra Port, Third Terminal of Dhaka Airport.
At least 326 Japanese companies are now operating in Bangladesh and the number may double in the next five years, with the Japanese companies having a very positive mindset about investing in Bangladesh, foreign ministry officials said.