Gas crunch, power cuts: No sign of relief now
PM says it's hard to keep power plants running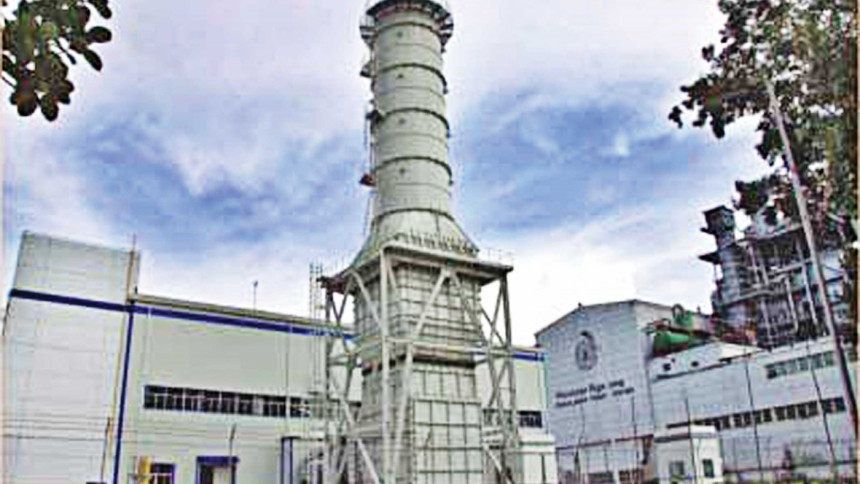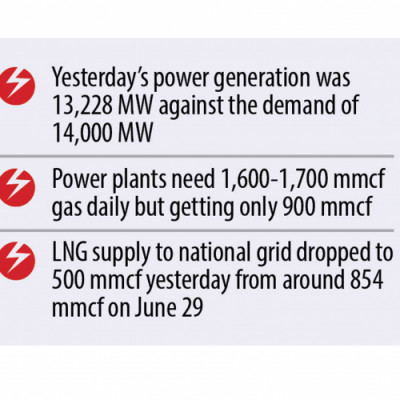 Prime Minister Sheikh Hasina yesterday said that running power plants with imported gas, oil, and coal has become a financial burden for the state.
Her statement comes a day after she said she was thinking about asking authorities concerned to temporarily reduce electricity generation to save fuel.
Around 52 percent of the country's power production capacity is gas-based, 27 percent is produced with furnace oil, 5.86 percent with diesel, 8.03 percent with coal, 1 percent with hydro, 0.5 percent with other renewable energy and 5.27 is imported, according to Bangladesh Power Development Board (BPDB) data.
Speaking at a programme, Hasina yesterday spoke about the government's problems in power generation for the second consecutive day while people are enduring severe power cuts for days mainly due to reduced natural gas supply to power plants.
Currently, Bangladesh has the capacity to generate 22,348MW of electricity every day. The maximum demand was forecasted to be 14,000MW yesterday, but the highest peak-time generation was 13,228MW, according to BPDB.
Of the total power produced, 56 percent was used by households, 28 percent by industries, 11 percent was used commercially and 3 percent in agriculture.
The country started power rationing on June 30 to make up the shortfall.
While inaugurating the country's first campus-based business incubator "Sheikh Kamal IT Business Incubator", Sheikh Jamal Dormitory and Rosy Jamal Dormitory at Chittagong University of Engineering and Technology (CUET) virtually from the Gonobhaban, Hasina said the government has had to resort to load-shedding and cut down power generation to ease the burden of subsidies.
She said the government has allocated Tk 84,000 crore for subsidies across all sectors in this fiscal year.
"How long will we be able to provide such a huge amount of subsidies? We have to provide food, medical care and homes for the homeless people," she said, reports UNB.
"If we do not reduce subsidies, from where will the government get money?" she questioned.
"We have only one option, I have already directed to impose area-based load shedding and prepare a routine for that to inform people earlier so that they can take preparation and suffer less," she continued.
Hasina also said another hurdle is that there are sanctions on SWIFT transactions with Russia, which is why Bangladesh cannot purchase anything from the country with US dollars.
She said the countries that hold Russian currency can purchase goods from Russia, but as Bangladesh does not have a reserve of the Russian currency it has very limited scope to do that. "But we are continuing our efforts."
During her address, the PM compared the prices of fuel and other materials used for power generation before and after the Russia-Ukraine war.
She said the price of furnace oil was only $708 per tonne, which became $1,080 per tonne after the war began -- a 52 percent hike; LNG was $10 MMbtu, which is now $38 -- a 280 percent hike; coal rose 61 percent from $187 per tonne to $278; and diesel price rose around 63 percent from $80 per barrel to $130.
"We are hearing that the price of diesel would become $300 [per barrel]; the edible oil price is also increasing. The prices of products that we have to import have increased excessively," she said.
The PM also detailed the difference between the cost of producing power using different fuels and the subsidised price at which it is sold to consumers.
She said renewable energy power production costs Tk 12.84 per KW, but the government is charging Tk 5.08 per KW. The cost of power production with furnace oil is Tk 17.41 per KW, diesel Tk 36.85, coal Tk 12.37, whereas the subsidised price for consumers is Tk 5.08 for all.
The PM also urged all to practise austerity in consumption, especially in power.
According to BSS, the PM in another programme at the Gono Bhaban called upon people to stop using decorative lightings in different social programmes, community centres, shopping malls, shops, offices, and houses across the country to save power.
Nasrul Hamid, state minister for power, energy and mineral resources in a statement on Tuesday night gave some reassurances, but it is unlikely that those will come to fruition in the near future.
The state minister had said electricity from the coal-based Rampal power plant, second unit of Payra power plant and 1,600MW imported from India will be added to the national grid by this year.
"Hopefully, the current situation will not last long," he said.
He said that at present, daily gas production in the country is 2,300 million cubic feet per day (mmcfd) and around 1,600-1,700 mmcfd is required for electricity generation. Only 900 mmcfd gas is being supplied to power plants as agriculture and industrial sectors are prioritised.
Since the country's gas demand was greater than its gas production, the problem was being solved by importing LNG. However, if LNG is imported at the current prices from the international spot market, the nation's economy might be under stress.
He also said the government is importing as much LNG as it can under the long-term agreements with Qatar and Oman.
Government statistics showed how LNG supply to the national gas grid decreased significantly, which was the major reason behind the less power generation.
According to Petrobangla data, at least 854mmcfd (million cubic feet per day) of LNG was supplied to the national gas grid on June 29 and it had dropped to 500 mmcfd by yesterday.
About 250-300 mmcfd of LNG demand was fulfilled from the international spot market, but after the recent price hike, the government decided not to buy LNG from the spot market until prices came down.
According to energy ministry data, on average 3,100-3,200 mmcfd of natural gas was distributed across the country since the beginning of the year, but since June 30, the average supply stood at 2,800-2,900 mmcfd.
Power production accounts for around 70 percent of the country's total gas consumption, according to energy division data.