Black Sea grain deal must be upheld
Russia should consider the bigger picture of global food crisis and rejoin the deal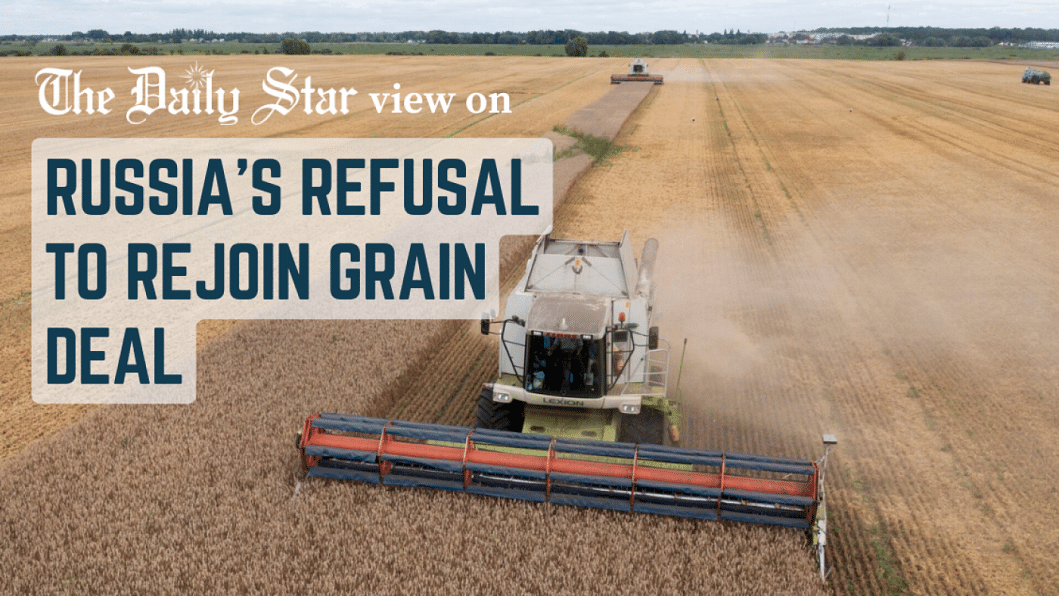 We are gravely concerned about Russia's decision to not rejoin the Black Sea Grain Initiative. Reportedly, the country recently rejected the UN chief's call in this regard, which we fear may severely affect global food supply, especially in countries that are dependent on grain imports. Ukraine is a major producer of staple crops such as wheat, corn, maize, oilseeds, etc. For three years prior to the Russia-Ukraine war, about 10 percent of the wheat and 15 percent of the corn traded globally came from Ukraine. Russia, too, had a major contribution to global food as well as fertiliser supplies.
Given how food prices in the international market shot up as Ukraine's grain exports got disrupted following the war, the UN and Turkiye stepped in to broker the Black Sea Grain Initiative in July 2022 – which opened up Ukraine's ports in the Black Sea for grain exports. Under the deal, the World Food Programme (WFP) procured more than half of its global wheat supply from Ukraine to run aid operations in several countries.
With Russia refusing to rejoin the deal now, chances are those ports will become inaccessible, which means Ukraine won't be able to ship grains anymore. That does not bode well for the rest of the world. Already, this development is affecting food prices. In Bangladesh, which is the third largest importer of wheat from Ukraine, the price of low-grade wheat shot up by Tk 20-30 per maund at Chattogram's Khatunganj wholesale market the day after Russia announced it was pulling out of the deal.
Russia's refusal does have some merit, however. It says it sees no reason to uphold the deal as the commitments made to facilitate its food and fertiliser exports under the deal have yet to be fulfilled. While Western sanctions on Russia do not apply to food and fertiliser exports, restrictions on payments, logistics and insurance have certainly hindered shipments, according to Moscow. We understand its troubles, but Russia must see the bigger picture and consider how its decision will affect millions of people around the world. On humanitarian grounds, as well as to strengthen its global standing, Russia must consider rejoining the deal to avert a potential catastrophe. At the same time, we urge the UN to find ways to accommodate Russia's demands so that the integrity of the initiative is upheld.