Northern smile
Aman farmers of 6 dists in the north see bumper yield fighting early adverse weather, hikes in fertiliser and fuel prices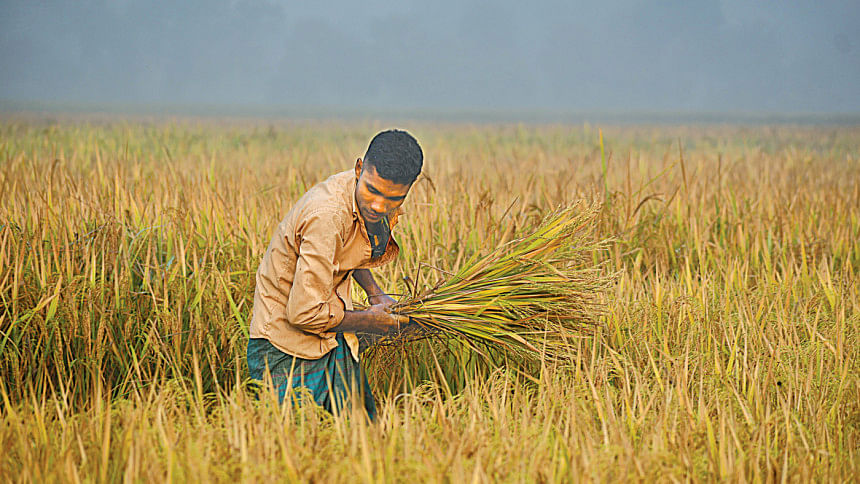 The bumper yield of Aman paddy and good prices has brought big smiles to the faces of rice growers in six northern districts.
Although production was feared to be low due to poor rainfall during monsoon, the high yield has been attributed to the subsequent favourable weather and hard work by farmers.
Apart from the early adverse weather, farmers had to overcome the twin challenges of fertiliser and fuel price hikes.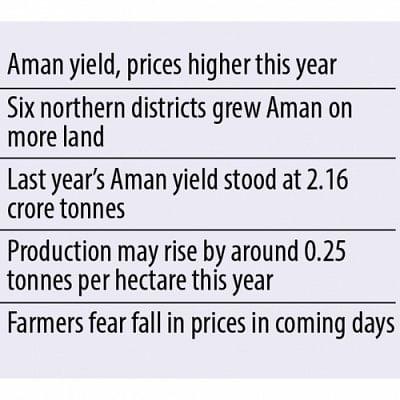 This year's high production came as a big relief for the government as it is repeatedly warning of a possible global food crisis next year.
However, it is unlikely to bolster public procurement of Aman as the government's purchase rate is way below the market prices.
"As farmers knew about the global food crisis, they were more careful this time and took extra care of their crops," Md Abu Hossain, deputy director of the Department of Agriculture Extension (DAE), Naogaon, told The Daily Star recently.
Farmers are also happy with the current market prices, which range from Tk 1,200-1,800 per maund (40kg) depending on the variety. Last year, they sold it for Tk 900-1,400.
Farmers from Bogura, Sirajganj, Joypurhat, Pabna, Dinajpur and Naogaon districts said they were selling their paddy in advance, even before harvesting began as millers are on a buying spree.
However, growers fear that a drop in prices would be devastating for them as the production cost this year was much higher due to fertiliser and fuel price hikes.
Aman paddy caters for over one-third of the country's annual rice production, with 2.16 crore tonnes produced last year, according to DAE data. The share of the six northern districts was 18.1 percent.
This year, the total Aman yield across the country is projected at 2.26 crore tonnes, according to Bogura DAE sources.
Safiqul Islam, a farmer from Gandagram village under Bogura's Shahjahanpur upazila, had cultivated BRRI 51 variety and got 22 maund paddy per bigha.
"I spent Tk 10,000 per bigha. With the current market prices, I can make some profit," he said.
Motiar Rahman, a farmer from Panitala Bazar in Gaibandha's Gobindaganj upazila, said he sold all his paddy grown on 17 bighas of land in advance for Tk 1,440 per maund.
A number of farmers in Dinajpur said the yield per bigha this year is up by 5-6 maund, although the cost is also higher. They said prices were falling over the last few days, expressing concern of big loss if prices fell further.
According to DAE data, farmers of the six districts cultivated Aman on more land this year and the yield increased by around 0.25 tonnes per hectare compared to last year.
Farmers in Bogura, Sirajganj, Joypurhat and Pabna alone cultivated Aman on 3,82,450 hectares of land, which is 6,101 hectares more than that last year, said Bogura Regional DAE officials.
Until November 28, around 70 percent of the paddy had been harvested, they added.
The production will be around 1.18 lakh tonnes higher this year, they predicted, adding that the average yield per hectare in the region this year is 4.66 tonnes per hectare, which was 4.41 tonnes last year.
"Although farmers suffered due to a lack of rain at the beginning, they got sufficient intermittent rainfall afterwards, which helped them see bumper yield this time," said Md Nuruzzaman, deputy director of the DAE, Dinajpur.
Lalmonirhat DAE Deputy Director Hamidur Rahman said farmers will be able to make a profit of Tk 7,000-8,000 from their yield per bigha. 
GOVT PROCUREMENT FALLS SHORT
The food control offices in these districts are finding it difficult to procure paddy at the government-fixed rates -- Tk 28 per kg for paddy and Tk 42 per kg for rice -- which are much below the current market prices.
In Bogura, the district food control office bought 1 tonne of paddy as of November 28 out of its target of 10,222 tonnes.
"As the local market prices of paddy are higher than the price set by the government, farmers are reluctant to sell their paddy to us. But we are getting rice from millers."
The Gaibandha district food controller office is yet to procure any paddy.
 "We have yet to start buying paddy and rice as the market price is high. We hope prices will come down and we will then be able to meet our target," said Antara Mallik, Gaibandha's food controller.
Abdur Rouf, a farmer from Rajosh village under Gobindaganj upazila, said they spent Tk 1,100 to Tk 1,150 to produce a Maund of paddy.
"If we sell paddy at the government rate of Tk 1,120, then how will we survive?" he said.