Load shedding at specific times likely
PM says she might ask for reduced power generation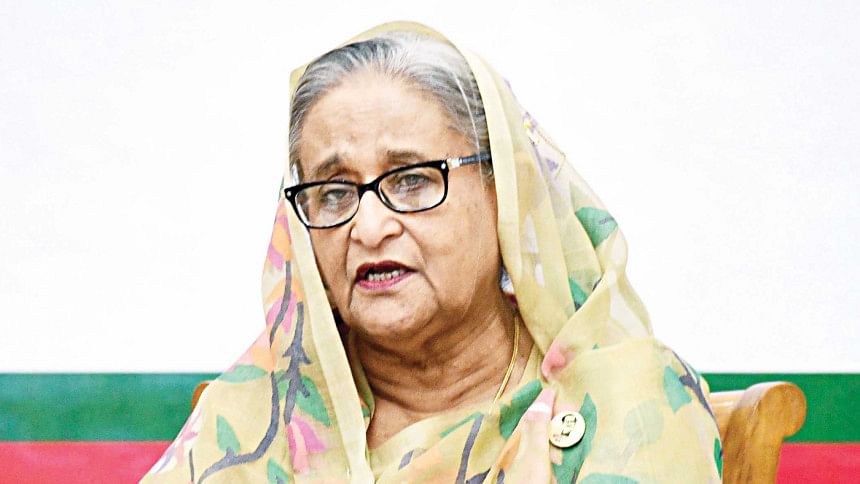 The government is considering reducing electricity production to save the fuel for producing power, said Prime Minister Sheikh Hasina yesterday.
Besides, she is thinking of introducing area-based load shedding for a specific time each day, she added.
"Today, I think that I will tell [the authorities concerned] to reduce electricity production for some time [every day] to save the fuel that is used for power generation," she said.
The prime minister said this at a function at the PGR Headquarters in Dhaka Cantonment to mark the President's Guard Regiment's (PGR) founding anniversary.
She joined the programme from the Gono Bhaban.
She said that the country witnessed 8-10 hours of power cuts in the past from when her government, taking over office in 2009, increased the electricity generation ensuring an uninterrupted power supply in the country.
She mentioned that the government has accomplished the feat of reaching electricity to every house.
The PM said there won't be any indiscriminate load shedding. It will be announced earlier for a specific area and for a specific time, she added.
"If we specify the time for load shedding for specific areas... If we take that step from now on... we will be able to save ourselves from the much harder days coming ahead," she said.
Talking about the recent economic turmoil across the globe due to the impact of the coronavirus pandemic and the Russia-Ukraine war, she said that the prices of fuel oil have soared.
As a result that there is a scarcity of power in many countries around the world, she said.
She said that the prices of electricity-producing like diesel, fuel oil, and LNG, have increased heavily.
Besides, transportation has been hampered due to the Russia-Ukraine war compounding the crisis, she said. She added that even coal is not available.
Hasina reiterated her call to maintain austerity and increase savings which will be beneficial to face any type of crisis in the future.
"If every family resorts to pro-savings mentality and utilises their own lands for optimum productivity (of food grains), it will bring positive results," she said.
She reiterated her call not to leave a single inch of land uncultivated and make sure no water body remains unutilised.
"All empty places have to be utilised for production, whatever it is. We have to try to produce our own food to reduce pressure on the market and make a profit through selling the surplus foods," the premier said.
She said that every person, family and organisation have to take that step.
"I think, if we take this step then we will be able to save ourselves from the ongoing economic shock worldwide."
Hasina said that many countries including America and Britain facing higher inflation amid a scarcity of power.