'Dhaka's vehicles look so poor!': Quader
It is the most unplanned city, he says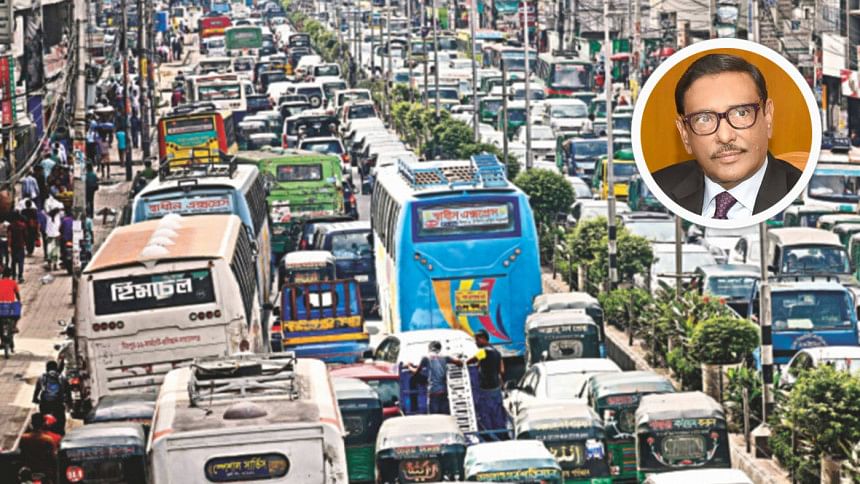 Regarding unplanned development in Dhaka, Road Transport and Bridges Minister Obaidul Quader today said that Dhaka's condition is sad and appalling to watch.
Bangladesh is one of the world's 11 most economically advancing countries, but that is not reflected on the ground, he lamented.
"I've tried everything I can to improve the (quality of) buses in Dhaka. People give the buses makeover with fresh coat of paint, but there is no fitness. This must be changed. Vehicles in Dhaka look so poor!" – the minister said.
Sheikh Hasina has attained new heights of development. But Dhaka's situation, sadly, does not match that, he said.
He made the remarks while participating in a discussion on "Feasibility Study of Subway Construction in Dhaka" project's final draft report – held this afternoon at Sheraton Dhaka.
The minister further said that Dhaka is 137th out of 140 unlivable cities in the world. "I believe the mayors are aware of this and will keep it in mind as they make plans for Dhaka."
He added that "Dhaka is the most unplanned city. The city was constructed without a plan. We are in grave danger if there is an earthquake or a major storm. Dreams of Padma Bridge, metro rail, elevated expressway, and Karnaphuli tunnel have all been seen by one person – Sheikh Hasina. She had a vision for the subway. Considering the current situation of this city, we have to build the subway. There is no alternative."