Is traffic jam in Bangladesh worst in the world?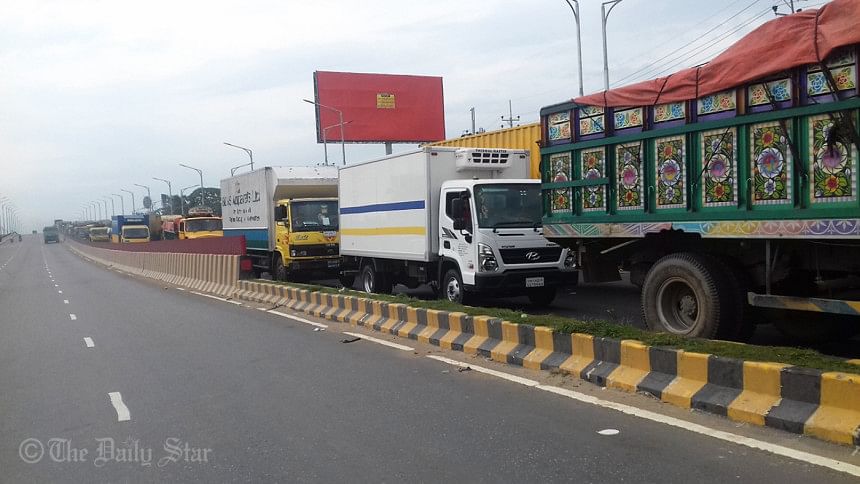 As passengers got stuck on the Dhaka-Chittagong highway for 24 hours just the other day, how does this traffic jam compare with other snarl-ups around the world?
It seems the worst ever case of traffic jam had happened in Beijing.
Below is a list of the worst tailbacks recorded in history, according to an article published in 2013 in Forbes.
Beijing, China (August 2010) 
A 62-mile long traffic jam lasted for an incredible 12 days on the Beijing-Tibet expressways simply because too many vehicles were clogging the road, particularly heavy trucks carrying construction supplies to Beijing for a road work that was, ironically, intended to help ease congestion.
Bethel, New York, USA (August 1969) 
This one has become a part of history as vehicles on the New York Thruway made a tailback for over 20 miles when more than 500,000 attendees descending on Max Yasgur's famous farm for the Woodstock Music & Arts Festival. Many motorists eventually had to abandon their cars to enjoy "three days of peace and music" amid rain and mud and over 10 times the anticipated crowd, while performers had to be flown to and from the site in helicopters.
Chicago, Illinois, USA (February 2011)
Traffic movement was halted and motorists were buried under snow for over 12 hours after a near-record 20.2 inches snow fell in Chicago, the Windy City as it is known across the world, on February 1, 2011 during the rush hour in the evening.
East/West Germany (April 1990)
After fall of the Berlin Wall between the East and West Germany, severe traffic congestion was witnessed with a staggering 18 million cars on a roadway on April 12, 1990, as a massive influx of Germans eager to reconnect with friends and family members on the Easter holiday.
Interstate 45, Texas, USA (September 2005) 
On September 21, 2005, around 2.5 million people were on the evacuation routes ahead of the Hurricane Rita, causing a massive 100-mile queue on Interstate 45 which reportedly lasted for as much as 48 hours. Motorists were stranded for around 24 hours along the 300-mile route from Galveston to Dallas. However, the mass evacuation probably had saved many lives despite the crippling congestion.
Lyon-Paris, France (February 1980) 
As winter vacationers were returning to Paris amid severe weather condition, a massive traffic jam, perhaps one of the longest one, stretched up to 109 miles long.
Moscow, Russia (November 2012) 
After a snowstorm buried Highway M-10 that links St Petersburg to Moscow on November 30, 2012, it stopped traffic movement for up to three days, and the government reportedly set up tents along the route offering provisions and psychological counseling to the suffering motorists.
New York City, New York, USA (September 2001) 
Following the attacks on the World Trade Center on September 11, 2001, New York City was virtually on a lock down, with bridges and tunnels only open for emergency vehicles. Public transportation shut down and traffic was halted across the city. The air traffic in the US was also grounded, leaving thousands of travelers stranded across the nation.
San Paulo, Brazil (June 2009) 
This one might have set some kind of record as many of the worst cases of traffic jam turn pale in comparison to the one in Sau Paulo on June 10, 2009, which saw over 182 miles of traffic congestion on 522 miles of road. According to Time magazine, a motorist on average spends up to four hours sitting in traffic every day in this Brazilian metropolis.
Tokyo, Japan (August 1990) 
As holiday-makers were returning home and residents of a city were evacuating following a typhoon warning, over 15,000 cars reportedly crammed on a highway between Hyogo and Shiga prefectures in western Japan for more than 84 miles on August 12, 1990.