Transport workers protest triggers 25kms tailback on Dhaka-Ctg highway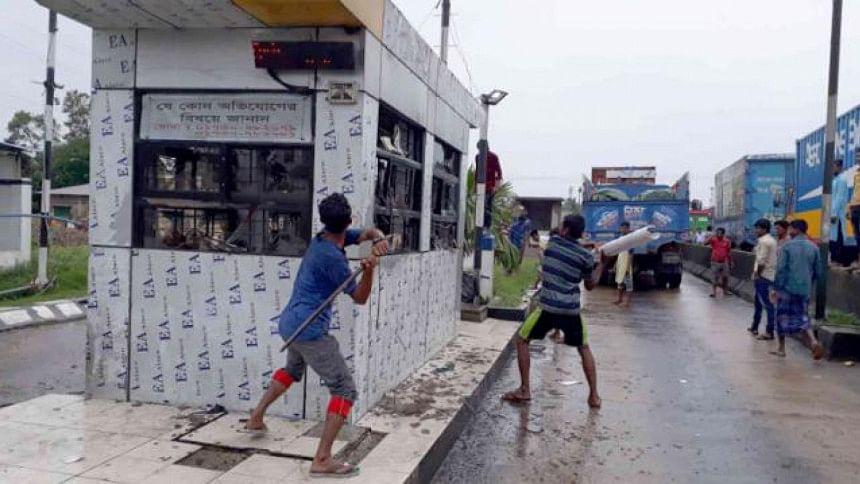 Transport workers blocked Dhaka-Chittagong highway in front of Load Control Station (weighing scale) in Sitakunda upazila of Chittagong for four hours today protesting an alleged assault on a truck driver by the station staff.
The workers blocked the road at Boro Darogar Hat point with trucks around 11:00am creating a gridlock on 25 kilometres area stretching from Barairhat of Mirsharai upazila to Sitakunda pourasava, our Chittagong correspondent reports quoting Rokibul Islam, traffic inspector of Barairhat Haat Highway police.
Around 3:00pm, the transport workers removed the barricade following a negotiation with police and the station employees, said Masud Alam, traffic inspector Fouzdarhat highway.
Abdul Mannan, president of Chittagong District Truck, Mini Truck Owners' Association, alleged that the staff of the Load Control Station demanded bribe from the driver of a goods-laden truck for letting him pass the station around 10:30am. 
"They beat the driver up as he refused to pay the money" Mannan also claimed.
The driver was going to Dhaka from Chittagong port.
On the other hand, Md Hossain, managing director of Regnum Resources, the company that runs the Load Control Station taking it lease from the government, alleged that the driver denied to go through the measurement process leading to the scuffle between him and the staff.
He also alleged that the demonstrators also broke the weighing scale. The heavy vehicles are now running on the highway without any regulation, he added.
"It was a well-orchestrated and deliberate attack so that the drivers can run heavy vehicles on the road without paying any compensation for the extra weight," Md Hossain also said.