Ferry delays add to misery
Hundreds of homegoers stuck at Paturia-Daulatdia ghats; tailback on some highways; bus timetables thrown into disarray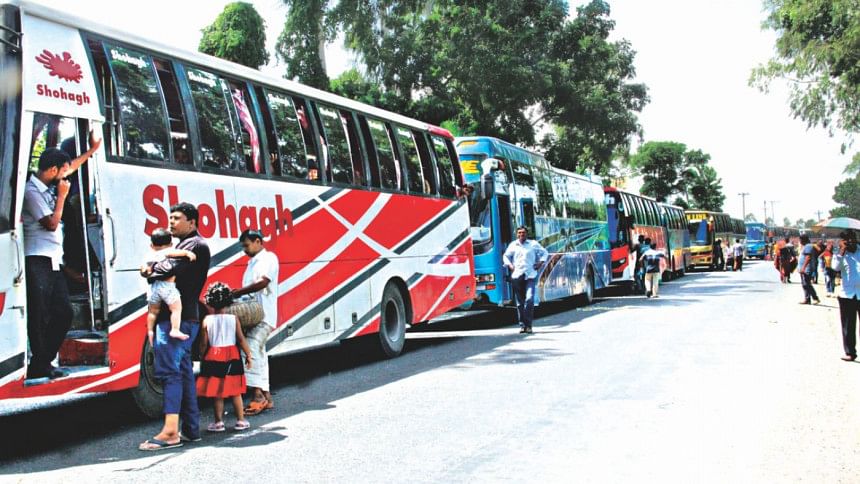 With the Eid-ul-Azha only two days away, holidaymakers leaving Dhaka were delayed in long tailbacks on some major highways.
Hundreds of passengers remained stuck in a 20-kilometre tailback from Kanchpur to Meghna bridge on Dhaka-Chittagong highway.
The congestion was created after a vehicle broke down on the bridge around 3:00am yesterday, said Abul Kalam Azad, officer-in-charge of Daudkandi Highway Police Station.
The situation improved in the afternoon, reports our Comilla correspondent.
However, there remained a 4-km tailback from Sonargaon Chowrastha to Meghna bridge as of filing this report around 7:30pm.
Besides, the same incident created a 6-km tailback from Daudkandi toll plaza to Shaheednagar of Comilla's Daudkandi upazila, which cleared around 11:00am.
People heading for the southern districts were especially affected as buses got stuck at Paturia-Daulatdia ferry terminals, which is now the only route for heavy vehicles as service at the other ferry terminals on Shimulia-Kathalabari route was partly operative.
While visiting different inter-district bus terminals in the capital yesterday, this correspondent found the rush of holidaymakers to be more than that on Friday.
Bus schedules were also thrown into disarray as bus operators struggled to maintain their timetable due to the traffic congestion on the highways and delays at ferry terminals.
Rajib Hossain, a ticket master of Shyamoli Paribahan, said most of their buses, particularly the morning and night coaches, for the northern districts were two to three hours behind schedule due to traffic congestion on the Dhaka-Mymensingh highway.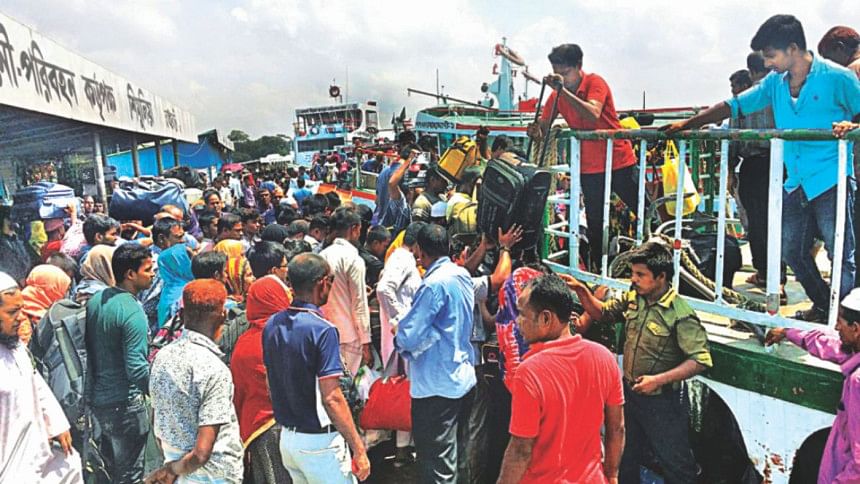 Mohammad Moin, who came to the bus terminal in Gabtoli from Gazipur at 1:45pm to journey to Barisal told this correspondent at 4:30pm that his bus of Sakura Paribahan had not arrived yet.
"I have been standing for the last three hours. The bus was supposed to start at 2:15pm, but their schedule changed several times. Till now, the bus hasn't arrived and I don't know when it will," said Moin, a dredger operator.
Mohammad Harun, a ticket master of Sakura, said the bus for the Barisal route had remained stuck in a tailback at Daulatdia ferry terminal in Rajbari and that caused the delay.
To avoid delays, several bus operators have already started to operate reserved buses while others have reduced the number of their trips.
Kabir Hossain, a ticket master of Hanif Paribahan, said their buses on the southern districts route were delayed by at least three hours at the ferry terminal, so they had to keep a number of buses reserved to provide uninterrupted services.
Mohammad Rubel, a ticket seller of Eagle Paribahan, said they used to operate one bus per hour on the route for the southern districts, but yesterday they were using a bus every three hours.
Besides, many passengers alleged that bus operators were taking extra fare.
"I had to pay Tk 200 for a ticket to go to Paturia ghat, but the regular fare is Tk 70," said Mohammad Zakir, a Pabna-bound passenger.
Meanwhile, many passengers were stuck in railway stations in the capital, mainly Kamalapur Railway Station, yesterday as several trains were delayed by more than an hour.
FERRY TERMINALS
Hundreds of passengers of 21 southern districts of the country, including children and women, remained stuck for more than two hours on both sides of the Padma, as the vehicles were held up at Paturia-Daulatdia terminal due to ferry services being disrupted by strong water currents.
BIWTA Manager (marine) at Paturia Abdus Sattar said ferries now needed twice the usual time to cross the river due to the strong current.
A ferry needs 35-40 minutes on average whereas it was now taking 80-90 minutes which resulted in lesser trips, he added.
Services at the Shimulia-Kathalabari route could not be resumed in the last eight days due to poor navigability at several points of the river, reports our Munshiganj correspondent.
During the Eid holidays, 21 ferries operate on Shimulia-Kathalbari route, carrying around 4,500 vehicles every day. But since last week, just eight to nine small ferries were in service, carrying only small and light vehicles such as private cars and bikes.
Yesterday, the authority added six more medium-sized ferries but these too transported only light vehicles as the water level had fallen in some parts of the river.
Shah Md Khaled Newaz, assistant general manager of BIWTC, at the terminal, said people had to wait for a long time as they could operate ferries through only one way.  Each ferry had to wait to make way for another, resulting in 20 to 25 minutes delays, he said.
He, however, could not say when the problem would be solved.
TRAIN SERVICE
Yesterday was the second day for the passengers who bought advance train tickets. People started to arrive at Kamalapur Railway Station from the morning, with many coming hours before schedule.
Sajedul Haque, a university student, came to the station at 10:30am to catch the Joyantika Express set to depart at noon for Sylhet. But the train left one and half hours after schedule.
"I collected the ticket after waiting for eight hours. So I came to the station a little earlier as I didn't want to miss it. But, I have to wait here again due to delays," he said.
Sitangshu Chakraborty, manager of Kamalapur Station Railway, said 25 trains had left Dhaka till 1:00pm and five of them were behind schedule.  However, several trains leaving after 1:00pm were also delayed.
A railway official said the delays happened after a train got stuck at Tejgaon station due to engine problems.  "Besides, many trains left the station late [by 20 to 30 minutes]. But we don't consider it late unless it is 30 minutes beyond schedule," he told The Daily Star, requesting anonymity.
Rajshahi-bound Dhumketu Express and Silkcity Express were delayed by 50 minutes; Khulna-bound Sundarban Express was delayed by one hour and 45 minutes and Nilphamari-bound Nilsagar was delayed by 70 minutes.
Visiting the station around 11:30pm, Railway Director General Amzad Hossain said the delay was caused by the huge number of passengers and some technical problems, adding that they were trying their best to serve the people.
LAUNCH SERVICE
Holidaymakers started to leave Dhaka though Sadarghat Launch Terminal from Friday.
"We think passenger number will reach their peak from Monday after the garments factories closure," Alamgir Kabir, joint director of Bangladesh Inland Water Transport Authority (BIWTA), told The Daily Star yesterday.