65km tailback on Dhaka-Chittagong highway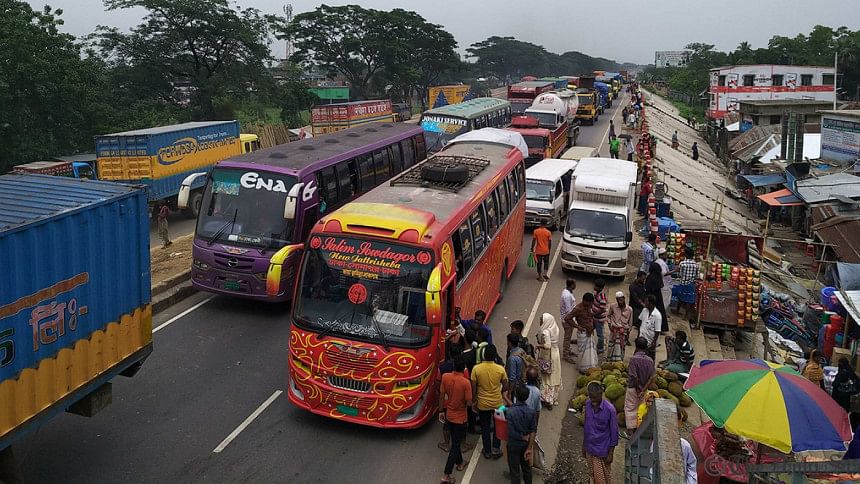 Hundreds of passengers were stuck in 65-kilometre tailback on the Dhaka-Chittagong highway due to huge pressure of vehicles.
The tailback that ensued last night have stretched from Dhaka's Jatrabari area to Chandina area in Comilla, our local correspondents report quoting highway police.
Also read: Tailback for Feni Overpass: Lack of traffic management plan caused it
Huge rush of covered vans carrying garments shipment and Ramadan supplies caused the congestion on the highway, said Abul Kalam Azad, officer-in-charge of Daudkandi Highway Police.
Abdul Kaium, officer-in-charge of Kanchpur Highway Police, said the tailback on Meghna-Gomoti bridge was created around 4:00am as drivers were overtaking on the highway in absence of traffic police during rain.
Later, the situation has worsened as a vehicle went out of order there, he said, adding that the traffic started returning normalcy since this afternoon.     
Jubayer Ahmed, a businessman who started from Dhaka stuck in Kutumbupur area for two and a half hours due to the tailback.
Rahim Munshi, an agitating passenger, told our Correspondent, that he boarded a Comilla's Daudkandi-bound bus from Habiganj around 10:00am but he reached Sonargaon around 5:00pm.
Jibon, officer-in-charge (OC) of Eliotganj Highway Police Outpost said that they were trying to control the situation.
Last week, a 110km-long tailback persisted on Dhaka-Chittagong highway in Feni for almost five days as a result of the construction of Fatehpur rail overpass.
In a bid to ease up the situation, authorities yesterday opened one lane of the overpass for vehicular movement from Chittagong side to Dhaka.