Tailback on Dhaka-Ctg highway in Comilla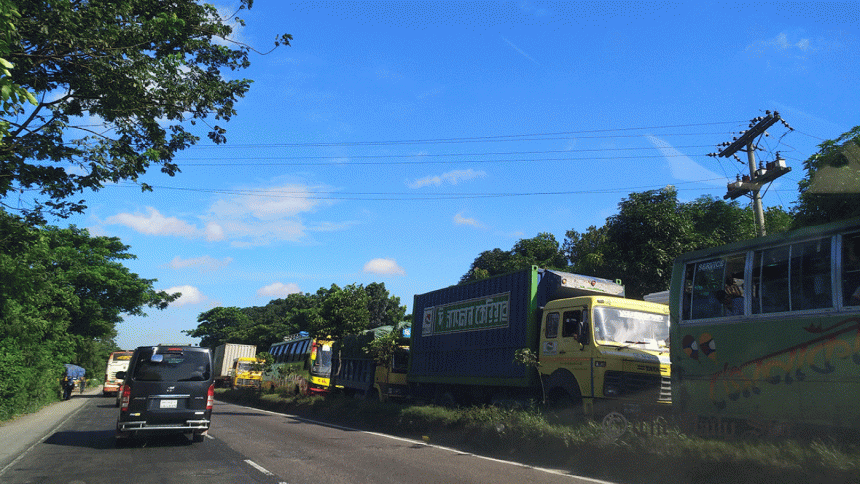 Tailbacks ensued at different points on the Dhaka-Chittagong highway since this morning, plunging Dhaka-bound commuters into sufferings.
Our Comilla correspondent reports, a five-kilometre tailback ensued at Daudkandi toll plaza and stretched to Shahidnagar, on the way to Dhaka.
Another five-kilometre tailback ensued at Meghna bridge point. Vehicles were stuck from Gazaria to Meghna bridge – also on the way to Dhaka.
Last reported, Abul Kalam Azad, officer-in-charge of Daudkandi Highway Police Station, told The Daily Star that Meghna point was heavily gridlocked for over an hour.
Alamgir Hossain, in-charge of Vaberchor Highway Police Outpost said excess pressure of vehicles towards Dhaka was responsible for the gridlock at Meghna bridge.
"Vehicles going out of Dhaka are moving freely, however," he said.
Md Jahan Ali, a private car driver, said: "I started for Dhaka from Comilla at 6:00am today, but still could not cross Meghna bridge. Now it is 9:30am."
According to toll plaza authorities, there is excess vehicle pressure since Thursday is the day goods-laden vehicles leave Chittagong port, ahead of weekly holiday Friday.