23-km tailback on Dhaka-Ctg highway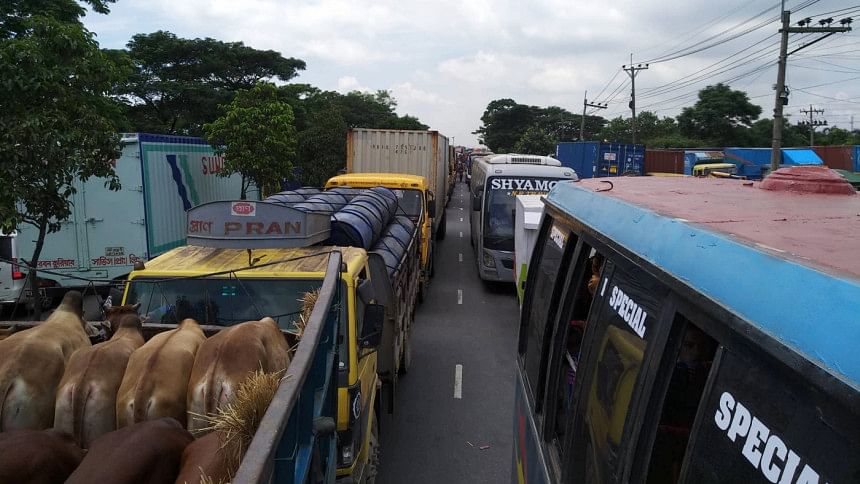 A 23-kilometre tailback has been created on the Dhaka-Chittagong highway due to heavy rush of vehicles as Eid journey of home-goers began this morning.
The Chittagong-bound vehicles came to a halt for around 20-kilometre on the highway stretching from Kanchpur to Meghna Bridge following Eid rush, our Comilla correspondent reports.
Rashedul Hasan Sabuj, a passenger on a bus of Prince Paribahan, said he boarded the bus from Sayedabad Bus Terminal around 10:00am for Chittagong but he reached at Mugrapara area of Sonargaon in Narayanganj around 12:00pm.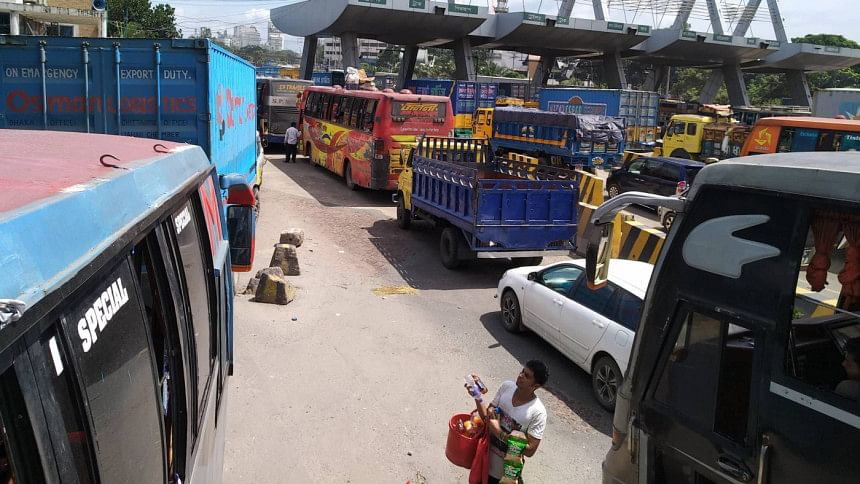 Thousands of passengers have been suffering immensely on the highway since the morning as vehicles got standard on the highway, he said.
However, Kaium Ali Sardar, officer-in-charge of Kanchpur Highway Police Station, told our correspondent that the vehicles were moving slowly but there was no tailback on the highway.
Meanwhile, a three-kilometre long tailback was created from Meghna-Gomti toll plaza to Shaheednagar of Comilla's Daudkandi on the highway, said Abul Kalam Azad, officer-in-charge of Daudkandi Highway Police Station.
The rise in number of vehicles carrying Eid holidaymakers on the highway and huge rush of goods-laden trucks, covered vans, pick-ups and lorries caused the tailback, the OC said.  
Vehicles were moving slowly on the highway for a stretch of around 10-km from Meghna bridge to Meghna-Gomti toll plaza but no tailback was seen in the area, said Alamgir Hossain, in-charge of Bhoberchar Highway Police Station in Munshiganj.