No bus will ply Dhaka-Ctg highway tomorrow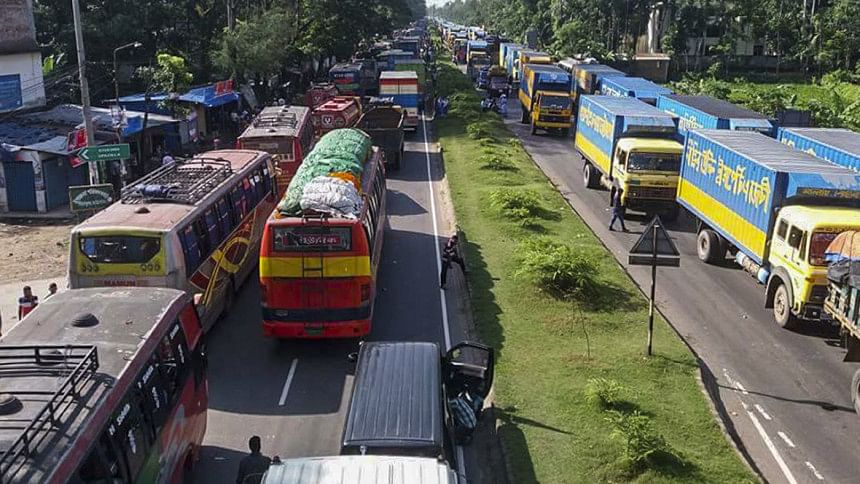 Public transports will not ply the Dhaka-Chittagong highway tomorrow with transport owners calling strike demanding a quick resolution to the impasse on highway.
They will be observing a 6:00am-6:00pm strike, our Chittagong staff correspondent reports quoting Kofil Uddin, general secretary of local inter-district Bus Owners' Association.
From Tuesday too, they will observe a three-hour strike every day from 12noon to 3:00pm.
"What is the benefit of plying vehicles? The vehicles remain stuck for 18 to 24 hours on the way," he said, adding: "Our drivers and helpers cannot sleep, they cannot take food and drinks for long hours...it is inhumane."
Since the last five days, the traffic condition on Dhaka-Chittagong highway reached to acute levels owing to an overpass construction at Feni's Fatehpur.
Today, until last reported around this afternoon, the tailback stretched from Chouddagram, Comilla, to Siakundu, Chittagong, a stretch of 114 kilometres, our Feni correspondent reports.
Rafique Ahmed Mazumder, traffic inspector of Fauzderhat Highway Police Outpost in Chittagong told The Daily Star that the main reason of the tailback was because of partial closure of the highway in Fatehpur, Feni, because of a railway-overpass construction.