65km tailback on Dhaka-Tangail highway; 2 vehicles vandalised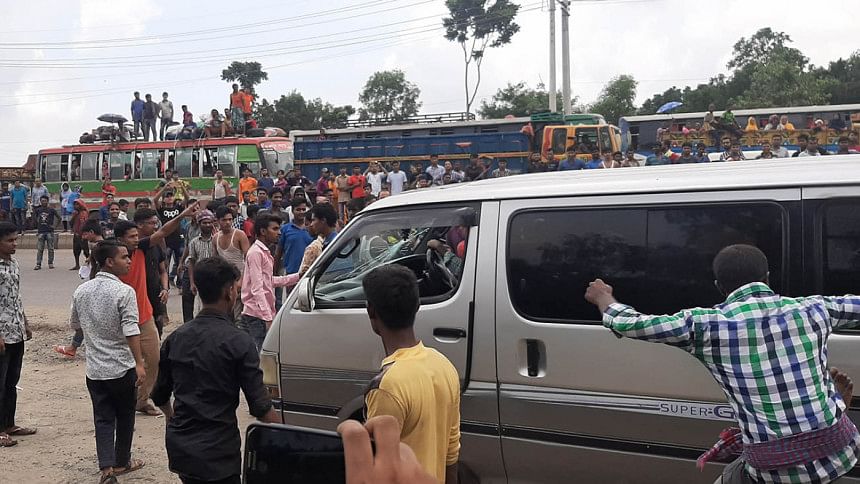 Eid holidaymakers, who have been suffering immensely on Dhaka-Tangail highway due to 65-kilometre tailback, vandalised two vehicles in Tangail this morning.
The agitating passengers staged demonstration by placing logs at different points on the Dhaka-bound lane of the highway and vandalised two microbuses in Rabna bypass area under Sadar upazila of the district  around 10:45am, our Tangail correspondent reports from the spot.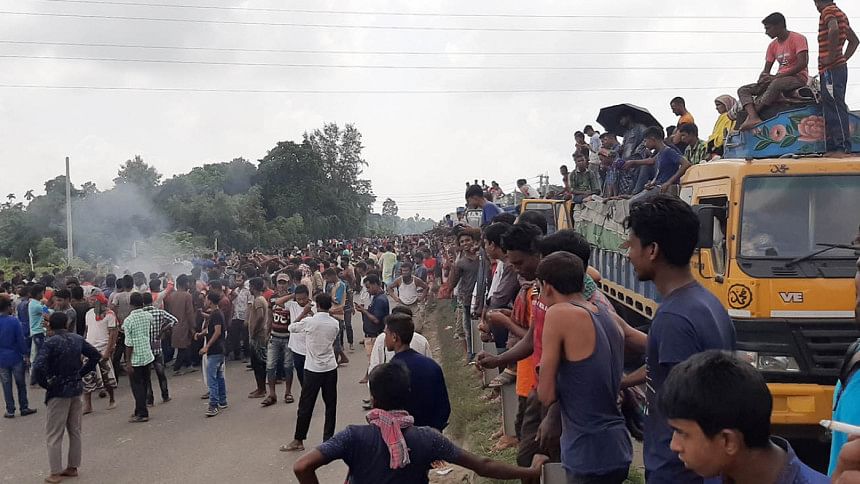 "We cannot accept the situation. We suffer during every Eid journey due to tailback," a demonstrator told the correspondent.
Thousands of holidaymakers including women and children are sufferings on the highway since this morning as vehicular movement came to a halt on 40km from Mirzapur to the approach road of the Bangabandhu bridge till 11:00am while vehicles were moving slowly on the rest 25 kilometer from Mirzzapur to Chandra intersection in Gazipur, reports our Tangail correspondent.
After 11:00am, the vehicles started moving slowly on Mirzapur-Bangabandhu bridge approach road, the correspondent added quoting police.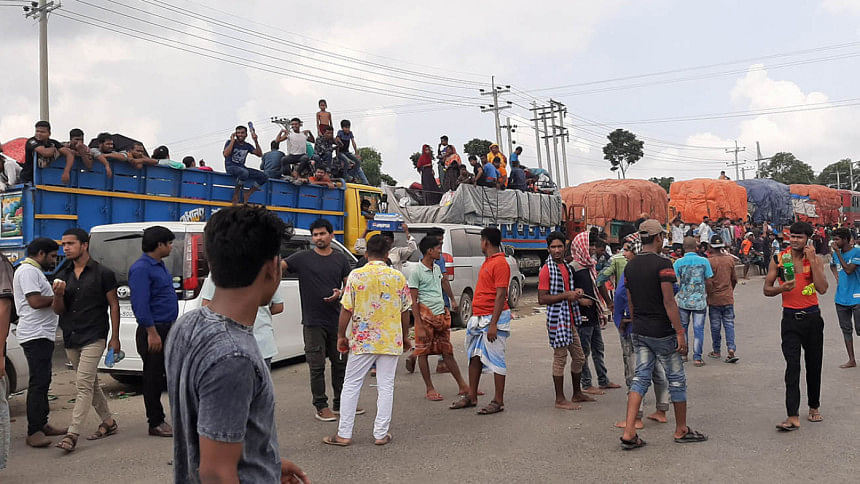 The tailback has been created when the bridge authorities suspended toll collection for one and a half hours from 7:00am, disallowing vehicles to cross the highway, said Shafiqul Islam, additional superintendent of police in Tangail. 
The authorities suspended the toll collection as a huge number of vehicles got stuck at the west end of the bridge, Shafiqul Islam said.
The tailback on the highway caused immense sufferings to holidaymakers yesterday. Vehicles started moving on the highway last night but situation worsened again this morning.
Our Pabna correspondent adds: The holidaymakers witnessed 22kms tailback from the western side of Bangabandhu bridge to Hatikumrul point in Sirajganj as a vehicle broke down there in the morning, said Akhteruzzaman, officer-in-charge of Hatikumrul Police Station.
The vehicles started moving slowly since 11:00am, he said.
Locals however said excessive pressure of vehicles and the narrow space of Nolka bridge are responsible behind the traffic jam.