A technological evolution of crimes
Law enforcers struggling to tackle tech-savvy criminals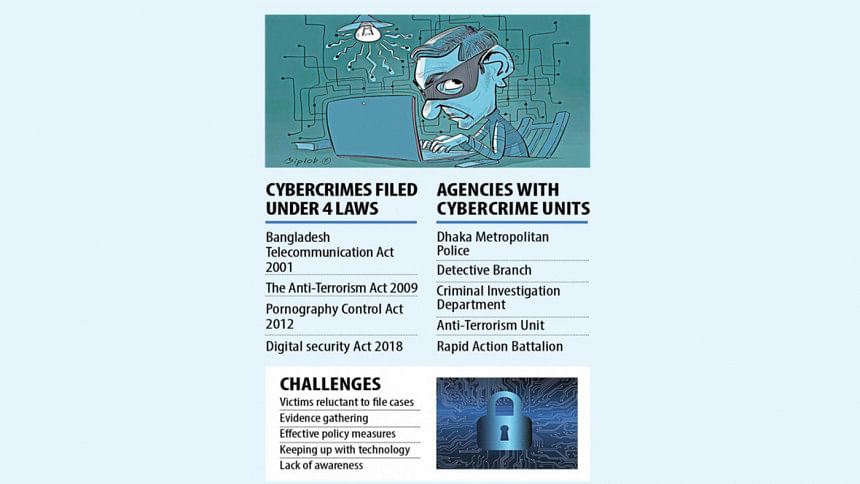 Technology has advanced at a rapid pace, bringing many benefits to society, but it also has led to changes in crime patterns. Law enforcers' race against crimes has become even more challenging faced with these technology-facilitated crimes. On many occasions, these techno criminals catch the police off guard.
They also face trouble to find out the motive as well as the masterminds of new types of crimes, as criminals bring technology and devices from abroad, making the case more complex to solve, according to police sources.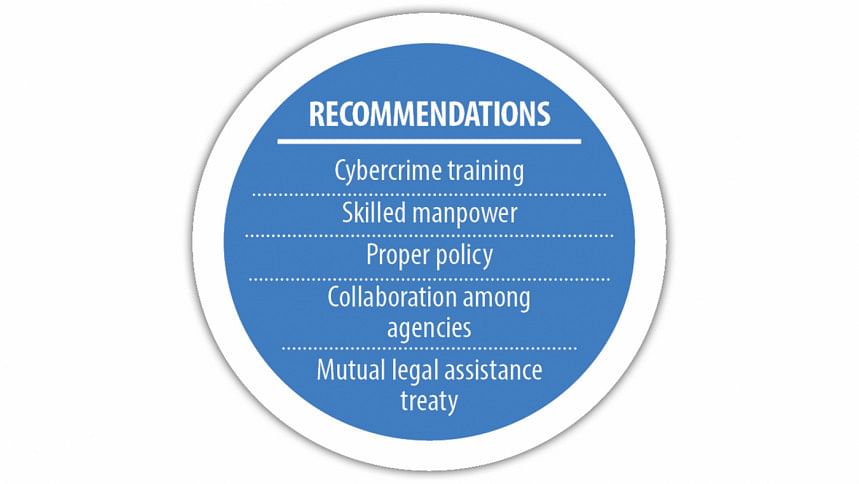 Dhaka University Criminology Prof Zia Rahman said due to "structural" constraints, law enforcers have inadequate capacity to face traditional crime let alone tech-savvy crimes or cybercrimes.
"Measures to face cybercrime are meagre as there is no effective policy in place. There are cybercrime units but their activities are way more limited," he said.
According to Dhaka Metropolitan Police (DMP) data, tech-savvy crimes are on the rise, while the rate of traditional crimes is decreasing. The number of murder cases was 216 in 2018, reducing to 173 last year. The number of mugging cases was 216 in 2018, reducing to 165, while the number of kidnapping cases reduced to 49 in the last year from 75 in 2018.
DMP sources said cases related to violence against women reduced to 1,094 in 2022 from 1,101 in 2018. Drug-related cases came down to 16,035 in 2022 from 16,215 in 2018. Meanwhile, 17 robbery cases were filed in 2018, while it stood at 27 in 2022.
But cybercrimes under four different laws -- Bangladesh Telecommunication Act 2001, The Anti-Terrorism Act 2009, Pornography Control Act 2012 and Digital Security Act 2018 -- across the country increased to 2,193 cases till November 2021 from 1,165 in 2018, shows data of Counter Terrorism and Transnational Crime (CTTC).
According to the police headquarters, only 19 cybercrime cases were filed in 2012, 48 in 2013, 149 in 2014, 303 in 2015, 546 in 2016 and 568 in 2017.
Several police officers said in almost all drug-related cases, dealers contact each other and attract customers via encrypted messaging apps, while financial transactions are made using mobile financial services (MFS).
They put a SIM card in a keypad phone and later, open accounts on encrypted messaging apps with that number but on an android. This way, drug dealers can communicate with each other and their clients from anywhere.
Several DMP officials said financial frauds using state-of-the-art technologies, ATM machine and app-based fraud, credit and debit card fraud, illegal gambling, sexual harassment and other forms of cyber crimes have risen significantly.
Frauds on social media by hacking accounts and using fake accounts, question paper leaks, and terrorist propaganda, have also witnessed a surge.
"The use of information technology and the internet is playing the most important role in changing the patterns of crime," said Additional Commissioner (admin) of DMP AKM Hafiz Akhtar.
Police officers mentioned that criminals mostly target job-seekers and less educated people. Several of them said the biggest challenge is to change their process while investigating modern-day crimes. Apart from only collecting physical evidence and questioning witnesses, they have to recover the victims' cell phones and look into their social media accounts and transactions on MFS apps.
For an investigator it is certain that they must have a know-how on devices and technology in general, said police.
AFM Al Kibria, deputy commissioner of the Cyber Crime Investigation Division of the CTTC unit, told The Daily Star that the major challenges are that the victims do not want to file cases in cyber-related crimes. Due to the delay in filing complaints, it became harder to collect evidence.
Another issue is the lack of awareness, especially in MFS-related crimes, he said.
"Often, service providers of many sites do not respond to our requirements properly and delay the exchange of information. Steps have been taken for the mutual legal assistance treaty (MLAT) to solve this issue," he added.
Moreover, tech-savvy criminals are now using VPNs to hide their activities, making it an even bigger challenge to catch them, Kibria explained.
"We are providing training to our officials on the newer trends of crimes. Currently, there are cybercrime units in Dhaka Metropolitan Police, Detective Branch, Criminal Investigation Department, Anti-Terrorism Unit, and Rapid Action Battalion. The officials working in the cybercrime unit of CID have trained abroad," he mentioned.
Former Inspector General of Police AKM Shahidul Hoque said officers get some basic cybercrime training during training and they get extensive training when they are included in specialised units.
"However, it is necessary to include cybercrime in the general training manual to deal with the new trends of crime, especially financial ones," he added.
Mir Rezaul Alam, principal of Bangladesh Police Academy in Sardah, said, "We are presently providing a basic course on cybercrime to the newly-recruited officers. We plan to include the provision of specialised training on cybercrime, money laundering, and human trafficking."