Ragging in IU: They're too afraid to speak up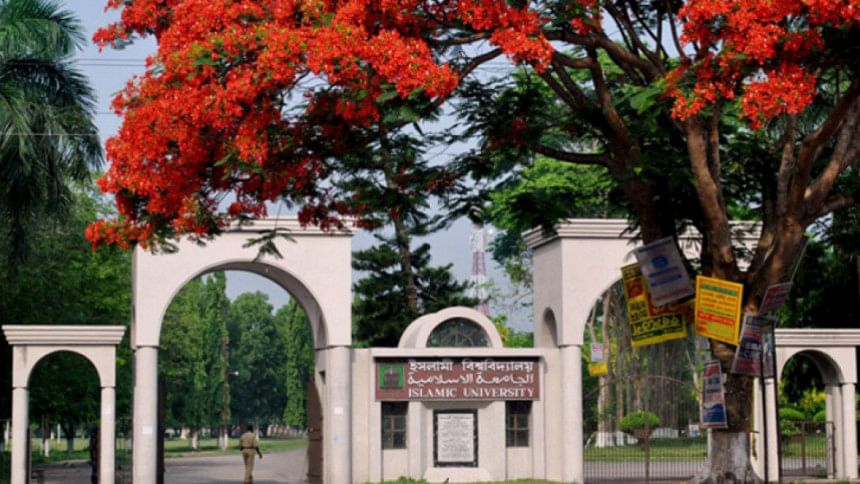 Starting university is always a very exciting and important step in a student's life. But Mahmud (not his real name) remembers his initial days on the campus for all the wrong reasons.
Soon after he joined the Islamic University campus in Kushtia in 2018, he was ragged several times by seniors, mostly belonging to Chhatra League. This instilled a sense of fear in him.
"At one stage, a senior started throwing a ball and I had to dive to catch it. They made sure that I was only wearing underwear."
"They took me to the roof of a dormitory and forced me to smoke. They asked me whether I smoke weed. At one stage, a senior started throwing a ball and I had to dive to catch it. They made sure that I was only wearing underwear," said the IU student of the 2017-18 session.
He alleged that the seniors used to insult the freshers in front of fellow students even for the slightest mistakes.
"Sometimes they would order the newcomers to dance or sing. If anyone refused to comply, the seniors would slap the fresher's face."
The victims, however, didn't dare to inform the university authorities about the harassment fearing reprisal.
Mahmud's harassment is not a single case as such abuse of freshers at the hands of seniors still goes on at the public university. Two dozen more students alleged that most of the freshers face such ragging.
They shared with The Daily Star their bad experiences in the wake of the torture of their fellow first-year student Phulpori Khatun on the night of February 12.
Phulpori on February 14 wrote to the IU authorities alleging that Chhatra League leader Sanjida Chowdhury, activist Tabassum Islam and several others tortured her for staying at the Deshratna Sheikh Hasina Hall without their "permission". The BCL women allegedly tortured her from 11:00pm to 3:30am.
Seeking anonymity, several students said that Sanjida and her supporters on many occasions misbehaved with other students. She even called their families to complain about them.
One such victim is a student of the 2017-18 session. She said one of the acolytes of Sanjida called her family and made false allegations about her character and activities on campus.
Students complained that BCL leaders and activists barred them from having a hall seat even after the authorities' approval. Some leaders of the pro-Awami League student front even extorted money from students to permit them to stay at dormitories.
An honours third-year student (2018-19 session) of Lalon Shah Hall said he was granted permission to be a resident of the dormitory about a year ago.
After repeated requests, the hall authorities in the presence of an assistant proctor showed him his seat in July last year.
"When I went to the room the next morning, Chhatra League leaders barred me from taking my seat. They said that I have to stay in the Gono Room and be active on campus with the seniors. Only then I would be allowed to have a seat," he added.
The IU student said he later went to a Chhatra League leader who demanded Tk 5,000 for the seat.
"I know at least eight students who have managed seats at the Lalon Shah Hall after paying Tk 3,500 to Tk 7,000 each," he told The Daily Star.
He said he couldn't stay at the hall even after being allocated a seat by the university authorities. "Many Chhatra League activists were occupying others' seats."
The student then informed the hall provost about the problem, but he asked him to write another application.
Contacted, Hall Provost Prof Obaidul Islam said he didn't receive specific complaints "officially". "We take steps only after getting specific complaints."
He said he was not aware of any student failing to have a seat and facing harassment and mental torture.
Asked about the BCL's obstruction, he said: "Many conversations take place regarding the matter. I don't know about that."
On October 20 last year, some BCL activists beat up a female student of the 2016-17 session of Khaleda Zia Hall near the main gate of the university.
The victim and other senior students informed the matter to the hall authorities that day.
Saima Rahman, a student of the 2020-21 session, at one point called his friend, who is also a Chhatra League leader. The friend along with some other BCL men assaulted the victim.
This newspaper obtained a copy of the written complaint submitted to the hall authority on October 21 by over 150 students. It said that Saima misbehaved with the victim and some other seniors.
They demanded punishment for Saima and her friend.
"Chhatra League never did this," said Nasim Ahmed Joy, general secretary of IU Chhatra League.
He said if anyone gets involved in ragging, that person will have to take responsibility for it.
"We never bar anyone from having a seat. We as students' representatives rather try our best to help the administration," he added.
Asked about the BCL's involvement in ragging and harassment, IU Vice Chancellor Shaikh Abdus Salam said they are not aware of all the incidents.
"We show 'zero tolerance' to ragging and harassment. We have formed an anti-ragging committee to run a campaign and motivate students to stay away from ragging," he added.
The ruling party-backed student fronts mainly devise different ways to show their muscle power on campuses, said Nur Khan, executive director of Ain o Salish Kendra, a national legal aid and human rights organisation.
"Ragging is one of the ways of showing strength. There is an atmosphere of fear across society. The situation at Islamic University is nothing different. No one on the campus dares to talk about the issue."
This newspaper could not reach Saima for comments as she did not respond to calls.