20 hurt in BCL infighting at Kushtia IU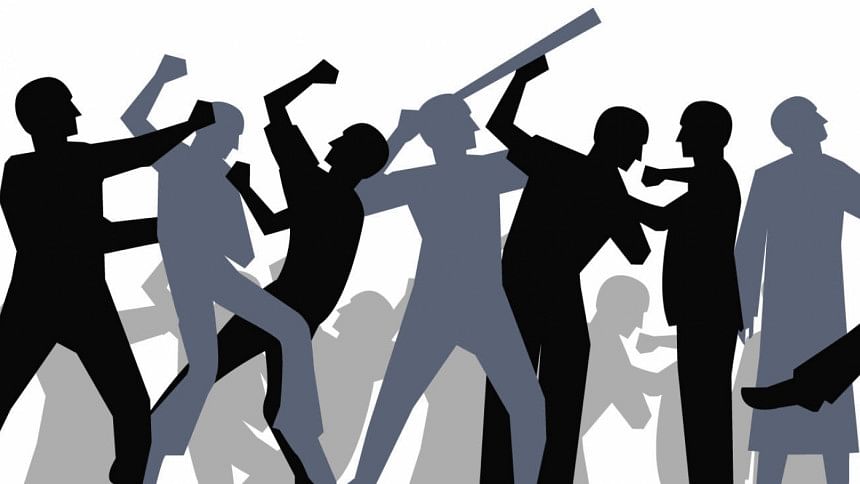 At least 20 people were injured in an intra-party clash of Bangladesh Chhatra League (BCL) on Islamic University (IU) campus in Kushtia last night.
Among the injured, seven were admitted to Kushtia General Hospital and six at IU medical center, our Kushtia correspondent reports quoting police.
The clash took place between the followers of BCL general secretary of IU unit Rakibul Islam and its member Tanmoy Saha Tony at Zia More in front of Saddam Hossain Hall, said Officer-in-charge (OC) of Islamic University Police Station Zahurul Alam.
The OC said a group of BCL activists led by Rakibul went to Saddam Hossain Hall around 10:30pm yesterday in search of the students, who are not residential but staying at the hall.
They beat up Mosharraf Hossain Neel, a resident of room no-235 and also a supporter of Tanmoy, said the OC.
The group also beat up several other students including Shimul Hasan and Sumon Ahmed from the adjacent rooms, Tanmoy claimed adding that the BCL secretary left the hall at about 11:30pm.
Hearing the incident, the followers of Tanmoy gathered at Zia More locked into a clash with the supporters of Rakibul, said the OC.
They used bamboo sticks, iron rod and brick pelts during the half-an-hour-long clash, leaving 20 activists from both groups injured, he said.
Several crude bombs were blasted in front of Ziaur Rahman and Lalon Shah Hall during the clash, the police official said.
A team of police from IU Police Station and proctor's body rushed to the spot and calmed the two groups down.
However, Rakibul alleged that a couple of BCL activists were trying to create chaos inside the party and they are giving shelter to non-residential students and outsiders in the halls. But he did not make any comment over the attack at Saddam Hossain Hall.