Shah Rukh Khan's rise to dominance in Bollywood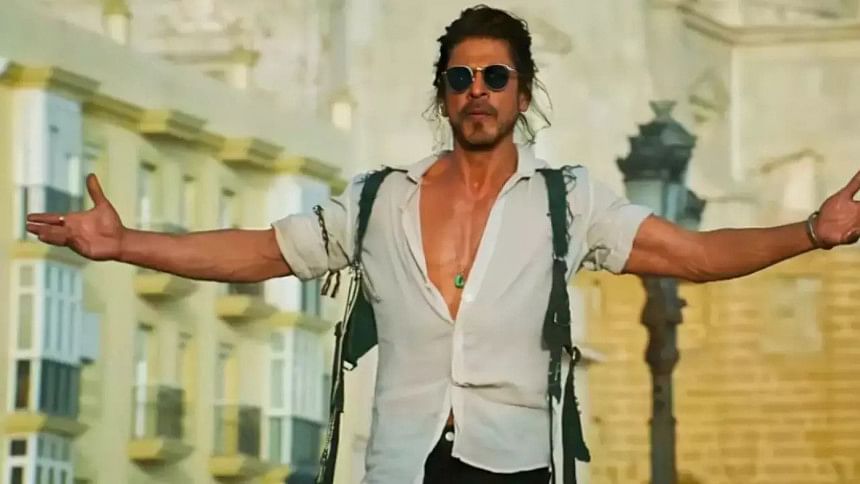 Known as the King of Bollywood, Badshah, King Khan, and most recently, Pathaan, Shah Rukh Khan has ruled over the Indian film industry for almost 30 years. Famous for his endearing dimples and signature wide-stretched arms, his charm is hard to resist and his expressive eyes tug at heartstrings one doesn't even know exist.
If we look back to his humble roots, SRK's life seems like a fairy tale. A scrawny young boy with shaggy hair and S-shaped eyebrows, Khan came to Mumbai in the early 90s, without money, contacts, or even a place to stay. It was not so much food or shelter that sustained him, as it was, a dream. A dream that was so tall and mighty, it could only come from the most innocent, and childlike of hearts. It was a dream to rule Mumbai; one, that he would soon surpass beyond his wildest fantasies.
Khan admits that he had never come to Bollywood to become a romantic hero. Painfully shy by nature, Khan took up anti-hero roles at first. Much to the chagrin of the lead protagonists, Khan would often bag more admiration than them, despite playing villainous roles. Films rejected by the more popular stars of his time would often fall into his lap and he would play them with a finesse that would turn average movies into overnight blockbusters. It was soon obvious to the who's who of the industry that the boy had a Midas touch. And it was the Yash Raj banner that finally sealed his fate as a romantic hero in the movie Dilwale Dulhania Le Jayenge. Becoming the longest-running film in the history of Indian cinema, the movie catapulted Khan's career to the very top, and there he would stay, until the very end of superstardom itself.
Over the decades, Khan has appeared in over 80 movies, won several accolades for his work, prestigious national and international awards, and doctorate degrees. Actors that worked with him became popular in his afterglow and he became responsible for launching many successful debutants such as Preity Zinta and Deepika Padukone.
One may argue that Bollywood has seen plenty of heartthrobs in its lifetime, and calling Shah Rukh Khan the last of the superstars may be a little premature. However, something about his silly laugh, the volumes he speaks with his eyes, the genuine understanding of women that he portrays, and the many nuances he so effortlessly adds to his roles, makes the others before, and perhaps long after him, pale in comparison. It has children identifying with him, youngsters fighting fan battles for him at school, men wishing to emulate him, women idolising him, and the older generation adoring him as their favourite son.
In real life too, the superstar has been known to pay close attention to his family, indulge fans to no end, and leave media in splits with his witty one-liners. Despite belonging to a world of controversies, his co-actors cannot fault his respect towards women, and he is loved by everyone in his unit, from director to janitor, for his mirth, energy, and honesty.
In a world where actors overshare their lives in order to be accessible, Khan protects his privacy like a shark but lovingly opens his arms to the throngs of fans underneath his balcony, increasing the enigma surrounding him. In an age where people gain malevolent pleasure out of others' tragedies, unimaginable masses rally to support him in his personal challenges. Despite a lull in his career, the adulation of fans continues to grow for the King. Burj Khalifa wishes him a Happy Birthday, the US President quotes the dialogues of his movies. Which other Bollywood superstar in the history of superstars has enjoyed such ardour? 
Knowingly or otherwise, Shah Rukh has taught people to dream, to love in different shades, and has done so for decades. The fact that people still want more of him says something about the sheer magic of the Badshah of Bollywood. The crowd that gathers outside the boundaries of his home, waiting hours to catch a glimpse of him, know, that he will never know them personally, uniquely, like is so apt to do in his movies. But the fact that each person waiting for him will still illogically, unreasonably, irrevocably, and invariably love him says a great deal about the magic of the very last of the superstars — Shah Rukh Khan.