Prince William, Kate Middleton meet the kings, queens of Bollywood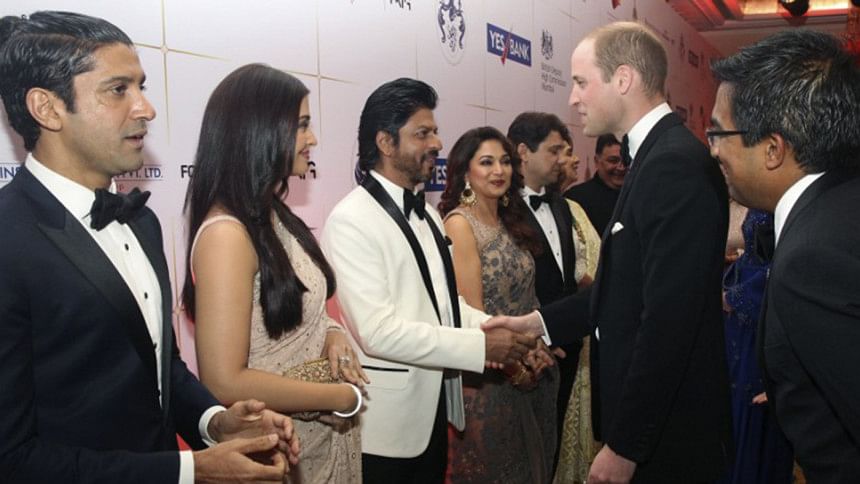 The Duke and Duchess of Cambridge, Prince William and Kate Middleton yesterday seemed rather relaxed as they walked the red carpet at the Taj Hotel in Mumbai ahead of a charity Bollywood gala, reports NDTV.  
According to a royal correspondent, who has followed the royal couple on their previous tours, it was somewhat out of the ordinary to see the Duke and Duchess pose for the cameras.
Normally, the royal family doesn't court the camera since it isn't a part of the protocol to play the part of a celebrity. While the royal couple provided plenty of photo opportunities, one was missed.
Many hoped that The Duchess would don a sari at the Bollywood gala but she chose a Jenny Packham gown beaded in India paired with Amrapali jewels. Although, the Duke and Duchess made for a perfect pair, actor Shah Rukh Khan and filmmaker Karan Johar made for another on the red carpet and clearly seemed to be having a royal treat.
Actress Aishwarya Rai Bachchan courted the media like only she can, offering a hand to be kissed (how very royal).
However, it seems that the antics on the red carpet stopped once the stars got in line to meet the Duke and the Duchess.
However, Bollywood didn't stay sedate for too long. The evening was packed with performances by singer Shankar Mahadevan and choreographer Shiamak Davar. Shah Rukh, Aishwarya and Karan Johar also gave short speeches, according to the NDTV report.
In spite of a jam packed evening, the Duke and Duchess reportedly interacted with every guest and the highlight of the evening was Prince Williams' first speech, where he spoke about the couple's long term desire to visit India.
Well, the plans may indeed be five years later. But perhaps, no one does fashionably late better than these two.