The best lassi in Dhaka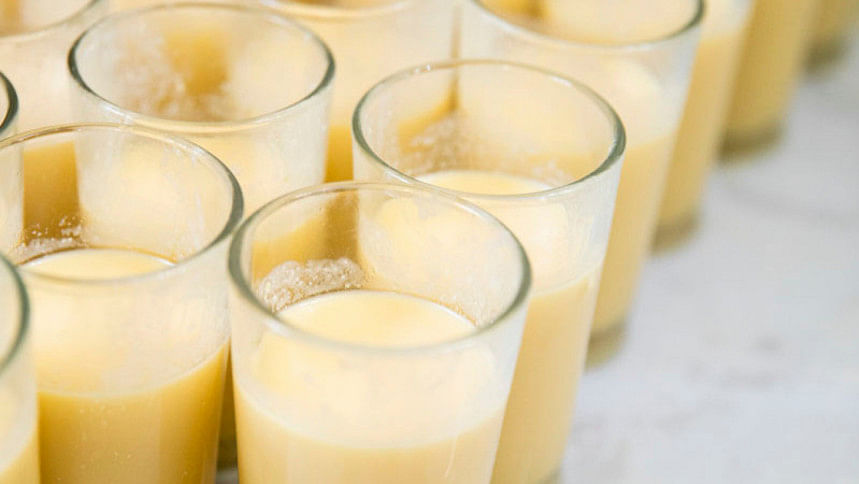 A cold and delightful glass of lassi never fails to replenish the body. Not only does it quench the thirst in a delicious manner but soothes the soul as well. There are lots of eateries and restaurants in Dhaka that serve delectable lassi, and within these are some places that one must visit. Thus, we set on a hunt down town for the best lassi available!
Old is gold
Walking along the winding alleys of old Dhaka is like going on a treasure hunt for food, and you shall be left amazed at the gems you discover! Apart from being renowned for the area's luscious delicacies such as biriyani and bakarkhani that is dipped in rich heritage and culture, there are a couple of places that probably serve the best lassi you will ever have.
Nurani Cold Drinks has become a household name for lassi, not only in old town but all across the city. The little shop is able to cater to only a small number of people at once but that does not disturb the constant flow of customers going in. Located in the heart of old town, Chawk Bazar, and having been there for decades, this eatery is always abuzz with people.
The menu is short and sweet in the most literal way possible, having only three items being lassi, special lassi, and lemonade. What makes their lassi stand out is the curd, which is exclusively made. The special lassi has an added hit of rose water that enhances the overall flavour. As for the lemonade, it works as the ultimate thirst quencher. Everything is reasonably priced, ranging from Tk 20-40 only!         
Beauty Lassi is another crowd pleaser, that has been in business for about a century, making their expertise unmatched. The perfect blend of curd, sugar, and rose water is poured over crushed ice that makes for the perfect drink. Their lemonade is well-known too, both having sugar free options.
The drinks are priced very affordably, ranging from only Tk 20-40. Since their inception, Beauty Lassi has spread over to two branches, one located in Ray Shaheb Bazar and the other in Nazira Bazar.
The perfect end to a meal
A sinfully indulgent dessert is what completes a delicious and heavy meal. But what if the drinks gulped to drain it down are as good as desserts? Two places in town serving flavourful Indian cuisine have also mastered the art of lassi making.
Tarka, that has been serving our favourite Indian food since several years are also connoisseurs in concocting the perfect lassi. Having two variants, sweet or salty, their lassi is the perfect end to a wholesome meal. The delectable taste not only washes everything down but satiates the heart in its truest sense. Priced at Tk 180, this shall be an accompaniment with your next meal!   
Another restaurant specialising in Indian food, that has also been the talk of old town for some time with two branches being located in Wari and Fakirapool serve an array of this piquant yoghurt drink. Kebab-e-ishq has won the hearts of their customers in a very short time and their offerings include three renditions — plain, special, and Punjab lassi.
The plain lassi is essentially made with sour yoghurt and a pinch of black salt, giving it a tart flavour. Special lassi is jazzed up with the addition of mango ice cream adding a fruity taste. Lastly, Punjab Lassi is infused with strawberry syrup, providing a unique zest and heightening the overall flavour. They are priced at Tk 80, TK 100, and Tk 110 respectively.
Chilling after shopping
It can be said that to be a citizen of Dhaka, one must take a shopping excursion around the New Market and Chadni Chawk area! While there are no hard and fast rules as such, shopping in that area does not feel complete until one has swigged down a glass of chilled sweet yoghurt lassi from the nearby eateries.
Shopping can be hectic, and given the hot and humid climate of our country it can even wear us down. Adding in the buzzing crowd and chatter of this place makes it a whole new experience. Maybe this is what makes this drink feel like a beverage from heaven, after shopping.
There are lots of eateries in that zone selling this concoction that reenergises us – Café Snacks, Food Garden, and Ball Box are a few popular ones. This often-needed replenishment comes at an affordable price, ranging from only Tk 50- 80.