Sweets for my sweet: Dessert recipes for Eid
FALOODA 
Mango and vanilla are the two flavours of Radhuni Falooda Mix available in the market. The majority of the ingredients are included in the box, but you can add fruit and ice cream to make it richer.
Ingredients 
The box contains – 
Jelly powder 
Radhuni Falooda Mix (this includes tapioca pearls, noodles, raisins, and basil seeds)
Additional ingredients required – 
1 cup water
1 litre milk 
1 apple 
10 strawberries 
1 cup grapes 
2 kiwis 
Scoops of ice cream 
Method  
To prepare Falooda, first form the jelly. Add the jelly powder to 1 cup of water and mix. Put this mixture over heat and boil for 4–5 minutes on medium flame while stirring. After that, pour the hot jelly liquid into a shallow bowl and let it come to room temperature. Once there, put it in the refrigerator to solidify. 
Meanwhile, slice the grapes into halves and cut kiwis, strawberries, and apples into cubes. Bring the milk to a boil and pour all the contents of Radhuni Falooda Mix in it and stir. Using a whisk, stir the mixture frequently over medium-high heat until all the ingredients are boiling. Then, remove it from the heat and let it cool.
Cut the jelly into little cubes and add them along with chopped fruits to the falooda mix. To assemble, first place some jelly cubes and then pour the falooda and fruits mixture. Lastly, top with scoops of ice cream.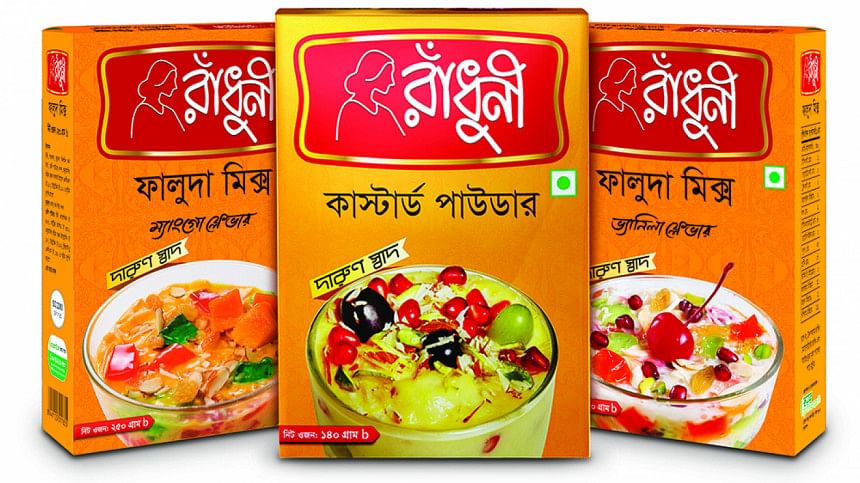 FRUIT CUSTARD    
Another satisfying food to have on Eid mornings is custard. A fruit custard can have many different ingredients added to it, and because of its adaptability, it can be used in a variety of other dessert dishes, including trifles, tarts, pies, and cup desserts.
With the help of Radhuni Custard Powder, desserts may be made quickly by combining a few ingredients. To this, you can add any fruits and nuts you like to enhance the flavour.      
Ingredients 
2½ tbsp Radhuni Custard Powder 
¼ cup water 
500ml milk 
4 tbsp sugar 
1 apple 
1 cup grapes 
½ cup pomegranate arils 
1 cup diced strawberries 
2 tbsp slithered almonds 
2 tbsp pistachios 
2 tbsp raisins 
Method  
To prepare the custard, mix water and Radhuni Custard Powder until it is a smooth, lump-free mixture. In a saucepan, pour milk and add sugar; put this over medium-heat and bring to a boil. Once boiling, turn down the flame and gradually pour in the Radhuni Custard Powder mixture and stir while pouring in a steady stream. 
Stir continuously until all the custard mixture is incorporated and it becomes thick. Remove this from heat and let it cool; this will thicken as it cools. Once at room temperature, add chopped fruits, nuts, and raisins. Before serving, garnish with raisins and sliced nuts. 
Food & Décor: RBR