Recipes with sugarcane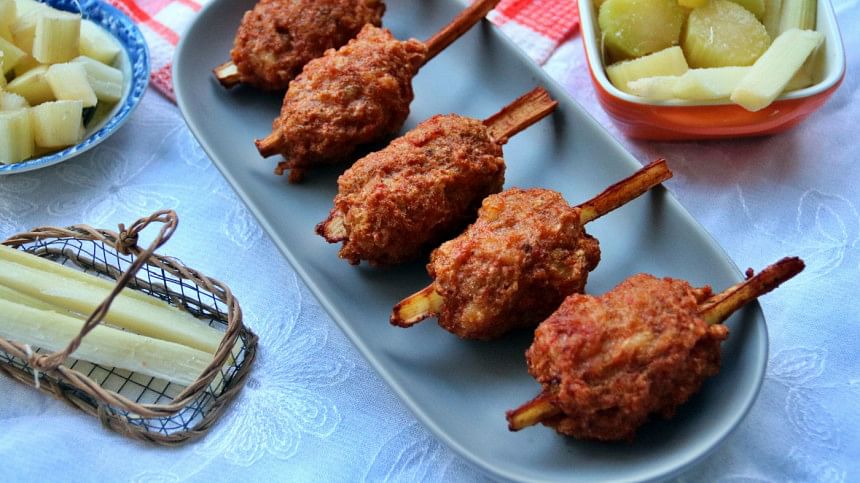 Sugarcane is a quintessential summer delight in our country and now is that time of the year where various sugarcane juice carts have started to pop up. The most common ways of consuming it is by having its juice directly squeezed out or by chewing it and crushing it to swallow the juices.
However, sugarcane is more than just its juices. There are so many recipes both sweet and savoury that you may try out using sugarcane. In the joy of summer and this glorious summer delight, here are a couple of tantalizing sugarcane juice and skewer recipes.
VIETNAMESE CHAO TOM
Ingredients
250g peeled and deveined shrimp
2 tsp fish sauce
1½ tsp soy sauce
1 tbsp oyster sauce
1 tsp garlic granules
1 tsp ginger powder
1 tsp black pepper powder
1 stick sugarcane
1 tsp brown sugar
2 tbsp cornflour
Oil for frying
Method
Turn the shrimp into a paste and combine with fish sauce, soy sauce, oyster sauce, garlic granules, ginger powder, black pepper powder and brown sugar. Mix everything well until it is a homogenous and sticky mixture. Add in corn flour and mix again until in can be formed into shapes.
Peel and cut the sugarcane lengthwise and slice them into slender sticks about the size of your hand. Wrap the shrimp mixture around half of the stick leaving the other half bare. Fry this in deep oil until golden brown in colour and fully cooked through. Serve with sweet chilli sauce.  
CLASSIC SUGARCANE JUICE
Ingredients
1 stick sugarcane
1 litre water
½ inch ginger
3 mint sprigs
½ a lime
Salt to taste
Method
Peel the sugarcane and chop it into small pieces. Then blend them with ginger and a little water. Drain the sugarcane and ginger extract to retrieve all the juices. Squeeze in the lime juice and sprinkle a little bit of salt and stir. Lightly bruise the mint leaves to extract their natural juices and add those in. Mix everything together and serve chilled for best taste.
SUGARCANE MOCKTAIL
Ingredients
1 stick sugarcane
3 oranges
1 pineapple
2 tbsp sugar
 Fresh mint leaves 
Method
Peel and cut the sugarcane into little pieces and blend them with some water. Strain the juices leaving behind the scraps and extracting all the fresh juices. Repeat the same procedure with pineapple. Squeeze the 3 oranges and combine all 3 juices of sugarcane, pineapple, and oranges together in a pitcher. Add sugar and fresh sprigs of mint and serve chilled. 
HAWAIIAN CHICKEN SKEWERS
Ingredients
4 pieces chicken fillet
1 medium pineapple
1 stick sugarcane
1 tbsp BBQ sauce
1 tbsp chilli sauce
2 tsp soy sauce
1 tsp garlic granules
1 tsp cayenne pepper
1 tsp paprika powder
1 tsp chicken stock powder
Oil for grilling
Method
Prepare the chicken fillets by cutting them into cubes; core and dice the pineapples. Peel the sugarcane and slice them into rings. Marinate the chicken pieces with BBQ sauce, chilli sauce, soy sauce, garlic granules, cayenne pepper, paprika powder, and chicken stock powder. Let it sit with the marinade for at least an hour.
If you are using wooden skewers, don't forget to soak them in water for 10 minutes. Drizzle a little bit of oil on a hot grill pan and place the skewers. Build the skewers by alternating the fruits in between pieces of chicken. Grill and flip until the chicken is fully cooked. Baste with the remaining marinade in between.   
Food & Photo: Fariha Amber