An Out of This World Grilled Chicken Experience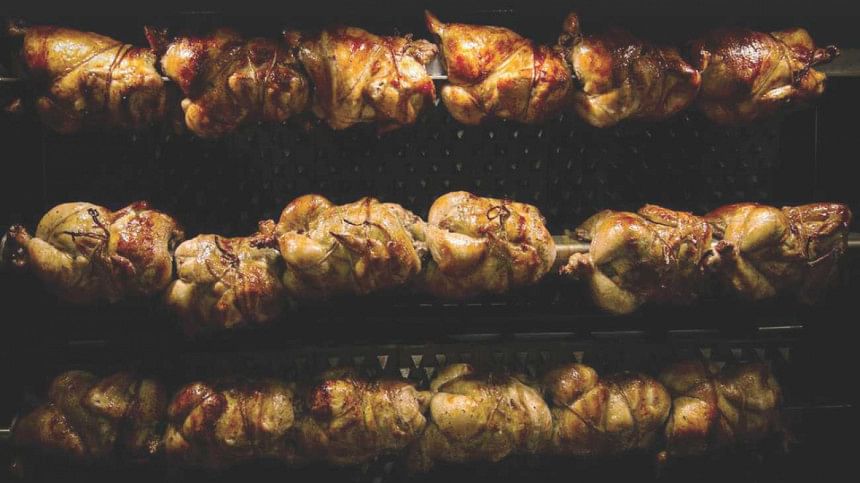 I was getting hungry so I decided to go out. The first thing I saw out on the road was the dog.
"That dog again! It was here when I came," I thought to myself. A distant cousin of mine died many years ago because he got bit by a dog and didn't tell his parents because he thought they'd get angry. I guess that's why I hated dogs.
I was getting hungry at this point so I decided I'd go get myself some nice grilled chicken.
"It will cost 80 bucks, with naan and a bottle of Mountain Dew it'll be 80 plus 15 plus 15 and that's 110 bucks," I told myself. "Wait. Did I add that up right? Is naan 15 bucks or 20? Okay, let's do it again. 80 plus 15 plus 20 and that's 105 bucks? How much money do I have in my pocket?"
I realised at this moment I was talking out loud so I looked around to see if anyone was watching and no one was, so I decided to sit down and do the math all over again.
I sat down on the railing in front of a house called Casa del Toro, and I told myself that probably means House of Bulls, and people probably don't know that, see. Everyone's giving stupid names to their houses in this city, man, and that's messed up. I thought to myself I'd name my house Bhalobasha because, you know why.
I realized at this point that I had money in my hands and I was sitting in front of the House of Bulls with my buttocks perched on a 4-inch wall, and that's never safe, especially in a House of Bulls. I decided to get the hell outta there because I hated bulls and I was getting hungry. 
I saw the hotel that was just down the road and the money, I realised, was still in my hand. Money in the hand is never quite as safe as money in the bank, which is a wrestling thing and also a figure of speech for something sure to happen. Money in the hand, money in the bank and I didn't have a bank account but I did need one. I make a mental note and picture myself taking notes and gee, do I have bad handwriting. 
I almost went past the hotel but stopped myself just in time. I had money in my hand and it was 150 bucks in change; I could suddenly count it very easily. Thank you, God, for this brain. Thank you for making me smart.
As I walked in, I saw the rows of chicken they had turning in the grill and I thought to myself, "I sure would like some of that, mmhmm." I probably said this out loud because this waiter came by and said, "Mama, what do you want? Take a seat."
I mumbled, "One-quarter chicken with naan," and went inside.
So, I found myself a seat in the corner and saw that there was a girl in the other table who was way too attractive to notice me but I ran a hand through my hair just in case she did. I imagined talking to her and cooked up a conversation in my head that ended in her asking for a nibble of my chicken and me saying, "Well, isn't that what we wanted this whole time, love?"
I then realised I still had the money in my hand and I should put it in my pocket and forget the conversation because she was way too attractive to ever notice me.
The chicken and naan arrived and I, for some reason, tried to sound Australian and said, "Can I get a cold bottle of Dew, mate?" He brought me an ice-cold bottle of Mountain Dew as I bit into my chicken for the first time.
The spices oozed into my palate and I almost cried when I tasted the slightly charred but flavourful bit of chicken skin. I took the naan and wrapped some chicken (skin included) in the naan and dipped in that heavenly white sauce they make and put it in my mouth and that made me feel just as good as when I can do math correctly in my head. I took a swig of cold Mountain Dew and in my happiness, I said out loud, "Thank you, God, for grilled chicken. Amen."
I looked at the girl who still hadn't noticed me and run an oily hand through my dirty hair.