Prices of Essentials: Key ingredients getting out of reach for many
Eggs, chicken, onions, potatoes become dearer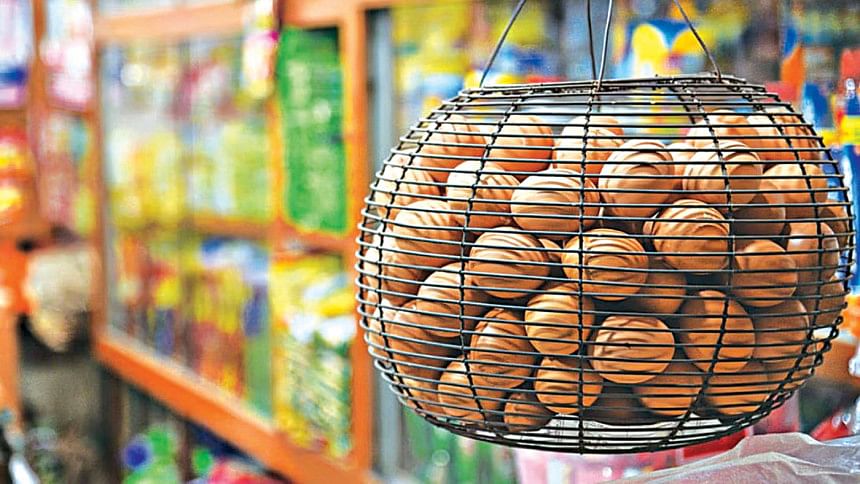 Although the prices of some daily commodities have decreased, middle- and low-income families are still struggling to make ends meet due to the recent hike in prices of essential grocery items such as eggs, chicken, onions, and potatoes.
According to the Trading Corporation of Bangladesh, prices of eggs and broiler chicken increased by almost 10 percent within a month.
A dozen eggs cost Tk 170 yesterday at the retail shops, compared to an average of Tk 150 just a month ago.
People with limited means are now resorting to buying eggs that get cracked during transportation because they are sold cheaper.
Jomila Khatun, a slum dweller of the capital's Tejgaon area, went to buy eggs from local shops, but to her surprise, she found retailers selling eggs at Tk 15 a piece.
She then decided to buy two cracked eggs for Tk 10 a piece. "Earlier, they [cracked eggs] were Tk 6 a piece. But even a piece of cracked egg now costs Tk 4 more."
When I fry cracked eggs, I frequently find tiny shell fragments in them. I'd rather not buy them, but I don't really have much of a choice," said Jomila, wife of a rickshaw puller.
Ekhlas Hossain, a CNG-run autorickshaw driver, went to the Mirpur-2 kitchen market with Tk 1,000, hoping it would be enough to buy the things on his list, but he had to cut back on shopping when he learned the price of eggs and chicken had risen.
"Sonali chicken was Tk 270 per kg last week, but it is now Tk 300 per kg," he said, adding that he bought a dozen eggs for Tk 160, which was earlier Tk 145.
The sole breadwinner in his family of four, Ekhlas wanted to buy his children some treats like biscuits, milk, and bananas because they enjoyed them.
However, he was sad to say that he failed to do that much for his two children.
"I thought I'd be able to save some money as green chilli, ginger, and oil prices had decreased. But, at the same time, other essentials got more expensive," said a disappointed Ekhlas.
Hawladar, an egg retailer from Mirpur-2, said people were buying fewer eggs because of their high price. "My daily sales have dropped to Tk 6,000 from Tk 10,000."
Broiler chicken was sold yesterday in the capital's kitchen market for Tk 185 per kg, compared to the average price of Tk 170 per kg around this time last month.
Speaking to this newspaper, Bangladesh Poultry Association President Sumon Howlader said the unusual rise in egg and chicken prices is the result of a syndicate of large businessmen manipulating the market for personal gains.
He also added that egg and chicken prices would likely increase further in the coming days as many poultry farms across the country have been damaged due to the sudden floods owing to the rough monsoon weather.
"The poor will end up paying the price if the government doesn't initiate strict market monitoring policies immediately," said Sumon.
Md Foyez, owner of Madaripur Store at Karwan Bazar, said the price of turmeric, garlic, and ginger, among other spices, saw the highest price hike in one week.
Turmeric is now Tk 220-300 per kg, up from Tk 140-220 last week; garlic is now Tk 210-400 per kg, up from Tk 170-360 last week; and ginger is now Tk 200-200 per kg, up from Tk 160-180 last week, he said.
Sajeeb Sheikh, owner of Matri Bhandar, also in Kawran Bazar, said onion prices have risen by Tk 6-10 per kg since last week due to an alleged supply crisis.
Indian onions sold for Tk 52-55 per kg (wholesale) yesterday, up from Tk 42-45 the previous week.
Meanwhile, the local variety of the bulb sold for Tk 70-80 per kg (wholesale) yesterday, up from Tk 64-72 the previous week.
Babul Mollah, the owner of Bikrampur Banijjaloy, the largest potato wholesaler in Kawran Bazar, said that there is no shortage of potatoes in cold storage across the country, but because of an artificial supply shortage, he was having to pay more for the most ubiquitous vegetable in the country.
Meanwhile, fish prices were found to have increased by Tk 20-100 per kg on average in three kitchen markets in the capital -- Mirpur 2, Kawran Bazar, and Shewrapara.
Hilsa prices have risen the most, increasing by Tk 100-200 per kg since last week.