Delicious iftar recipes you must try this Ramadan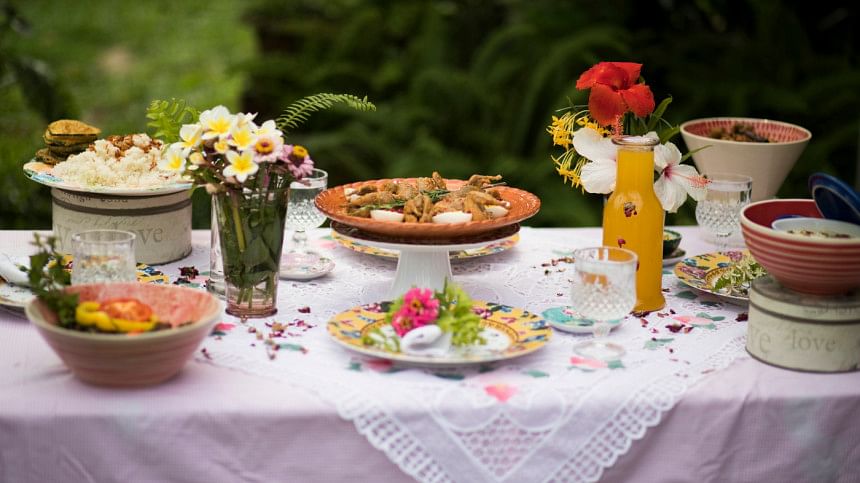 Ramadan is here again, and so are our worries of how to keep the iftar menus varied, fun and nutritious, as always. Food is an everyday affair, and yet we all want something different while fasting, as the meal times are now different, and consumption happens over half the duration. Keeping those concerns in mind, Star Lifestyle presents the recipe of three gifted cooks with a passion for cooking and very different personal styles to curate a list of some classic, and other fresh new recipes, for the month of Ramadan. Read ahead for among others, Haleem, alu chaat and chickpea chaat by Fariha Amber; fried chicken, grilled chicken, and Turkish eggs by Shababa Suzanna; and moussaka, vegetable khichuri, and frittatas by Raffat Binte Rashid. Enjoy!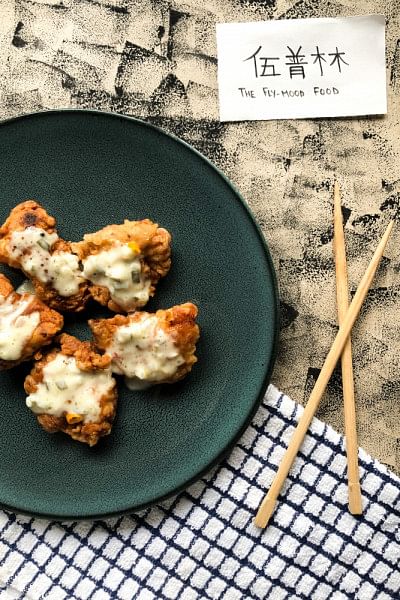 FRIED CHICKEN WITH TARTAR SAUCE
Ingredients
Marination of chicken —
500g chicken thighs
2 tbsp soy sauce
1 tbsp ginger-garlic paste
1 tbsp lemon juice
1 tsp black pepper
1 tbsp oil
Chicken coating, for fry —
Flour for coating the chicken
1 tsp garlic powder
1 tsp corn flour
A pinch of baking powder
Salt to taste
Vinaigrette —
½ cup vinegar
1 tsp sugar
Green chilli (as per taste)
Tartar Sauce —
3 tbsp mayonnaise
2 tsp diced onions
1 tsp diced gherkins
¼ tsp pepper
1 tsp lemon juice
½ tsp dry parsley
Method
Marinate chicken by mixing the marinade-ingredients, and rest for at least two hours. Now, by mixing the dry ingredients of the coating, place the mix on a flat tray or plate. Just coat the marinated chicken with the dry coating mix. Fry the chicken in deep oil, and let rest for two minutes. Meantime, prepare your vinaigrette. After that, prepare your tartar sauce by mixing all the ingredients for it. Then drench the fried crispy chicken with the prepared vinaigrette. Now top it off with deliciously prepared tartar sauce. Voila! A lip-smacking dish is right in front of you.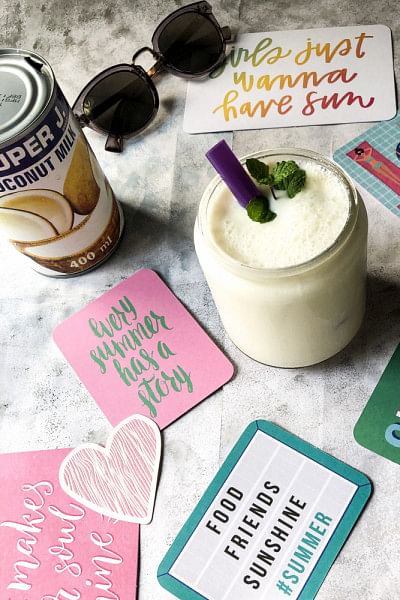 COCONUT FREEZER
Ingredients
½ litre cold milk
1 tbsp condensed milk
½ cup coconut milk (optional but highly recommended)
1 tsp sugar
2 tbsp shredded coconut flesh
Method
Mix all the ingredients together in a blender, and serve cold. The perfect drink to quench your summery thirst in the most delicious way. So fresh and good!
GRILLED CHICKEN & POTATOES BAKE
Ingredients
Chicken and marination —
500g chicken breast and thigh
1 tsp onion powder
1 tbsp olive oil
2 tbsp ginger-garlic paste
1 tbsp dark soy sauce
1 tbsp light soy sauce
1 tbsp oyster sauce
1 tbsp lemon juice
For the bake —
5-6 medium sized boiled potatoes
2 sweet potatoes (cut in halves and boiled)
Salt and pepper, as per taste
1 tsp oregano
2 tbsp olive oil/butter
2 whole onions (cut in four pieces)
3 cloves garlic
Method
At first, marinate the chicken with the marinating ingredients. Let rest for at least 3 hours. On a tray, oil properly to prep it. Place the marinated chicken around the centre, and on sides place your boiled potatoes. Now, in the spaces in between, place your onions and garlic cloves. After that, on the set tray with those, add your salt, pepper, oregano, and drizzle in your olive oil. Preheat your over at 180 degrees, and bake at 180 degrees for twenty minutes. Serve hot!
 
TURKISH EGGS
Ingredients
2 eggs
½ cup Greek yoghurt (hung curd can also be used)
1 tbsp butter
1 clove + 1 clove garlic
½ tsp black pepper
Salt to taste
Red chilli flakes (as per spice preference)
Dill/any fresh herb, to top off
Method
First, water-poach your eggs in boiling water with salt for three-four minutes (I use the vinegar trick to keep the shape in perfect circle), because we need a runny yolk. Once done, place on your paper towel.
On a pan, heat up the butter, add your garlic minced, salt, and the chilli flakes. Once the garlic is cooked and oozes flavour, take it off the heat.
Prepare your yoghurt-mix by mixing the yoghurt, salt, pepper, the other clove of garlic (grated), and mix thoroughly. Now, on your plating dish, add the yoghurt first. Then add the egg. Drizzle over the spicy garlic butter and top off with fresh herbs. Serve with crispy garlic toast or any toast of choice.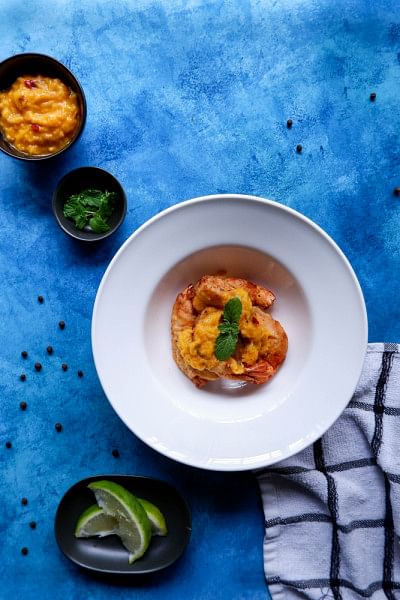 CRISPY PRAWN AND MANGO SALSA SALAD
Ingredients
For crispy prawn —
6-7 medium sized prawns, de-shelled
½ ginger-garlic paste
¼ tsp black pepper
1 tsp lemon juice
½ cup flour
Water, as per preference
1 tsp corn flour
½ baking powder
Salt, as per taste
¼ tsp garlic powder
Oil for frying
Mango salsa —
½ cup ripe mango grated
Thai Red Chilli (bird's eye), as per spice level preference
1 tsp sugar
1 tsp lemon juice
Mint leaves
Method
First, marinate the prawns for ten to twenty minutes with ginger garlic paste, pepper, lemon juice. Now, prepare the coating by mixing flour, baking powder, corn flour, garlic powder, salt, and water. Mix thoroughly till the one-string consistency is achieved.
Make the salsa on the side by mixing all the salsa-ingredients.
Dip the prawns in the batter and then deep fry in hot oil. Set on the plate by placing the crispy fried hot prawns. Pour over the mango salsa over hot and crispy prawns. Enjoy this delicious winner of flavours and textures!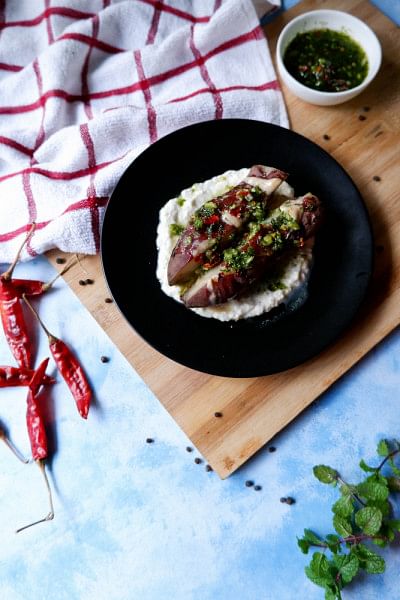 SWEET POTATO WITH GARLIC TAHINI AND CHIMICHURRI
Ingredients
2 boiled sweet potatoes
Salt and pepper
1 tsp olive oil
½ yoghurt (hung curd)
1 clove garlic (grated)
Salt as per taste
¼ tsp pepper
1 tsp Tahini
½ sugar
For Chimichurri Sauce —
½ cup coriander (chopped)
¼ parsley (chopped)
1 tbsp vinegar
2 tbsp olive oil
1 clove garlic, finely chopped
1 tbsp finely chopped onion
Chilli flakes, as per preference
A pinch of salt
½ tsp oregano
A pinch pepper (ground pepper)
Method
First, place the boiled potatoes in a baking sheet and add salt and pepper, along with a drizzle of olive oil. Bake for fifteen minutes at 180 degrees.
On a bowl, mix in tahini, yoghurt, olive oil, grated garlic clove, salt, pepper, sugar, and mix very well. Now, mix all the Chimichurri-ingredients together to prepare the amazing Chimichurri sauce. On a place, first place the yoghurt mix. Now, add your baked potato on top, and drizzle the delicious Chimichuri sauce. Enjoy!
------ Shababa Suzanna, Owner and Founder, Fat Duck's Big Pot -------
FRITTATA HEARTY OMELETTE
Ingredients 
8 deshi chicken eggs 
2 medium sized onions, diced
2 green chillies, diced
2 tomatoes, cubed
A few leaves of mint and sweet basil 
2 tbsp oil  
½ mozzarella ball, diced into cubes
3 chicken sausages, cut into pieces 
2 slices chicken salami, into quarters
Salt and pepper
Method
Beat the eggs in a bowl until frothy; add the ingredients and fold everything in. In a heavy bottomed pan slowly pour the beaten eggs and cook on low heat. Cover the pan with a lid for the eggs to cook thoroughly and ensure that the egg is not burned. You can also put it in the pre-heated oven for 10 min for the top to cook.
This is an excellent whole meal in itself and can be enjoyed with a slice of buttered sourdough or flax seed bread as well.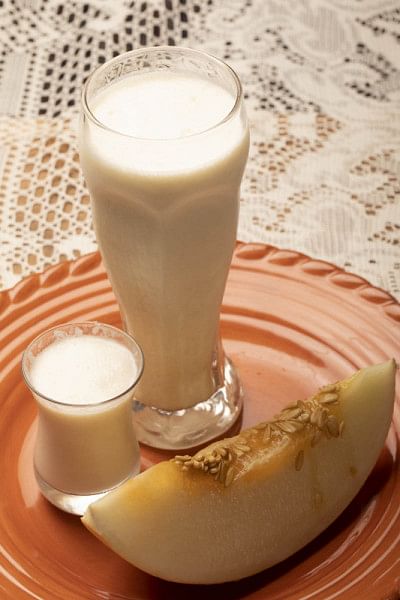 MELON JUICE WITH VANILLA ICE CREAM
Ingredients
1 cup melon cubes, diced
3 scoops vanilla ice cream
2 tbsp yoghurt
Method
Put the ingredients in a blender and whisk thoroughly until a smoothie is made. Serve in a tall glass with crushed ice. Add a dash of lemon juice for extra zest. It will refresh your fasting palate in a jiff.     
MOUSSAKA (WITH CHEAT CODES)
Ingredients
4 large aubergines, big ones
½ kg beef mince
½ cup diced onions and garlic
1 tbsp ginger-garlic
1 tsp chilli powder
1 cup olive oil
2 cups white sauce
2 cups Parmesan cheese
Sweet basil
Salt to taste
Method
This is a short cut version of the Greek dish. It is all about assembling and takes quite a while if you want to follow the recipe exactly. Thus, cheat codes for you to try —
Cut the aubergines into round and rub salt to it to take away the bitterness. In a pan add olive oil and diced onions and sauté; add the garlic, ginger and red chilli powder and cook. Add the beef mince into this spice mix and cook till the meat is tender. Grill the aubergines until soft.
In a serving dish lay the aubergines in such a way that the entire bottom has an aubergine foundation. Add the cooked minced meat on top of it and add the white sauce, toss parmesan cheese and sprinkle sweet basils on top of it. Repeat the assembly in the exact manner again. Garnish the top with extra parmesan and basils. Bake for 30 minutes, till the cheese melts and the top is browned.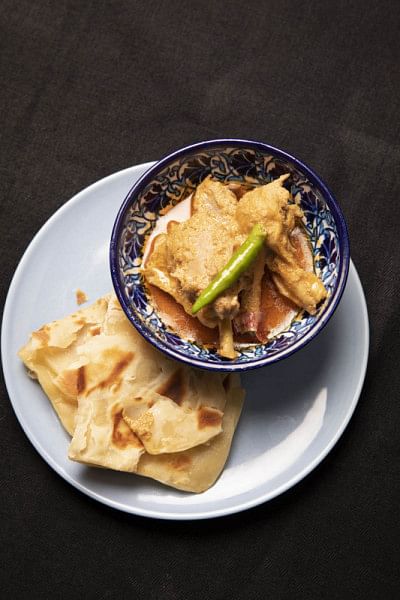 CHICKEN REZALA
Ingredients 
1 free range country chicken — cut into pieces
250g onion, cut in to thick rounds
1 cup yoghurt
½ tsp poppy seed paste
½ tsp ginger-garlic paste
½ cup ghee
¾ tsp chilli powder 
1 tsp whole spices — green bay leaves, cinnamon, star anise, cardamom
Method
Mix all ingredients in a heavy bottom pan and add the chicken in the marinade. Rest for 7 to 10 minutes. Place the pan on medium heat with the lid on and cook until the chicken releases its own water and the meat becomes tender. The gravy should not be runny. Serve with hot parathas, this dish is a winner with children and adults both.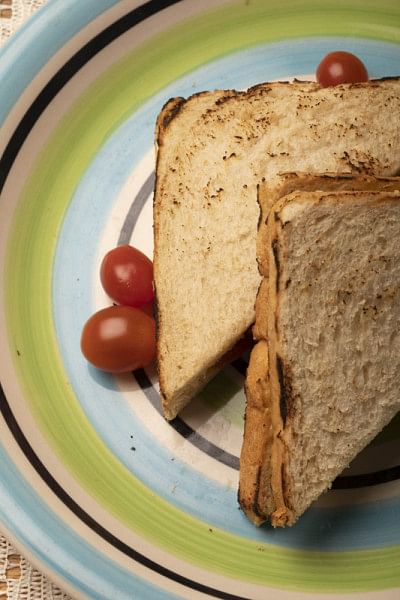 CHICKEN GRILLED SANDWICH
Ingredients
For grilled chicken —
1 piece chicken breast
½ tsp ginger-garlic paste
1 tsp olive oil
Salt to taste
For the sandwich —
2 large slices of white bread or multigrain brown bread
½ tsp mayonnaise
2 leaves of iceberg lettuce
2 large rounds of tomato
Method
Marinate the chicken breast with olive oil. Add the ginger-garlic paste and salt. Keep aside for half an hour. Then grill it in a flat bottomed pan. Let it rest for few minutes and cut it into strips. Add mayonnaise and assemble the lettuce, tomatoes and grilled chicken into the sandwich. Spread butter to the outside of the sandwich and pan fry it for few minutes until slightly golden brown.
Serve with a chilled glass of banana ice cream shake.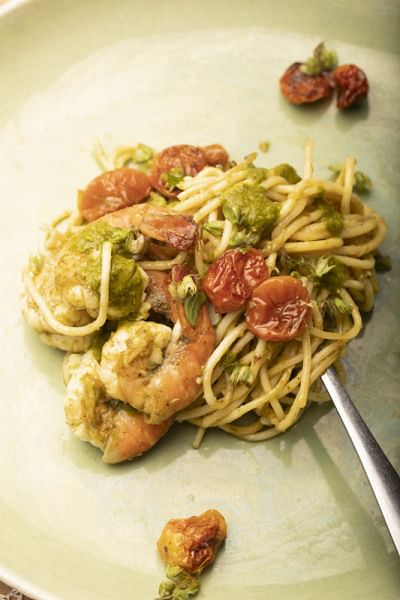 PESTO SPAGHETTI WITH SHRIMPS
Ingredients
For pesto —
10 sprigs sweet basil leaves
2 cloves garlic
2 tbsp lemon juice
4 finely chopped green chillies
3 tbsp olive oil
For spaghetti —
½ pack spaghetti
2 tbsp olive oil
Salt to taste
White, black, pink peppercorns (semi crushed)
1 clove garlic, chopped
10 medium size shrimp, deveined
Method
Blend all ingredients in a blender and put aside. It is good to go for 2 weeks if properly refrigerated. Now, put spaghetti in a pot of hot boiling water to which add few drops of olive oil and sea salt to season. In a separate pan heat olive oil and sauté the garlic until slightly browned and the aroma is released.
Drop the shrimps and stir for few minutes until thoroughly soft and cooked. Make sure your spaghetti is simultaneously being boiled; add it immediately to the pan, and stir. Add the pesto mix, mozzarella or parmesan cheese, salt and crushed assorted pepper to season. Serve hot.
It's a filling dish and can be a healthy dinner option this Ramadan for your young family.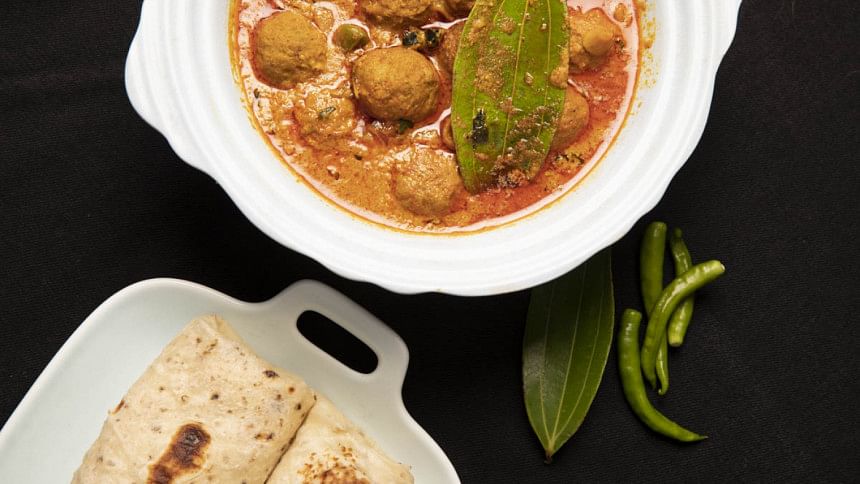 SPICY KOFTA
Ingredients
Premium beef finely minced- ½ kg
Whole spices like cinnamon, cardamom, bay leaves, star anise – 1 table spoon
Garlic and ginger paste – 1 ½ teaspoon
Onion paste- 1 teaspoon
Mace and nutmeg paste -1/2 teaspoon
Chili and turmeric powder -1 teaspoon
Garam masala powder ½ teaspoon
Oil -1/2 cup
Salt to taste
Method
You need to grind the minced meat further to ensure smooth texture of the meat and roll into meatballs. In a separate pan boil water and throw the whole spices into it to release its aroma and taste, add salt to it. In to the boiling water add the meatballs and cook until they are softly poached.
In a separate pan add oil and rest of the spice paste and cook till the oil separates from the spices. Add the cooked meatballs and add a cup water to for everything to come together, cook on medium heat for 15 to 15 minutes till the oil simmers/ add green chili, and green bay leaves as garnish and sprinkle the garam masala powder on top of it. Serve with rumali roti.
SHUNDHI DAAL BHUNA
Ingredients
1½ cup assorted daal (mushur, mung, orhor, maskalai, and buter daal)
1 tbsp whole spices — cinnamon, cardamom, bay leaves, star anise
1½ tsp ginger-garlic paste
2 large onions, diced
½ tsp mace and nutmeg paste
1 tsp chili and turmeric powder
½ teaspoon garam masala powder
½ cup oil
Salt to taste
Method
Roast the mung daal and pre-soak the rest of the lentils for half an hour. Parboil the assorted lentils in salted water. Keep aside. In a separate pan add oil and the whole spices. Sauté the onions until translucent then add the spices and cook until the oil separates from the spices. Add the boiled lentils and fry it for at least five minutes. Add hot water and cook till the lentils are tender. Garnish with green chili and coriander leaves.
Serve hot with garlic naan.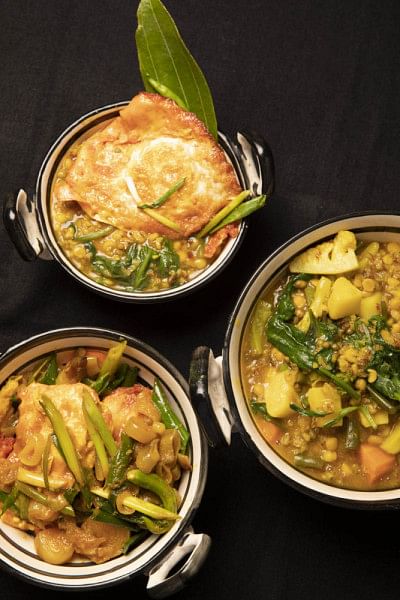 VEGETABLE KHICHURI
Ingredients 
6 florets cauliflower 
6 florets broccoli
1 carrot, diced
100g peas
Few sprigs spinach
1 cup chinigura rice
1 cup assorted lentils (mung, orhor, buter daal; pre-soaked and boiled)
½ cup mustard oil or ghee
2 tsp salt
1½ ginger-garlic paste
1 tsp chilli and turmeric powder
1 tea spoon whole masala — green bay leaves, cinnamon, cardamom, dry chilli
Method
Parboil the vegetables except spinach leaves. In a pot, add mustard oil or ghee and toss the whole masala, toast the rice and boiled lentils together for a while until semi fried. Add the grounded masala paste and powder. Keep on stirring.
Once the grains are thoroughly fried add 5 cups of hot water. Remember your khichuri will be of risotto consistency for which you will need extra cup of water. Once the rice and lentil mix starts to boil add the par boiled vegetables to it. Cover the pan and let it cook on low heat. When the grains are mushy and the broth is simmering. Add the spinach leaves and check for seasoning.
Serve the vegetable khichuri with Ramadan fritters and a side dish of masala eggs. It is an absolute delight after a hard day's fasting.
---------------------- Raffat Binte Rashid ----------------------
CHICKPEA CHILLI
Ditch your regular chickpea this Ramadan and try out this revamped version instead, which is spicy, tangy, crunchy, and utterly delicious.  
Ingredients
1 cup chickpeas
1 tsp salt
4 tsp corn flour
Oil for frying (as needed)
Water for boiling (as needed)
1 onion
2 garlic cloves
1 ginger thumb
3 green chillies
1 capsicum
For the sauce –
1 tbsp oil
2 tsp white vinegar
2 tsp soy sauce
2 tsp chilli sauce
4 tsp tomato ketchup
1 tsp Chinese five-spice
½ tsp Sichuan pepper
Method
Soak the chickpeas overnight and then boil them with salt. Once they are fully cooked, drain the water and toss them with corn flour to fully coat them. Deep fry the chickpeas and drain them on a paper towel.
In a pan, heat oil and add finely chopped garlic and ginger. Cut the onion and capsicum into wedges and add them as well. Next, add vinegar, soy sauce, tomato ketchup, and chilli sauce. Season with Sichuan pepper and Chinese five-spice and finally add the slit green chillies. Lastly, stir in the fried chickpeas and combine everything together.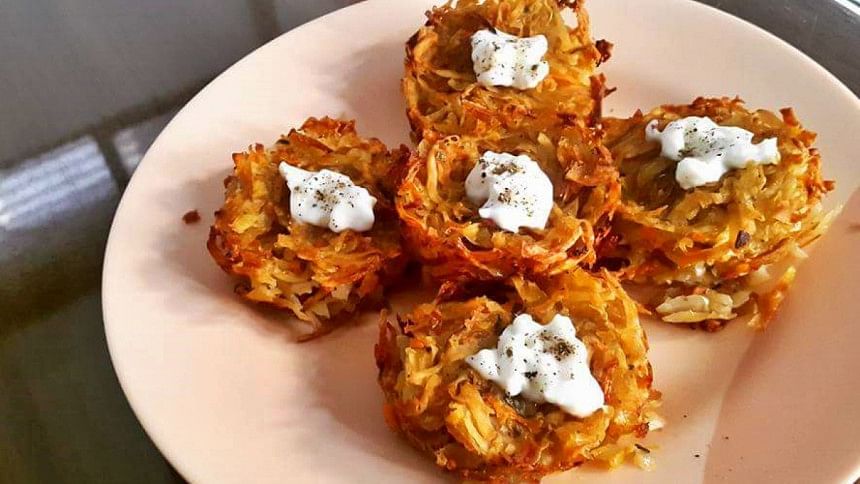 POTATO ROSTI
You can't deny – we all make the resolution of avoiding fried food during iftar, but alas! We fail to stay committed. With this recipe, enjoy a lighter version of pakora without the oil.
Ingredients
1 onion
3 medium yellow potatoes
3 medium sweet potatoes
4 strips chicken rasher
1 tsp salt
½ tsp black pepper
½ tsp cumin powder
½ tsp red chilli powder
½ tsp garlic powder
1 tbsp oil
Method
Peel and grate the potatoes then wrap them in a kitchen towel. Squeeze them to drain out as much water as you can. Finely chop the onion along with chicken rasher, and combine these with the potatoes. Season with salt, black pepper, chilli powder, garlic powder, and cumin powder. Add a drizzle of oil and mix everything together.
Grease a muffin tin and scoop the mixture in each hollow to the top. Press and pack each cavity tightly and let them bake in a preheated oven at 170°C for 30 minutes. Once baked, they should be crispy on the outside and soft on the inside. Serve these with sour cream or garlic sauce.    
SHAHI HALEEM
An iftar spread is incomplete without haleem – and this recipe spills all the secrets of a great shahi haleem straight from the heart of old town. 
Ingredients
1 cup roasted wheat powder
½ cup chinigura rice
½ cup green gram lentil
½ cup split peas lentil
½ cup split black gram lentil
½ cup Bengal gram lentil
1 tsp turmeric
1 tsp salt
8 cups water
For the meat –
1 kg mutton
1 cup oil
250g onion
1 tsp salt
1 tbsp red chilli powder
1 tsp turmeric
1 tbsp ginger paste
1 tbsp garlic paste
1 tsp coriander powder
1 tsp cumin powder
3 – 4 bay leaves
1 tsp kabab masala
5 cups water
7 – 8 cloves
For garnish –
Sliced ginger
Chopped chillies
Mint chiffonnades   
Method
Soak the four types of lentils and rice overnight or for at least eight hours. Boil them with six cups of water along with a teaspoon of salt and turmeric. Once they are boiled and soft, blend them to get a smooth, homogenous paste.
Slice the onions and heat one cup of oil in a heavy bottom pot to fry them. Once the onions are golden brown, remove and drain them. Add mutton in the same oil and roast them with salt for 10 minutes. Once they gain colour, add back half of the fried onions.
Next, add ginger and garlic paste, turmeric, red chilli powder, coriander powder, cumin powder, kabab masala, and bay leaves. Sauté them for a while and then pour in a cup of water and allow it to simmer till the water evaporates.
After that, stir in four cups of hot water and allow this to cook on medium heat until the meat becomes tender. When the meat is almost tender, add cloves and cook until oil rises to the surface and remove about half a cup of oil from the top. At this point, give it a taste to determine if any salt or spice is needed and add accordingly.
To the blended lentil mixture, add two cups of hot water along with the cooked meat and mix together. Cook everything together for 10 minutes. Before serving, top with the reserved oil and fried onions, chopped chillies and mint, along with ginger juliennes.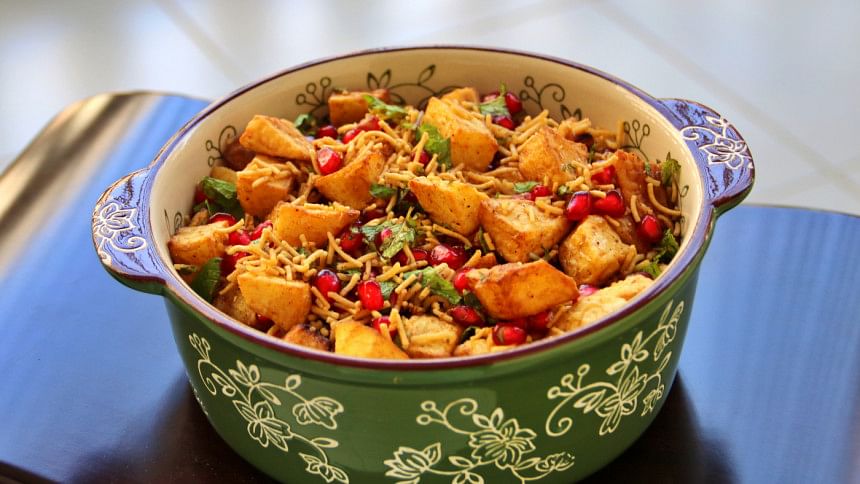 POTATO CHAAT
This item includes it all, juicy, tangy, crispy, crunchy – you name it! The perfect food for iftar that is unbelievably quick and easy to make.  
Ingredients
4 large potatoes
1 thumb ginger
1 onion
1 tsp salt
1 tsp chaat masala
1 tsp coriander powder
½ tsp red chilli powder
2 green chillies
¼ cup fresh pomegranate arils  
¼ cup chanachur
A handful of mint leaves
Oil for frying   
Method
Peel and dice the potatoes and dab them well to extract all moisture. Fry them in hot oil until they are golden brown and crispy. Finely dice the onion and cut the ginger thumb into juliennes. Add these to the fried potatoes and sprinkle over salt, chaat masala, coriander powder, red chilli powder and toss everything together.
Slit the green chillies and add these along with pomegranate arils, chanachur, and chiffonnades of fresh mint leaves. Give everything a final toss and add a dash of chaat masala on top before serving.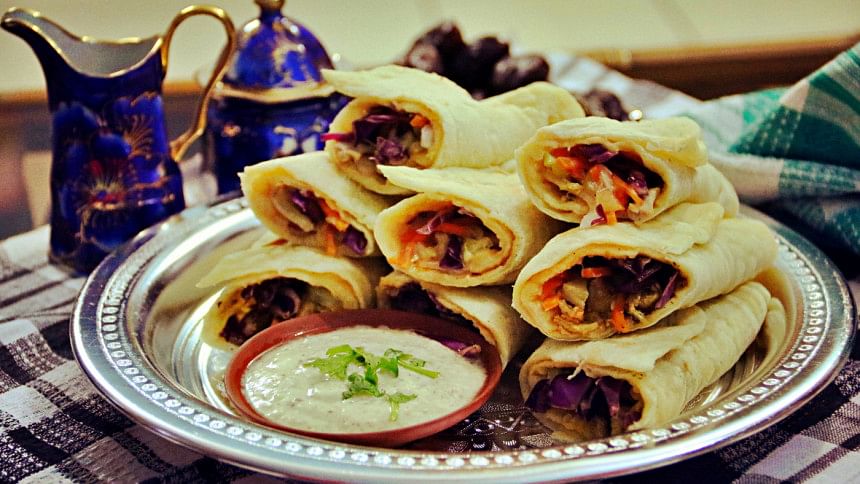 CHICKEN SHAWARMA
A chicken shawarma for iftar is as fulfilling as it is delicious. Strips of grilled chicken and fresh vegetables wrapped inside soft flatbread makes for the perfect iftar meal! 
Ingredients
1 capsicum
1 cucumber
1 cup shredded cabbage
1 tomato
For the sauce –
A handful of mint leaves
4 garlic cloves
1 tbsp lemon juice
½ tsp paprika powder
1 cup hung curd
2 tbsp tahini
Salt to taste
For the flatbread –
2 cups flour
1 tsp yeast
2 tsp sugar
½ tsp salt
2 tbsp curd
1 tsp oil
½ cup lukewarm water
For the chicken – 
4 chicken fillets
1 tbsp oil
2 tbsp lemon juice
1 tsp salt
2 tbsp curd
1 tbsp tomato paste
1 tsp onion powder
1 tsp garlic powder
½ tsp all spice powder
1 tsp red chilli powder
½ tsp black pepper powder
½ tsp cumin powder
Method
To make the flatbread, add sugar, yeast and oil to water and let it rest covered for 10 minutes or until the top is frothy. Mix flour with salt and incorporate the curd. Gradually add water and knead this mixture into a soft dough. Shape the dough into a ball and brush its sides with oil. Let this rest for about an hour before tearing little amounts and rolling them to a flat circle. Cook them on a tawa on both sides without any oil until little bubbles start to appear. Cover the flatbreads with a cloth up until you use them.     
To prepare the chicken, flatten the chicken fillets and season them with oil, salt, and lemon juice on both sides. Cut them into strips and set aside. Mix curd, tomato paste, onion powder, garlic powder, all spice, red chilli powder, cumin and black pepper to marinate the pieces of chicken with this mixture. Drizzle oil in a grilling pan and grill the chicken strips, cooking completely on both sides until slightly charred.
Cut the capsicum, tomato, and cucumber into thin strips and shred the cabbage. To assemble, place chicken strips on the centre of a flatbread. Add in a mix of vegetables and drizzle over some sauce. Wrap both the edges into a roll and enjoy!    
5 sweet recipes for Ramadan
FALUDA
A chilled glass of faluda such as this one is the perfect item to include in your iftar spread to fend off the heat this summer.
Ingredients
¼ cup sago pearls
2 cups milk
1 tbsp sugar
1 cup water
½ cup vermicelli noodles
1 sachet gelatine
Scoops of vanilla/strawberry ice cream
Chopped nuts for garnish
Method  
Clean and soak the sago pearls in water for about an hour. Next, make the strawberry jelly according to the package instructions and also cook the vermicelli noodles following the given instructions. Once done, drain excess water from the noodles and immediately run them under cold water.
Meanwhile, bring the milk and sugar to a boil and pass the soaked sago pearls through a sieve. Add them into the boiling milk and cook this while stirring constantly until they become plump and translucent.
Before assembling, make sure all the elements are cool or at room temperature. Start by layering the sago pearls first. Add in the cooked vermicelli noodles and cubes of prepared gelatine. Finally, top this with a scoop of ice cream for each serving and sprinkle over chopped nuts for garnish.
STUFFED CHOCOLATE DATES
Dress up your dates and take them up a notch with this versatile recipe made with ingredients you can play around with.
Ingredients
100g dark chocolate
100g white chocolate
2 tbsp coconut oil
20 – 25 large Medjool dates
¼ cup peanut butter
10 – 12 pieces almonds
For decoration –
Pistachio powder
Edible gold foil
Sprinkles
Dried rose petals
Food colour
Method
Soak the pieces of almonds in hot water for 30 minutes. Melt dark chocolate and white chocolate separately in your microwave until their texture is smooth as silk and lump-free. Add in a tablespoon of coconut oil into each and stir to combine.
Make a slit, lengthwise on each date and carefully remove the pit. Alternatively stuff the hollow with an almond or peanut butter. Dip each stuffed date into white or dark chocolate or a combination of both and place them on a tray.
Before the chocolate hardens, decorate your dates. You can add food colour to white chocolate and drizzle on top, or sprinkle over funfetti for a funky look. For a more elegant appearance, you may decorate with edible gold foil, pistachio powder or dried rose petals.       
DATE LADDU
These perfect balls of sweet are not only delicious to taste but also packed with nutrition to replenish your energy after a long day of fasting.  
Ingredients
400g soft dates
1 tbsp ghee
¼ cup cashew nuts
¼ cup almonds
¼ cup pistachios
¼ cup raisins
¼ cup milk
¼ cup desiccated coconut  
2 tbsp white sesame seeds
½ tsp cardamom powder
A pinch of saffron
Method
Warm up the milk and add a few threads of saffron in it and leave them for 10 minutes. Remove the pits of the dates and slice them. Add them to a food processor with the saffron milk and blend them to attain a chunky mixture.
Pulse the cashews, almonds and pistachios altogether until you get a coarse mixture, and reserve a couple of tablespoons for later use. In a pan, heat ghee and add the ground nuts followed by desiccated coconut (reserving two tablespoons from here as well). Toast these for a while before adding the date mixture.
Combine and cook these on low flame until the moisture from dates evaporate leaving a sticky mixture. Add in chopped raisins and cardamom powder and combine everything together. Grease your hands with ghee and roll the mixture into little balls. Roll some of the date balls into the reserved nuts, desiccated coconut or sesame seeds.    
JILAPI WITH RABRI
An iftar table seems incomplete without jilapi – and this is just the perfect recipe to make them at home, complete with rabri to dip into.  
Ingredients
For the jilapi –
1 cup flour
1¾ cup water
¼ cup hung curd
¼ tsp baking soda
2 cups sugar
3 – 4 cardamom pods
A few strands of saffron
1 tsp lemon juice
Oil for frying
For the rabri –
500ml milk
2 tbsp sugar
¼ tsp cardamom powder
A pinch of saffron
Method
Gradually incorporate ¾ cups of water into flour until you get a gluey mixture. Add in hung curd and mix this for about five minutes. Once the mixture is ready, cover this and let it rest for an hour.
In a pan, add sugar and water and bring it to a simmer. Throw in cardamom pods along with saffron strands and cook until it reaches a string consistency. Once the mixture comes to a boil add lemon juice and remove from heat.
To the jilapi mixture, add baking soda and stir. Pour the mixture into a piping bag and make a very small opening at the end. Pipe this mixture directly onto hot oil and cook on both sides until golden brown and crispy. Once done, remove from oil and immediately soak them in the sugar mixture for a couple of minutes before removing. 
To make the rabri, in a pan, constantly stir and cook the milk reducing the mixture down to half. Then add sugar, cardamom powder and saffron strands. Mix everything together and continue boiling and stirring for five more minutes. Cool the mixture and serve it alongside the jilapi.   
STRAWBERRY BASIL PUDDING
A healthy and refreshing iftar dessert that is energizing. Made with ingredients that not only satiate the soul but also replenish energy.
Ingredients
8 – 10 strawberries
¼ cup sago pearls
1½ cups milk
1 tbsp sugar
1½ cup water
4 tbsp rose syrup
Method
Soak the sago pearls and basil seeds separately in sufficient water for about an hour. Next, bring the milk and sugar to a boil and add the drained sago pearls in it. Let this cook while stirring constantly until the sago pearls increase in size and become translucent. Set this aside to cool.
Slice fresh strawberries and sprinkle over some sugar and let them rest for 10 minutes. To assemble, first add the sago pearls, followed by sliced strawberries. Then add the basil seeds and finally top with rose syrup. Serve this chilled.   
5 drink recipes for Ramadan
BANANA LASSI
This drink is filled with nutrition and energy to replenish your soul after a full day of fasting, while giving you the required boost of energy.  
Ingredients
1 cup curd
¼ cup sugar
2 large ripe bananas
½ cup milk
½ tsp cardamom powder
Method
Blend the curd and sugar along with cardamom powder. Slice the bananas into discs and add them along with milk. Mix everything together until it is a smooth mixture and serve chilled.
MIXED FRUIT JUICE
A medley of flavours that is not only a delicious concoction but also healthy and energising.
Ingredients
1 cup guava juice
1 cup pomegranate juice
1 cup orange juice
½ cup pomegranate arils
Method
Mix the guava, pomegranate and orange juice in a large pitcher and taste to determine if any added sugar is required. If yes, you can add sugar or honey as needed. Stir in the pomegranate arils for added texture and mix to combine.
STRAWBERRY LEMONADE
A fruity twist to your regular lemonade, this drink is bursting with flavour and is the perfect soul quencher to break your fast after a long summer day.  
Ingredients
1½ cup lemon juice
½ cup sugar
½ cup water
1 cup strawberries
5 cups cold water
Method
To make the simple syrup, simmer equal amounts of sugar and water (half cup of each) in a saucepan and heat it until they dissolve completely. Let this mixture cool and blend it with one cup of chopped strawberries. After that, add in freshly squeezed lemon juice along with five cups of cold water and combine everything together. Garnish with lemon discs before serving.    
VIRGIN MOJITO
Jazz up your everyday limeade with the addition of just a couple more ingredients to make a virgin mojito – the perfect drink to satiate your cravings during Ramadan.
Ingredients
1 lime (soft skin)
2 tsp sugar
A handful of mint leaves
A pinch of salt
250 ml lime soda
Crushed ice
Method
Cut the lime into little pieces and remove its seeds. Place a few pieces in a tall glass along with sugar, salt, and mint leaves. Muddle the lime pieces, sugar and mint together until the lime juice and essential oils from mint are extracted. Place sufficient crushed ice in the glass and pour in lime soda – serve chilled!
STRAWBERRY MILK
A long day of fasting can deprive us of energy and nourishment. This milky goodness not only quenches the thirst but also energises our body.   
Ingredients
2 cups strawberries
1 tbsp sugar
2 cups milk
1 tsp strawberry essence 
Method
Cut one cup of strawberries into very little pieces and muddle them with sugar. Crush them completely so that it becomes a mushy mixture. For another cup of strawberries, finely dice them. In a bottle, drop the strawberry mush, essence and then pour in milk. Shake vigorously to create a homogenous mixture. Lastly, add the little strawberry cubes.  
 
---------------------- Fariha Amber ----------------------
Photos: Sazzad Ibne Sayed, Shababa Suzanna, Fariha Amber