Regulating fire incident operation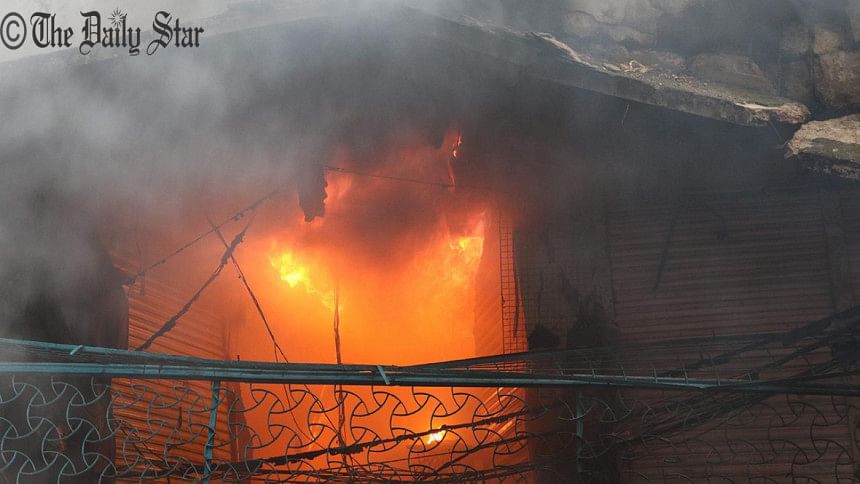 In order to combat umpteen incidents of fire accident and make the rescue process easier, the government of Bangladesh in 2003 enacted the Prevention and Extinguishment of Fire Act under which the Department of Fire Service and Civil Defence is established. According to this Act, the government is required to preserve one or more fire extinguishing brigades along with sufficient number of brigade members, motor vehicles, water-pumps, ambulances and other equipment (section 3).
Under section 4, before using any building or place as warehouse or workshop one must obtain license from the Director General of Department of Fire Service and Civil Defence who also retains the power to suspend the license subject to reasonably hearing the license-holder. It is important to mention that license granted under this law is non-transferrable (section 6). With the change of nature and ownership of the building or place previously granted license, the owner of that building or place will not be able to use the same as warehouse or workshop unless granted a new license subsequently. If any person without license uses the building or place as warehouse or workshop, a punishment of at least of three years imprisonment and fine will be awarded (section 17).
Design of any multi-storied or commercial building will not be accepted unless the Director General grants a Non-objection Certificate (NOC) relating to the fire-safety of the building (section 7).
Under section 9, the powers of the Director General or concerned officer-in-charge of the brigade present in fire-spot, inter alia,are as follows:
1. to remove any person obstructing the operation of the brigade;
2. to displace any establishment for the purpose of minimising the loss and ensure the proper extinguishment of fire;
3. to stop water supply of surrounding areas for ensuring enough supply of water to extinguish fire; and
4. to exercise police power to disassemble people trying to obstruct operation of the brigade. 
The Director General, if requested to send any brigade and required equipment for extinguishing fire in any building, institutions, organisations including trade/agriculture fair or other exhibitions, will be provided with specified fees by the concerned persons or authority (section 10).
According to section 11, any possessor, owner or person cannot restrict the fire service brigade to use water from nearby water-sources like pond, lake, water trough, puddle, etc.
Completing the extinguishing operation, the Director General will hold an inquiry and the person assigned to inquire into the incident will have power to summon any person or confiscate any material evidence. The inquiry must be completed within 15 days and a report thereof should be submitted to the Director General (section 13). On request of the Director General, any person or organisation including public service providers will assist the fire extinguishing operation (section 14).
Punishment for obstructing fire extinguishing operation is of minimum one year and maximum seven years along with fine (section 19). Punishment for keeping, manufacturing or developing explosive materials in violation of this law inside a building is an imprisonment of at least two years and fine (section 21).
Under section 24, no court is allowed to try any offence under this law except receiving a written complaint from the Director General or any authorised person. The Director General is required to submit an annual report of previous year on 31 August each year (section 27).
From Law Desk.